A Surprising 38% Of People Think This Is The Worst Arby's Side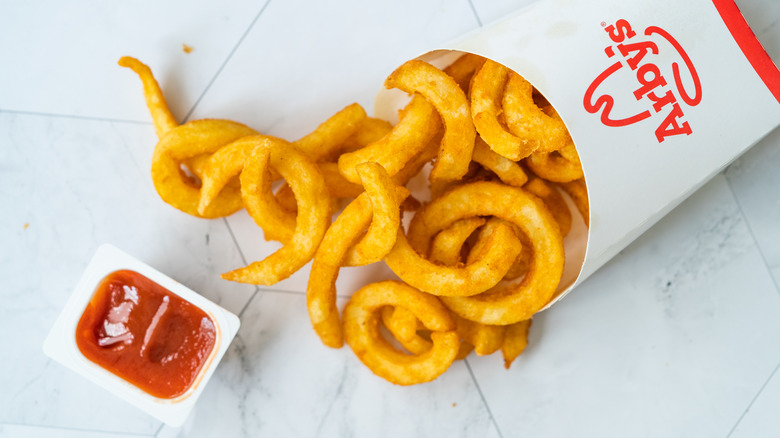 Shutterstock
When you're at Arby's, trying to decide what to pair with your Classic Roast Beef sandwich, your first thought might be "curly fries!" These seasoning-coated spirals help define the Arby's experience, after all. As YouTube food reviewer TravTries! put it, "This flavor's specifically Arby's." Crinkle fries are the new kids on Arby's side-order menu, and they have their adherents. TravTries! gave them a 92 out of 100.
So Arby's gives you two different french fry options — one more than most other fast food joints. But that's not all — you can also get a side salad, mozzarella sticks, or Jalapeño Bites — the chain's term for jalapeño poppers. The Bites are battered jalapeño halves stuffed with cream cheese and deep fried, per GrubGrade. This particular food review site wasn't impressed with the Jalapeño Bites, rating them a 4.5 out of 10, declaring them to be "morsels of pasty goo with a sliver of weak jalapeño inside."
We decided to find out how all these Arby's side options shake out. Mashed surveyed 651 U.S. residents, asking, "Which Arby's side is the absolute worst?" We'll tell you right now, you can bet big money it wasn't the curly fries.
Customers don't go to Arby's for the salad, but they really don't like the Jalapeño Bites
You might be thinking we set up Arby's Jalapeño Bites for failure among our readers here by calling out a bad review. For the sake of balance, we will say that popular YouTube reviewer Peep THIS Out! gave the Bites a solid 8.5 out of 10, wishing only that they were a little spicier. But yes, you're right, the Mashed survey says the Bites are the absolute worst Arby's side. They got 37.94% of the vote, making them far and away the top vote-getter in our survey. Coming in second worst was the side salad, at 28.11%. We're not sure why those who participated in our survey weren't so fond of Arby's salad, but it may have something to do with comedian Bill Burr's observation: No one goes to a fast food place to eat healthy (via Vulture).
Mozzarella sticks seem popular enough, coming in a distant third on our worst Arby's sides survey at 14.9%. And even though Arby's is making customers choose between two french fry options now, it turns out that fans of the chain are embracing both. The fries round out the bottom of our survey results. Crinkle fries got 10.75% of the vote, and curly fires 8.29% — making that signature Arby's flavor the most popular side in our survey.