Why You Might Have Trouble Spotting Your Favorite Aldi Coffee Creamer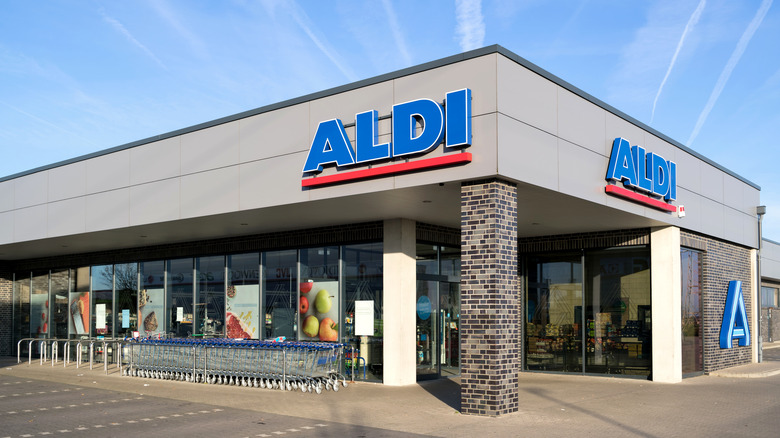 Shutterstock
If you are a fan of Aldi, you probably shop there regularly to take advantage of its low prices on everyday grocery items as well as its Aldi-owned brands, which deliver great quality at a lower cost than many competitors. One such popular Aldi-branded product has been Friendly Farms coffee creamer, which is available in fat-free and sugar-free varieties and features a wide selection of flavors, including Hazelnut, Coconut Creme, and White Chocolate Mocha.
However, Aldi regulars may have already noticed a big change in the coffee creamers on the shelves. While the store still has a wide variety of coffee creamers, the bottles now look completely different, with new labels, updated packaging, and a new brand name. Rather than the Friendly Farms many customers are used to, Aldi has switched to selling Barissimo brand coffee creamers. 
The popular Instagram account @aldifavoritefinds made a post alerting their followers to the new label change, saying, "You may have noticed the new packaging and brand name change. The Aldi coffee creamer used to be labeled Friendly Farms and is now Barissimo." The post went on to ask, "Have you been able to taste a difference in the creamer or was it just a label change?"
Aldi has switched to carrying Barissimo brand coffee creamer
Many Aldi fans replied saying they had indeed noticed a change in the product, and it is not just the label that is different. Some ingredients have apparently also been changed, altering the taste while also making the creamers less vegan-friendly (via Instagram). Aldi shopper @breynolds_3 pointed out the new Barissimo creamers now contain dairy products, writing: "Just miss the fact the old ones were dairy free! Taste exactly as amazing, but now includes milk products." 
Others remarked that they had noticed a difference in the flavor, with the old Friendly Farms-branded creamers delivering a little more sweetness in each serving. "I can taste a slight difference, I feel like the new ones aren't as sweet. I still love their creamers though and definitely still get mine from Aldi!" follower @linseynicholas posted. "I get the sugar free hazelnut and there was a tiny difference between the two," @dorier1 agreed.
So although Barissimo and Friendly Farms are both Aldi-owned labels, that doesn't mean the coffee creamers will be identical. Despite the slight changes, most Aldi fans agree that they will continue to purchase their creamers from Aldi over other stores, but lactose intolerant and vegan shoppers will now probably want to look elsewhere for a new dairy-free creamer alternative.