33% Agree This Is The Worst Flavor Of M&Ms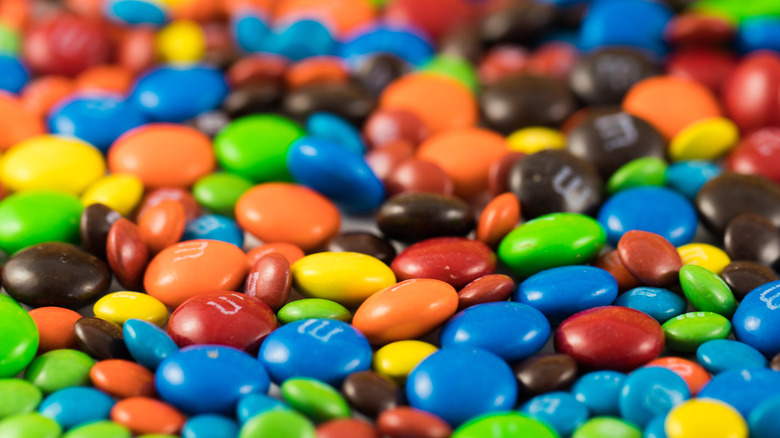 Shutterstock
From classic Milk Chocolate to crunchy Peanut, it seems like everyone has their own opinion on the best flavor of M&M's — and, for that matter, the worst flavor.
First introduced to the world in 1941, M&M's were the creation of Forrest E. Mars, a candy maker from Newark, New Jersey, who teamed up with Bruce Murrie — son of the then-president of Hershey's — to produce the bite-sized sweets. Since then, M&M's have become one of the most popular candy brands on the planet, producing 400 million chocolatey morsels per day to keep up with demand. Over the years, the iconic candy company has produced numerous flavors and colors of the popular product, from classics like Dark Chocolate, Almond, and Caramel, to oddball flavors like White Chocolate Sugar Cookie, Orange Vanilla Creme, Coffee Nut, and Candy Corn.
In a previous Mashed ranking of a selection of the most popular flavors of M&M's, Peanut Butter, Milk Chocolate, and Peanut M&Ms received our top spots as the best flavors, while Coconut, Pumpkin Spice, and White Chocolate Key Lime Pie came in dead last. However, a recent poll of Mashed readers indicated that the opinions on the worst flavors of the popular candy are divided.
This M&M flavor can be pretty divisive
In the new Mashed poll asking, "What's the worst flavor of M&M's," 654 responders in the U.S. weighed in on the flavor they're least likely to grab a handful of. The classic Milk Chocolate flavor unsurprisingly came in last in the poll, with only 7.95% of responders marking it as their least favorite. The Caramel and Almond flavors came next in popularity with 9.63% and 11.62% of the vote, respectively, while Fudge Brownie came in close behind with 12.69% of the vote.
When it came to the all-around least favorite flavors, Pretzel came in second with 24.92% of poll responders selecting the sweet-and-salty option as their least favorite. Coming in as the top response for the worst flavor of M&M was Mint, with a whopping 33.18% of the vote, indicating that a huge portion of consumers aren't fans of the divisive mint-and-chocolate combo.