Aldi Shoppers Are Divided On Its Crispy Rice Treats
Do you know why Rice Krispies Cereal snaps, crackles, and pops? There's a specific reason that the cereal makes such a lively sound once you add milk to your bowl, but our favorite thing about Rice Krispies isn't just the noise. We love how this simple cereal can turn into sweet, marshmallow-y goodness with just a couple ingredients.
However, when crispy rice cereal bars are purchased at a store instead of homemade, the results aren't always so sweet. Aldi shoppers are divided on Millville's version of Rice Krispies Treats, which are called Crispy Rice Treats. Aldi shoppers have taken to Reddit to express their opinions about this product, which according to the image on the post, is gluten-free and includes eight treats per box. While there are plenty of Aldi products that have large followings, it looks like Crispy Rice Treats doesn't make the list. Instead, you're probably better off buying the real thing.
Here's what Aldi shoppers have to say about these marshmallow treats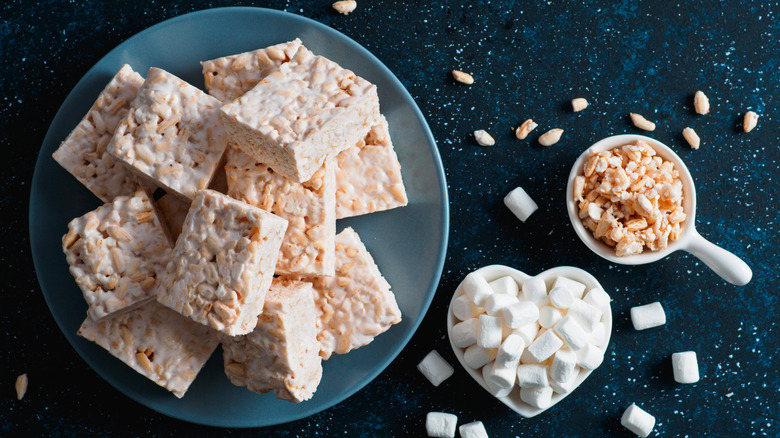 Shutterstock
On Reddit, some commenters were quick to defend Crispy Rice Treats. The original poster didn't like the treats and even tried to return them, but not everyone felt so strongly. One person wrote, "I really like these! And I loved the birthday cake ones they recently had."
However, many Aldi shoppers agreed with the negative reviews. One person said, "Yeah they are not great. They don't taste like the name brand. One of the very few items from Aldi I haven't loved."
There were also more neutral feelings toward the Crispy Rice Treats; these differing opinions might be because the product's quality isn't consistent. "I feel like I've gotten good & bad batches of these over the years," another Reddit user said. "Most taste exactly the same, some had a weird aftertaste and one box that were clearly stale, the rice cereal was super gummy."
Though there were Aldi fans who were split on whether these Crispy Rice Treats are delicious or disappointing, some commenters steered the conversation in another direction: Why not make your own marshmallow treats?
When you make Rice Krispies Treats at home, you can add your own twists on the basic marshmallow-and-cereal base. From chocolate to Oreo and a version inspired by Fruity Pebbles, use your creativity to really personalize your homemade treat.