Paula Deen's Banana Pudding Recipe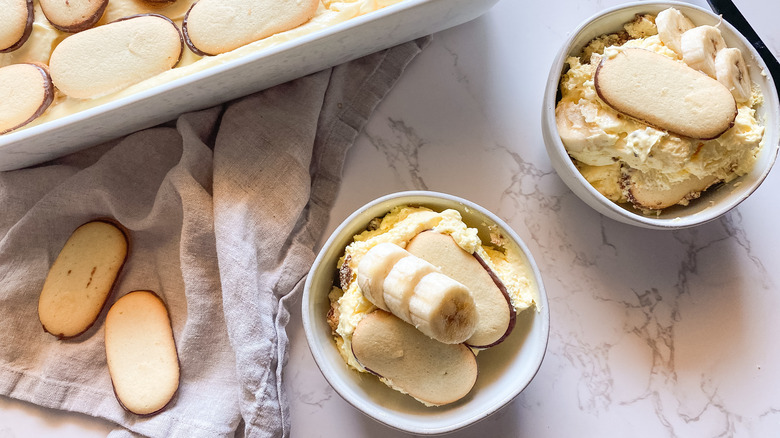 Kristen Carli/Mashed
Is there anything that Paul Deen makes that isn't fantastic? The answer is a big, fat no. Deen is known for cooking up a variety of Southern meals that scream comfort food. Her website lists everything from Southern fried chicken to creamy mac and cheese to corn casserole. But while her main courses are no doubt tasty, it's her desserts that really hit the spot.
Recipe developer Kristen Carli has come up with her own version of Deen's banana pudding recipe, but she's added a little twist that makes the recipe even better, in our humble opinion (more on that later). Carli shares that she loves several things about this recipe, but the taste is what really makes her heart sing. "This recipe is so creamy and delicious," she raves. "It takes banana pudding to a whole new level." 
If that's not enough to make you want to fix up this dessert, then we don't quite know what is! Keep reading to find out how to make this delightful banana pudding recipe with a twist.
What did we change?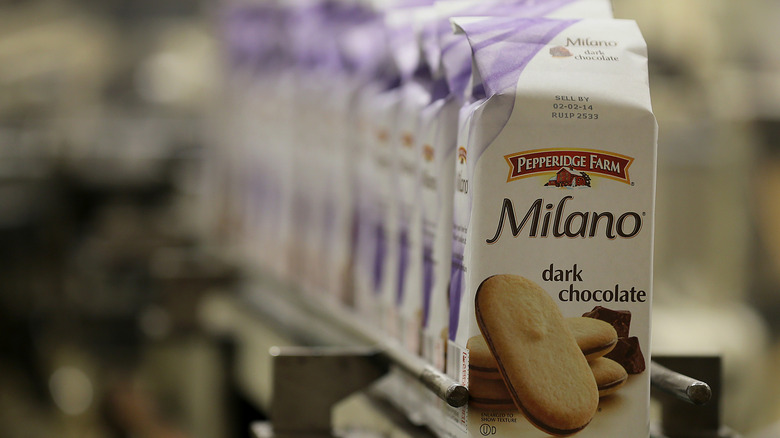 Bloomberg/Getty Images
Usually, you shouldn't mess with Paula Deen's cooking, but we'll make an exception in this case because this twist honestly just adds so much to this recipe. For her tweaks, Carli took out the traditional Chessmen cookies and opted to use Milanos instead — yep, holy yumminess — and she continued with the chocolate theme, adding a layer of melted chocolate chips over the cookies. It doesn't get much better than that, folks.
"I love chocolate and banana together! And I love Milano cookies," Carli says of the twist. We couldn't agree more!
Gather the ingredients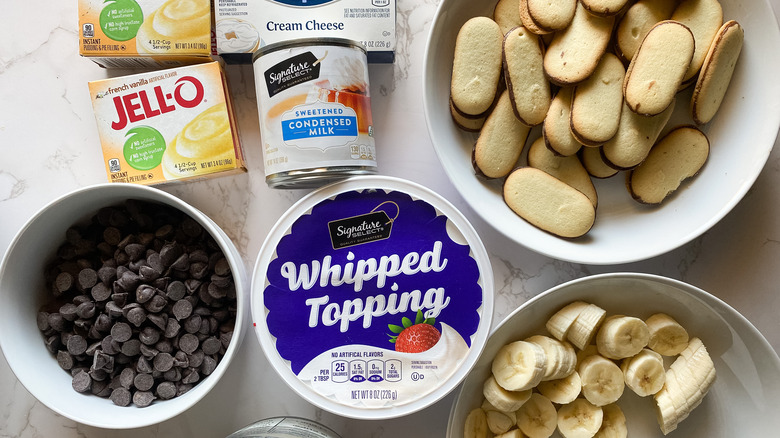 Kristen Carli/Mashed
Start by gathering everything necessary to whip up this tasty dessert. Now that you know the special twist, the ingredients shouldn't come as too much of a surprise. 
For starters, grab a container of frozen whipped topping and let it thaw out before you use it. Then, get a can of condensed milk and a package of cream cheese (you'll need to let it soften). In addition, you will need whole milk and French vanilla pudding mix.
The recipe also requires a few bananas, some chocolate chips, and Milano cookies. Once you have all of these items, it's time to start this baking party!
Line a baking dish with cookies, bananas, and melted chocolate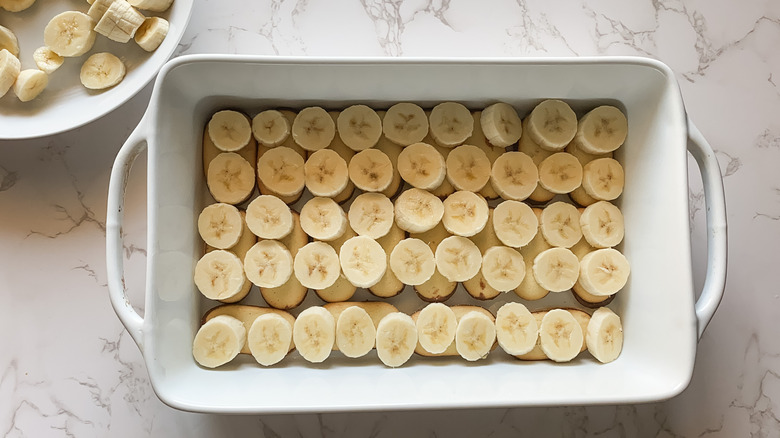 Kristen Carli/Mashed
Take out your favorite 9x13-inch baking dish and line the bottom of it with Milano cookies. For the second layer, add banana slices directly over the cookies.
In the meantime, take out a microwave-safe bowl and pour in the chocolate chips. This is a lot easier and less messy than doing it on the stovetop. Set your timer for 30 seconds, and then take the bowl out of the microwave and stir. Repeat the process in 30-second increments, stirring in between until the chocolate melts. Then, pour the chocolate over the bananas.
Mix the milk and pudding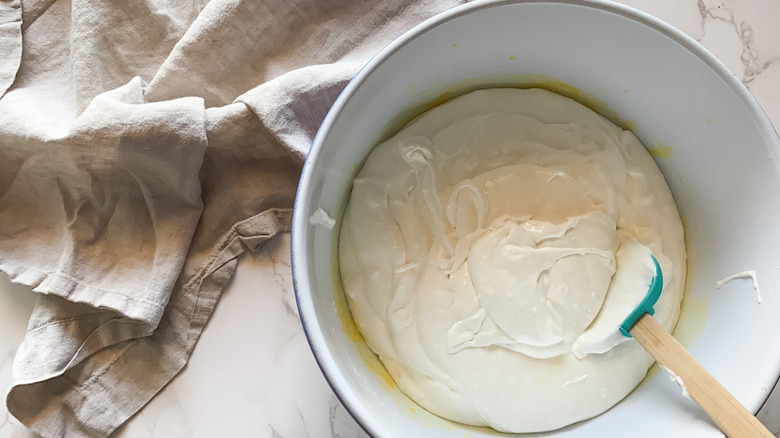 Kristen Carli/Mashed
Take out another medium-sized bowl and add the milk and pudding mix together. Whisk the mixture to combine.
In a separate bowl, add the cream cheese and the condensed milk. Like you did with the other mix, be sure to stir everything well to combine it together. Then, fold the whipped topping into the cream cheese mixture and stir it again to combine. Now, you should have two separate mixes that are equally as good, but guess what? They're even better together.
Combine the mixes and add them to the baking dish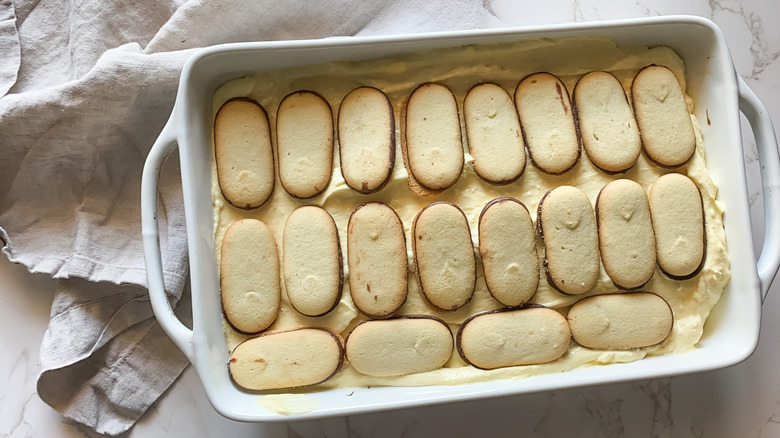 Kristen Carli/Mashed
First, fold the cream cheese-whipped topping mixture into the pudding mixture. Be sure to mix everything really well. 
Now, it's time to put together the banana pudding. Pour the pudding mixture over the chocolate-covered cookies, and then place the remaining Milano cookies on top. Stick the pudding in the fridge until you're ready to serve it. 
You can slice and serve it any way you wish, trust us — you can't go wrong! As for leftovers, they're best stored "in an airtight container in the fridge for up to four days," Carli says. 
Enjoy!
Paula Deen's Banana Pudding Recipe
Our recipe for Paula Deen's banana pudding with a twist has as few little tweaks that we think make the original even more chocolaty and delicious!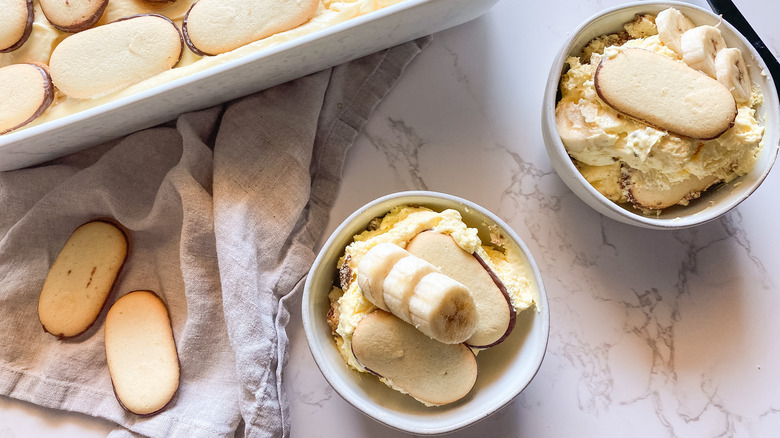 Ingredients
1 (12-ounce) container frozen whipped topping, thawed
1 (14-ounce) can sweetened condensed milk
1 (8-ounce) package cream cheese, softened
2 cups whole milk
1 (5-ounce) box instant French vanilla pudding mix
6 bananas, sliced
1 (12-ounce) package chocolate chips
3 bags Milano cookies
Directions
Line the bottom of a 9x13-inch baking dish with the Milano cookies.
Top the cookies with the banana slices.
In a microwave-safe bowl, microwave the chocolate chips in 30-second increments, stirring in between, until completely melted.
Pour the chocolate over the bananas.
In a medium bowl, whisk together the milk and pudding mix.
In a separate bowl, stir the cream cheese and condensed milk to combine.
Fold the whipped topping into the cream cheese mixture.
Fold the cream cheese whipped topping mixture into the pudding.
Pour mixture over top of the chocolate-covered cookies.
Top the pudding with the remaining Milano cookies and refrigerate it until served.
Nutrition
| | |
| --- | --- |
| Calories per Serving | 616 |
| Total Fat | 28.9 g |
| Saturated Fat | 17.3 g |
| Trans Fat | 0.1 g |
| Cholesterol | 74.3 mg |
| | |
| --- | --- |
| Total Carbohydrates | 82.8 g |
| Dietary Fiber | 2.9 g |
| Total Sugars | 69.2 g |
| Sodium | 281.2 mg |
| Protein | 9.7 g |