Giada De Laurentiis Reveals The 'Extra Tasty' Recipe She Loves Making With Her Daughter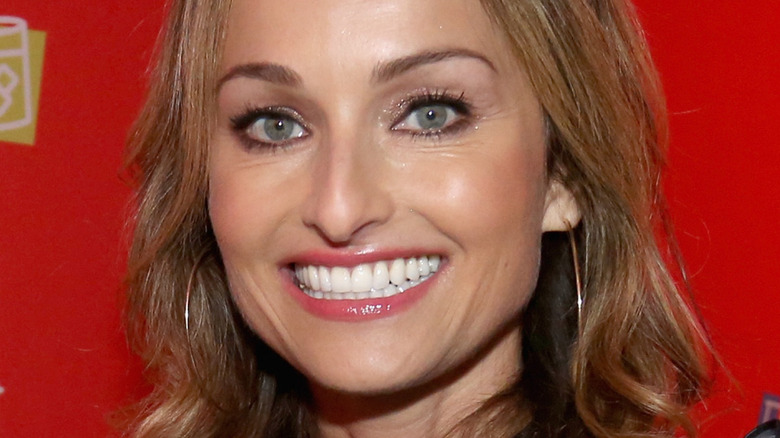 Amy Sussman/Getty Images
Giada De Laurentiis loves to spend time in her kitchen, but if there's one thing she likes more than cooking, it's sharing her wonderful recipes with her fans. When she's not writing a recipe for Giadzy Pantry, her online Italian grocery shop, she shows off her skills on Food Network's show "Giada At Home."
The program follows Giada as she shows viewers her ways of putting together meals for friends and family and hosting people California-style. Sometimes she also gets a little help in her kitchen from her daughter Jade Thompson. While filming an episode of "Giada At Home," she shared a recipe with fans that she loves to make with her daughter via Twitter on August 7: "One thing I love to do with Jade is take boxed brownie mix, and turn it into something extra tasty –these almond butter swirl brownies are no excpetion [sic]!"
Her recipe for Almond Butter Swirl Brownies requires very little effort. All she asks you to do is take a box of brownie mix and prepare it as you normally would, only add to the batter a swirl of almond butter made by combining the coconut oil, powdered sugar, and the butter. You could also swap the almond butter with any other nut butter of your choice. That's not the only way to enhance your box-made brownies, though. Keep reading for more tips.
There are ways to upgrade boxed brownie mix
In her recipe, Giada de Laurentiis writes, "Boxed brownie mix is a perfect vehicle to get creative and mix in some of your favorite goodies." And she isn't the only one to think so. The Pioneer Woman, aka Ree Drummond, also thinks boxed brownies can easily be upgraded into gourmet desserts. Apart from being super handy for a last-minute sugar-fix, brownie mixes take very little time, ingredients, and effort to prepare, compared to baking a batch from scratch. Plus, there's less clean-up, so it's a win-win.
According to The Pioneer Woman, brownies made from the box are pretty good on their own, but if you want to add a bit of oomph, there are several ways to do so. One way to upgrade is by adding more chocolate to the batter, because chocolate is always a good idea. Simply add any chocolate chips of your choice or chopped-up chunks of chocolate to the batter, spread them around, and you'll have melted puddles of chocolate in your brownies. You could also mix fruits, such as berries and raisins, as well as chopped nuts into the batter.
The website also recommends swapping the water required to make the batter with milk. This will add a bit more flavor and make them taste more luxurious. Coffee powder and vanilla extract are two other secret ingredients to add more layers of flavor to the brownies. In another recipe, Giada recommends adding two tablespoons of coffee powder with peanut butter chips to a boxed mix. You can also sprinkle some sea salt, frosting, and other toppings of choice to make the brownies look pretty.