Healthy Freekeh Chili Recipe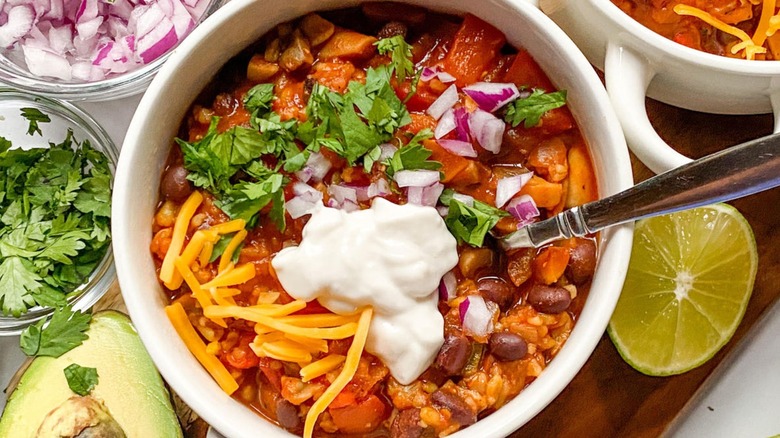 Miriam Hahn/Mashed
If you misread the title of this recipe and have been wondering what makes this chili so freaky, chances are you've yet to make the acquaintance of the ancient grain known as freekeh. While it's not as well-known as quinoa, spelt, or farro, freekeh has been growing in popularity in recent years. Freekeh is basically just young, green wheat that's been roasted to burn away the straw and the chaff. The moist interior of the wheat remains: a grain with a firm, chewy texture and a nutty flavor that still carries a slight hint of smoke.
Recipe developer Miriam Hahn is a wellness coach, and she chose this recipe because she's quite a fan of freekeh and its versatility. In this recipe, she tells us, "It gives the chili a thick 'meaty' type of texture and is so healthy. It tastes similar to quinoa but heartier, nuttier, and more chewy."
Sounds delicious, right? Let's learn how to make it so you can dig in ASAP.
The freekeh's likely to be the most difficult ingredient to source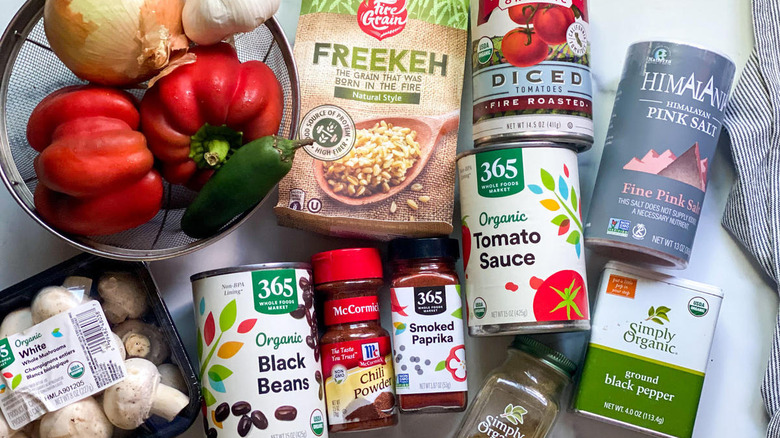 Miriam Hahn/Mashed
For this recipe, you'll be using uncooked freekeh. While you may not be able to find it in a standard supermarket, Hahn assures us that it is available at some Whole Foods stores. "They recently started selling small little packets of it, which are perfect," she says, but if you can't find it, she also says it can be purchased from Amazon or on the Bob's Red Mill's site.
You shouldn't have any problem finding the other ingredients. You'll need some fresh veggies: an onion, red peppers, garlic, a jalapeno pepper, and mushrooms. You'll also need a few cans: one of fire-roasted tomatoes, one of tomato sauce, and one of black beans. For flavoring, you'll be using chili powder, ground cumin, and smoked paprika, along with your standard salt and pepper.
Prep the veggies for this freekeh chili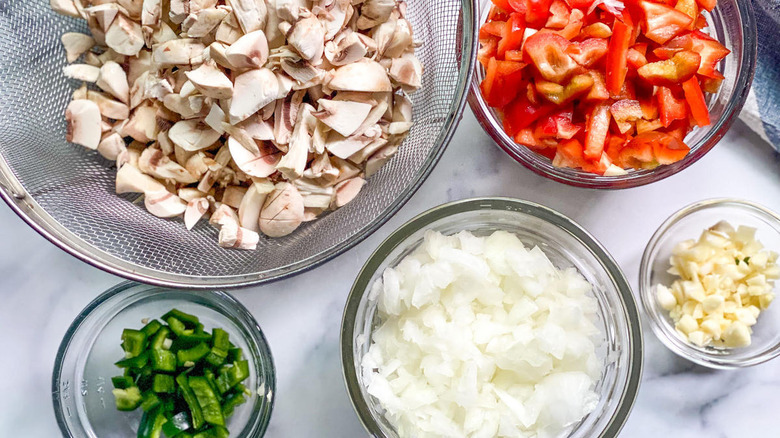 Miriam Hahn/Mashed
Before you start cooking the chili, you'll need to prep all those fresh veggies you just bought. Peel and chop the onion (ouch!), then remove the stems and core and seed the red peppers before chopping those up as well. Peel and mince the garlic, then remove the stem from the jalapeno and mince that too. If you want a milder chili, remove the jalapeno seeds, but leave them in for some added kick if you like your food on the fiery side. You'll also need to rinse and then chop the mushrooms, stems and all.
The chili is super-easy to cook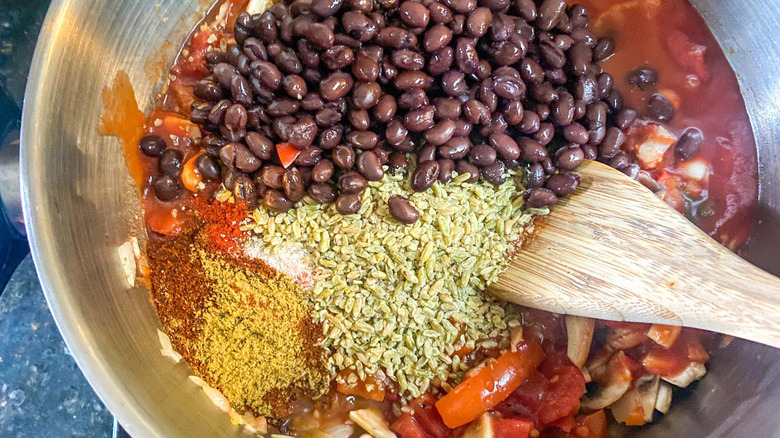 Miriam Hahn/Mashed
Once the veggies are ready to go, heat a tablespoon of cooking oil in a large pot over medium-high. Add the onion, red pepper, garlic, and jalapeno, and cook these veggies for five minutes, stirring fairly often so they do not burn or stick. Add the mushrooms, then cook the mixture for two more minutes.
Once the mushrooms are starting to soften, add the canned goods, the freekeh, and a cup and a half of water. Stir in the spices and add salt and pepper to taste — Hahn used one teaspoon of salt and half a teaspoon of ground black pepper. Bring the chili to a boil, then turn the heat down and let it simmer for 30 minutes.
Serve the chili up with your favorite fixings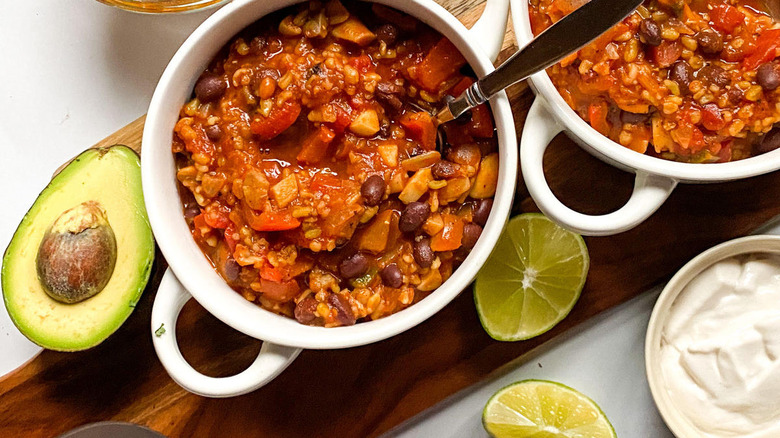 Miriam Hahn/Mashed
As Hahn tells us, "I like to serve the chili with lots of toppings." She suggests chopped red onion, chopped fresh tomatoes, chopped avocados, cilantro, cheese, and sour cream, and adds, "My husband always wraps his in a burro." She adds that leftover chili makes for great leftovers and says it should last all week in the fridge. As Hahn tells us, this "makes it a wonderful meal prep item." You can even vary the ingredients a bit if you like. Hahn says she makes this freekeh chili all the time and will mix up the beans to use whatever kind she has on hand.
Enjoy the health benefits of this freekeh chili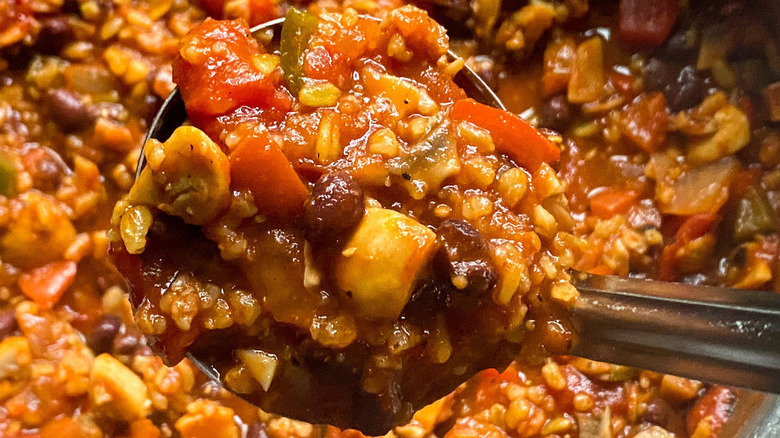 Miriam Hahn/Mashed
The best thing about this freekeh chili is the fact that it's absolutely delicious, but a close second would be that, as Hahn says, "Freekeh is super healthy." It boasts plenty of both protein and fiber. As she tells us, it's "a lot for a grain," and explains that "adding [freekeh] to dishes makes them more satisfying and filling." Freekeh is also rich in minerals and has zero cholesterol, sodium, or saturated fat. Hahn points out that all of freekeh's benefits make it a great substitute for beef when it's used in chili.
Healthy Freekeh Chili Recipe
If you misread the title of this recipe and have been wondering what makes this chili so freaky, chances are you haven't yet learned of freekeh.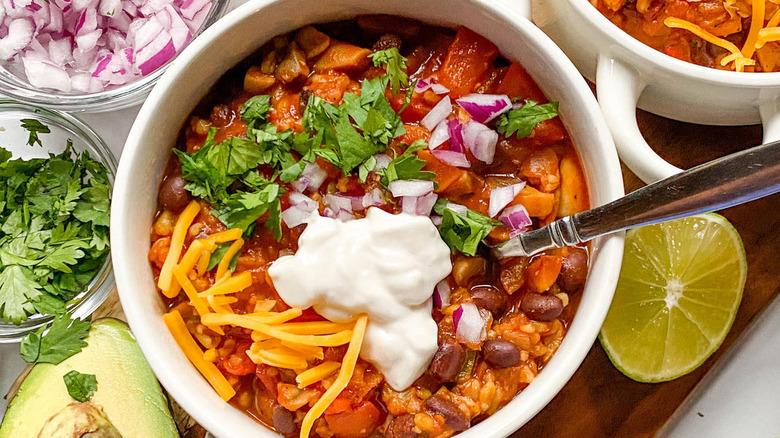 Ingredients
1 onion, diced
2 red peppers, chopped
4 cloves garlic, minced
1 jalapeno pepper, minced
8 ounces mushrooms, chopped
1 14.5-ounce can fire-roasted tomatoes
1 14.5-ounce can tomato sauce
1 15-ounce can black beans, rinsed and drained
1 cup uncooked freekeh
1 teaspoon chili powder
1 teaspoon cumin
1 teaspoon smoked paprika
1 teaspoon salt
½ teaspoon pepper
Optional Ingredients
Red onion
Tomatoes
Avocado
Cilantro
Cheese
Sour cream
Directions
Heat 1 tablespoon cooking oil in a large pot over medium-high heat.
Add the onion, red pepper, garlic, and jalapeno.
Cook for 5 minutes, stirring frequently. Now add the mushrooms and cook 2 more minutes.
Add the fire-roasted tomatoes, tomato sauce, black beans, freekeh, 1 ½ cups water, and the spices along with 1 teaspoon of salt and ½ teaspoon of black pepper.
Bring chili to a boil, then lower to a simmer and cook for 30 minutes.
Serve with your toppings of choice.
Nutrition
| | |
| --- | --- |
| Calories per Serving | 156 |
| Total Fat | 1.0 g |
| Saturated Fat | 0.2 g |
| Trans Fat | 0.0 g |
| Cholesterol | 0.0 mg |
| | |
| --- | --- |
| Total Carbohydrates | 31.9 g |
| Dietary Fiber | 9.1 g |
| Total Sugars | 6.0 g |
| Sodium | 584.8 mg |
| Protein | 8.0 g |