Here's What Happened To Beer Blizzard After Shark Tank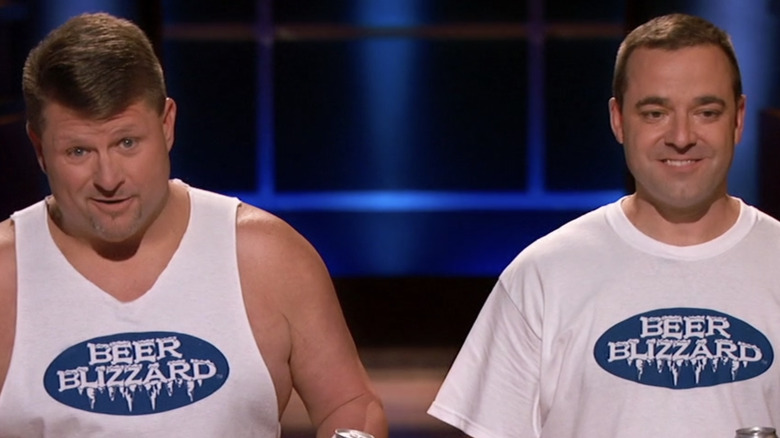 ABC
"Shark Tank" has had plenty of products come through its doors, but not all of them can stand up to scrutiny. There are some that succeed, some that fail, some that are simple, and others that are so incredibly complex that not even the creators seem to be able to put it into words. The Beer Blizzard, fortunately for fans of a good cold beer (and who isn't?) was one of those simple products that excelled into popularity after appearing on the hit show. 
From the minds of AdvancedPierre Food Safety Director Tom Osborne and Pennsylvania law associate Michael Robb, the Beer Blizzard is a plastic disc of thermal gel that you pop in the freezer, let it sit for a few hours, then pop it onto the bottom of a can. The plastic mold adheres to the bottom of the can's shape, allowing for the "hydra-gel" to cool your drink down to "blizzard cold" temperatures. Of course, the question is: Whatever happened to the Beer Blizzard, and is it possible for me to still get one?
The long and winding Beer Blizzard road
Despite what you may think, the product on "Shark Tank" was not a "success" per se.  According to SEOaves' report on the company, despite Mark Cuban's promise of $100,000 for 25% ownership, the deal fell through, it would seem that Beer Blizzard would be back at square one. However, even without Cuban's backing, Beer Blizzard generated sponsorships and sales from both NASCAR and Wal-Mart, even winning a gold medal in innovative technical design. Following their appearance on "Shark Tank," Tom and Michael turned to the online community for support in the form of a Kickstarter, raising $5,000 for the production of 10,000 units. The goal was reached in only three days. 
Unfortunately, the success of Beer Blizzard didn't seem to last. As their Beer Koozies appeared on shelves from Wal-Mart to online on Amazon, the company would approach famed NASCAR driver Dale Earnhardt Jr. for a licensing agreement, which would allow them to use his name on their products. The deal with Dale fell through, and in 2018, the company effectively went out of business, deleting its website and shutting down all social media accounts, per Shark Tank Tales.
As the Beer Blizzard store is shut down, and it seems that Amazon doesn't carry it specifically, it seems you may be out of luck for a Beer Blizzard koozie. It seems it's back to putting an oven mitt in the freezer and using it to hold your beer and keep it cold.