Jonathan Waxman Shares His Trick To Making Quick Omelets - Exclusive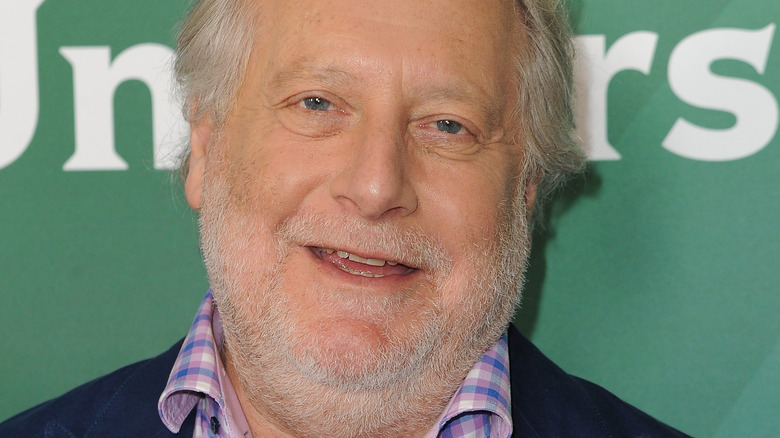 Angela Weiss/Getty Images
We may receive a commission on purchases made from links.
Move over Dalgona coffee, feta pasta, and frozen honey. Jonathan Waxman has a simple, stunning, mouthwatering recipe that is poised to be the next TikTok food sensation. While the legendary chef has not made the leap to the wildly popular social media platform just yet, it's a move he's seriously considering. "My kids want me to do TikTok," Waxman told Mashed during an exclusive interview. "I'd love to do that. So I think that I actually might do it."
Though his initial thought was to film a tutorial on how to boil water, Waxman realized he had another far more (dad joke alert!) egg-citing trick up his sleeve. "I think if I had to do one thing that would be really kind of funny and crazy and kind of weird is that ... I know it sounds totally mundane, but I make omelets in a very weird, quick fashion, unlike any other omelet in the world," he said.
According to Waxman, the recipe ticks off two very important boxes to go viral. "It takes whatever the TikTok timeframe is," he said. "And it does something crazy in the pan."
Though some may be quick to dismiss the chef as an unlikely TikTok star, a quick look at his massive resume reveals there's no doubt the celebrity chef has the credentials to pull it off. He's certainly well versed in the food media landscape, having appeared as a contestant and judge on several popular television competition shows including "MasterChef," "Top Chef," and "Guy's Grocery Games." Plus, Waxman's no stranger to being a culinary trendsetter, as he, along with Wolfgang Puck and mentor Alice Waters, helped kickstart the modern California cuisine craze back in the early '80s.
How to make Jonathan Waxman's TikTok-ready omelet
If you can't wait for Waxman to make his TikTok debut, not to worry. We've got the simple steps for preparing his incredible omelet right here. First thing, you're going to want to grab the right pan. In this case, Waxman recommends using a sturdy cast iron skillet. Next, you turn up the heat. Waxman noted that the sweet spot is "having it hot enough but not too hot."
Now it's time to get those eggs ready with a specific special accompaniment. According to Waxman, "You have to beat the eggs with cream only, not milk, or anything else, with a little immersion blender for about four seconds while the pan is getting hot."
On to step four: "When the pan is the right temperature, then you add in an ounce of butter and a half-ounce of olive oil, which immediately starts foaming," said Waxman. Make sure to have your blended eggs handy when those fats start to bubble. "Throw the eggs in immediately," Waxman urged. "And then you cover it with a lid for five to eight seconds."
Now here's when the magic happens. Immediately remove the cover and grab a fork. Then start stirring in the center of the pan until the eggs coagulate together. "It actually kind of soufflés in the pan," noted Waxman. "Sounds fun, right?" Yes, indeed! For the final step, simply flip your omelet onto a plate and enjoy. Here's to hoping Waxman gets cracking on his TikTok career real soon.
For more amazing Jonathan Waxman recipes, grab a copy of "The Barbuto Cookbook: California-Cooking from the Beloved West Village Restaurant." Though Barbuto is temporarily on hiatus, you can visit Jonathan Waxman's other acclaimed New York restaurant, Jams, located in midtown Manhattan.