Cheesy Ranch Chex Mix Recipe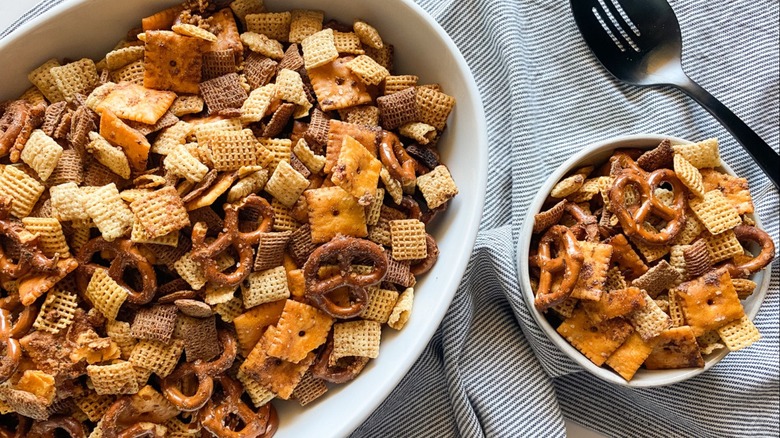 Kristen Carli/Mashed
Chex Mix has been around for a long time. Well, not as long as those dishes that trace their origins back to medieval times or even earlier, since boxed cereal really wasn't that much of a thing before the days of John Harvey Kellogg. (Not a cereal historian? According to The Daily Mail, Mr. Kellogg invented Corn Flakes as a means of preventing the enjoyment of certain solo adult activities.) Chex cereal dates back to the 1930s, according to The Daily Meal, but the original Chex Mix recipe made its debut in a 1952 issue of Life magazine (via Betty's Kitchen).
Through the years, people have tweaked this simple recipe quite a bit to the point where even the Chex people themselves now market a bunch of different Chex Mix flavors to add variety to their signature snack mix. Still, homemade always tastes better than store-bought, so there's no need to buy Chex Mix when it's so easy to make it yourself right in your own kitchen. As recipe developer and private practice registered dietician Kristen Carli says, "This is my favorite Chex Mix version, because it is so savory and salty, which is my ultimate weakness when it comes to snack foods."
Gather the ingredients to prepare this cheesy Chex Mix recipe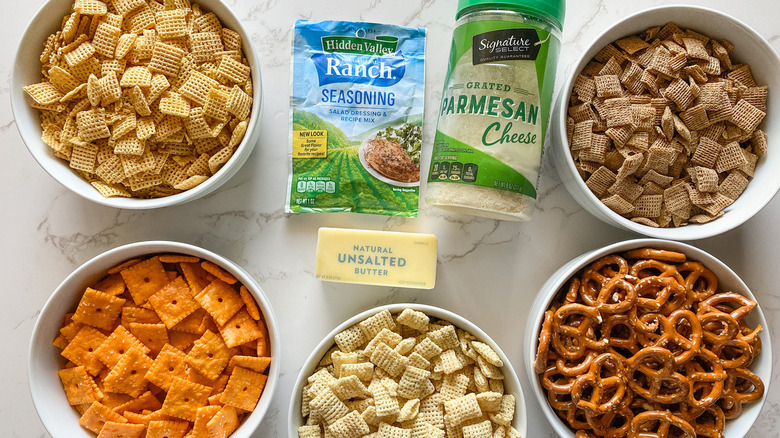 Kristen Carli/Mashed
Any good Chex Mix starts with Chex, of course. You'll need all three of the main, plain types: Corn Chex, Wheat Chex, and Rice Chex. You'll need a few more salty snack foods, too, including bite-size pretzels and small cheese crackers along the lines of Cheez-Its. Make sure that you have some butter as well. Oh, and then there's the whole "cheesy ranch" seasoning, which you'll get by using powdered ranch dressing mix and grated Parmesan cheese. 
Got all that? Good, now you can get going.
This Chex Mix takes just minutes to make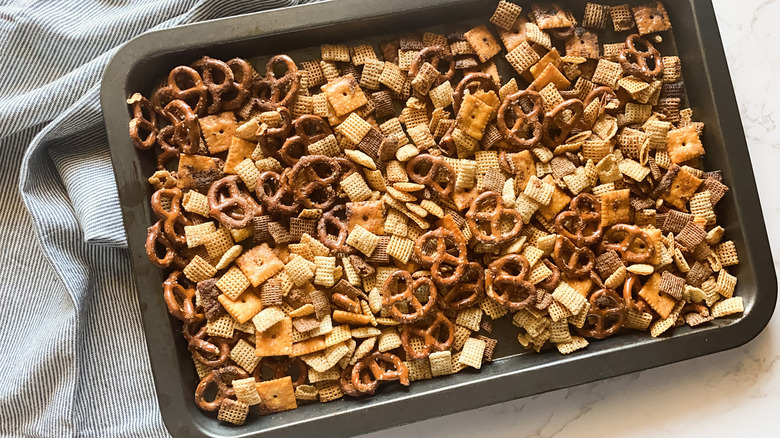 Kristen Carli/Mashed
The Chex mix itself will take very little time to prep. Begin by preheating the oven to 350 F, then spray a few good-sized baking pans with cooking spray or a light coating of vegetable oil. Mix the Chex, pretzels, and crackers with the melted butter, ranch mix, and Parmesan cheese. Stir everything together so the flavorings are evenly coating the cereals and snacks. Spread the Chex Mix out over the two baking sheets, because you don't want to crowd the mix. If the oven's done preheating, put the pans in the oven, and set a timer for 10 minutes. Ding! Your Chex Mix is done.
Try a few tweaks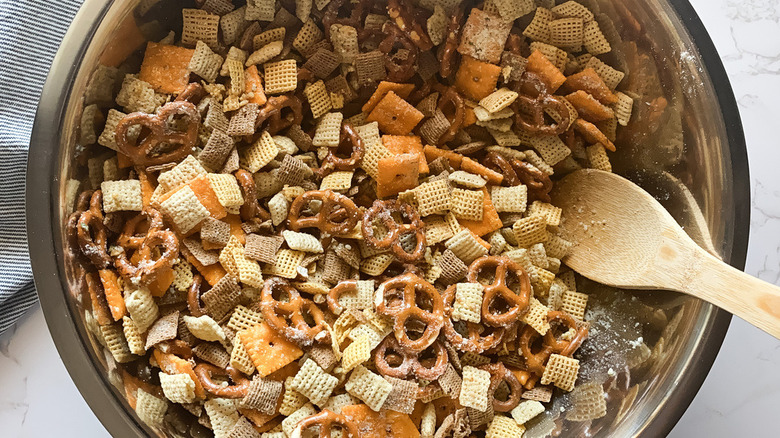 Kristen Carli/Mashed
"The best part about these sorts of snack mixes," says Carli, "is that you can really get creative with the spices." One tweak she suggests is replacing the ranch dressing with onion soup mix "if you wanted to explore a different take." With the Parmesan, this would result in a kind of French onion soup-flavored snack mix. (Carli's comment on this: "OMG, yum!") You could also spice things up with some powdered chile peppers, add some garlic powder, or throw in any other spices that appeal to you.
You can change up the main ingredients a bit, too, as long as you leave in the Chex cereal. (Take it out, and you'll just have plain old "mix" instead of Chex Mix.) If you're sticking with the cheesy ranch flavor combo, Cari says, "It may also be good to include some goldfish crackers, too!"
You can make a vegan version of this snack mix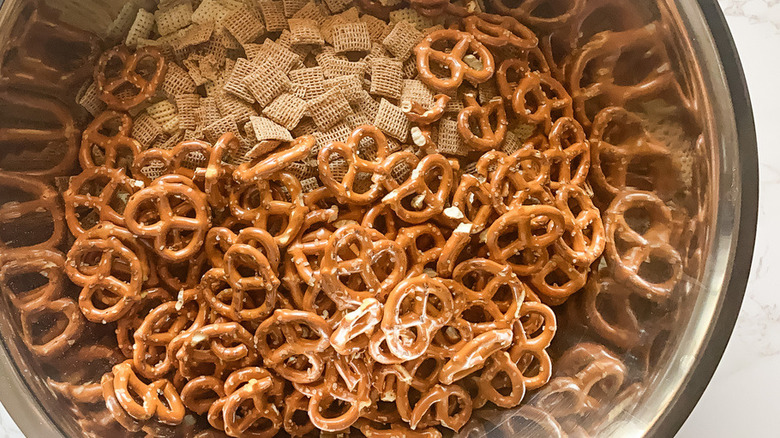 Kristen Carli/Mashed
It's not too difficult to make a vegan version if that works best for your family or group. Keep the Chex, keep the pretzels, but lose the cheese crackers, unless, as Carli suggests, you can "sub out a vegan Cheez-It cracker." In lieu of butter, you can use margarine, and the Parmesan cheese can be replaced with nutritional yeast for a tasty, and somewhat healthy, plant-based version of "cheesy" ranch Chex Mix.
Enjoy this cheesy ranch Chex Mix on a variety of occasions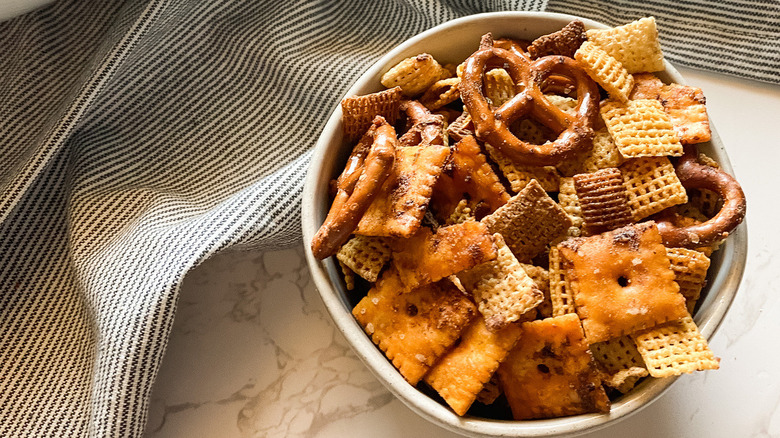 Kristen Carli/Mashed
This Chex Mix recipe is a real keeper — at least for 10 days, if you store it in an airtight plastic bag. The recipe also makes enough snack mix to serve 12. While this may suggest a party, you don't have to save Chex Mix for when company's coming. Make up a batch whenever you'd like, then enjoy it as an everyday thing. Carli says, "I love this [cheesy ranch Chex Mix] as an afternoon snack," but since it's cereal-based, perhaps it could work as a savory breakfast as well. You can also portion the mix out into snack-sized baggies and tuck it into bag lunches, or you could do as people did when Chex Mix was first popular, and enjoy it with an evening cocktail. However and wherever you decide to serve it, this recipe mix is sure to be a true delight.

Cheesy Ranch Chex Mix Recipe
Homemade always tastes better than store-bought, so there's no need to buy Chex Mix when it's so easy to make this cheesy version right in your own kitchen.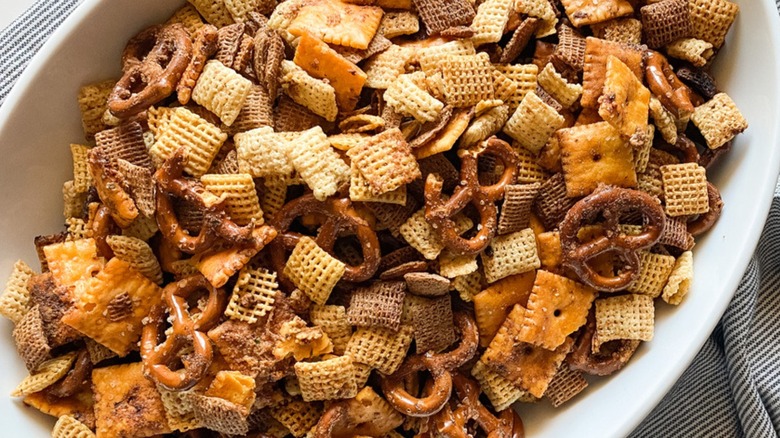 Ingredients
3 cups Corn Chex
3 cups Wheat Chex
3 cups Rice Chex
2 cups bite-sized pretzels
2 cups cheese crackers
4 tablespoons unsalted butter, melted
1 package ranch seasoning mix
¼ cup grated Parmesan cheese
Directions
Preheat oven to 350 F.
Spray two large baking sheets with nonstick cooking spray.
Mix the Chex, pretzels, cheese crackers, melted butter, ranch seasoning mix, and Parmesan cheese in a large bowl. Stir to combine.
Spread the Chex Mix over the baking sheets, and bake for 10 minutes.
Nutrition
| | |
| --- | --- |
| Calories per Serving | 349 |
| Total Fat | 8.7 g |
| Saturated Fat | 3.8 g |
| Trans Fat | 0.2 g |
| Cholesterol | 12.6 mg |
| | |
| --- | --- |
| Total Carbohydrates | 61.7 g |
| Dietary Fiber | 4.2 g |
| Total Sugars | 4.3 g |
| Sodium | 815.5 mg |
| Protein | 8.6 g |