What Miranda Kerr Really Eats, According To Her Personal Chef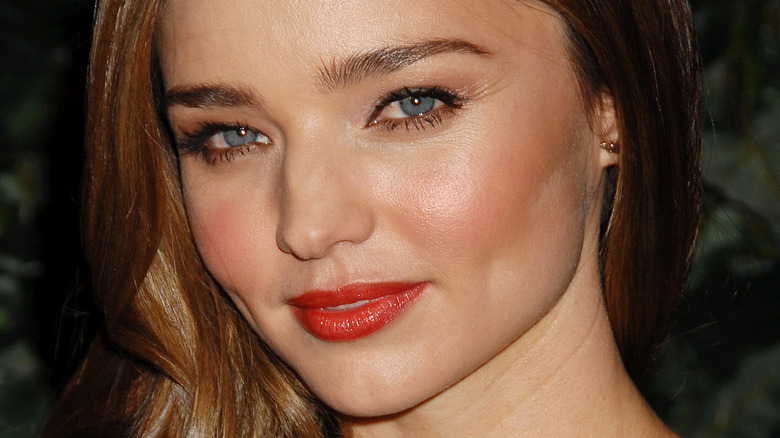 Shutterstock
"Obviously, it's organized chaos," Miranda Kerr said of her life during an interview with Sunrise Live, a morning chat show in the Aussie's home country. The supermodel-turned-businesswoman was referring to the fact that, honestly? Running a clean beauty empire while raising three kids can get a little hectic sometimes. Though Kerr rose to fame as a Victoria's Secret model, these days, she is less about underwear and more about under-eye circles, as she fights the good fight to bring clean, organic skincare to the market via her brand Kora, according to The Cut.
But — no disrespect to lingerie and eye creams — if there is anything more important than the stuff you put on your body, it's what you put in your body. And in 2017, Kerr's personal chef, Kate McAloon, told the New Zealand Herald that no matter how chaotic her life may be, Kerr cares very much about what's on her plate. "She does eat clean, she really believes in the 80/20 diet," McAloon told the news outlet. Healthline explains that the 80/20 approach, in which one attempts to eat nutritious meals 80% of the time, and indulge in the less healthy stuff for 20% of their meals, is not only a sound approach from the physical standpoint of getting healthier, but the mental one, as well. As a lifestyle choice, the 80/20 diet offers a sustainable method for losing weight and staying healthy. So what goes into Kerr's 80%? And, if we may be so bold, what goes into her 20%?
Miranda Kerr has healthy eating down to a tea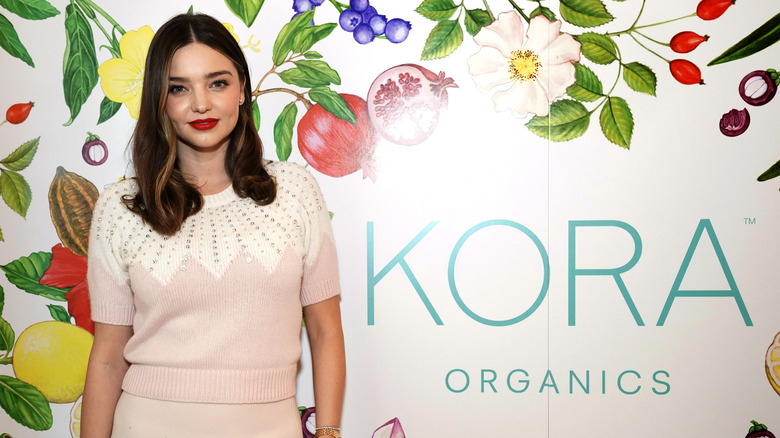 Erik Voake/Getty Images
The New Zealand Herald article reveals that Miranda Kerr was a big fan of personal chef Kate McAloon's "special curry," and while it doesn't say exactly what made the curry so special, we're guessing it wasn't cream and butter. "She's very health-orientated," McAloon says of Kerr, listing fruits, vegetables, and salmon as the linchpins of what the news outlet calls a "very strict diet." But when Kerr heads off to work, her diet is all her own. "I don't like to leave what I'm going to eat in other people's hands," Kerr tells Harper's Bazaar of her go-to lunch on-set. "I chop up a salad with lots of greens — everything from spinach, baby spinach, arugula, cucumber, avocado, radish, cauliflower, and green olives to parsley and cilantro, all chopped really fine, with a piece of wild salmon."
Kerr is also a real tea lover, and says she will happily bring her own Thermos to set to indulge herself in her favorite: rooibos tea with goat's milk and a little bit of honey. "I also drink dandelion tea, Earl Grey, and sometimes a green tea. I'm very into tea," the tea lover told Harper's Bazaar. Surely the honey puts Kerr's go-to drink in the 20% category? No? What about chocolate-covered goji berries, which Kerr tells Goop is her favorite antioxidant food? Still not 20% enough? Okay, fine. McAloon spilled the goji berries and told the New Zealand Herald that Kerr enjoys treating herself with a chocolate and coconut torte. There — are you happy now? Now let's let Kerr have her tortes and teas in peace.