Nancy Fuller Shared This Precious Behind-The-Scenes Moment With Duff Goldman And His Baby Girl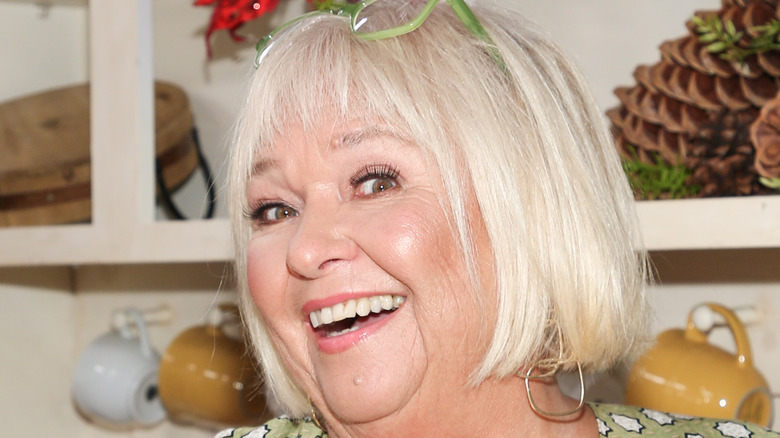 Paul Archuleta/Getty Images
Fans of Duff Goldman probably already know of his darling daughter Josephine. In August 2020, the "Ace of Cakes" star and his wife Johnna announced their pregnancy to the world in true Goldman-style — through a muffin-themed photo (via Today). In February this year, the proud dad took to Instagram to give fans a glimpse of their newborn, adding that he couldn't wait for baby Josephine to try "pizza and candy and swimming and concerts and riding a bike."
That wasn't the only time Goldman had his fans melting over absolutely adorable photos of baby Josephine. He often captures baby Josephine's daily adventures out in the world and he isn't the only one to do so. Baby Josephine has another adoring fan - Nancy Fuller, who hosts "Holiday Baking Championship" and "Spring Baking Championship" alongside Goldman.
Recently, Fuller shared what she described as "one of my favorite moments on the set of @foodnetwork @discoveryplus @johnnapgoldman @duffgoldman" (via Twitter). And Goldman sweetened the moment by using an endearing nickname in response, writing that his adorable daughter "misses grandma Nancy!" While every post with Josephine probably becomes the instant new favorite of followers on social media, that might also be true of Fuller, who previously shared this other precious behind-the-scenes moment with her co-host and his adorable daughter.
Nancy Fuller can't get enough of baby Josephine, and neither can Twitter
In a Twitter post that seems impossible not to smile at, Nancy Fuller shared an image of her beaming as she held baby Josephine while standing next to the child's smiling papa. "My favorite behind the scenes moment on #holidaybakingchampionship love this little cupcake!" Fuller gushed. Twitter couldn't get enough of baby Josephine with one fan writing, "Awwwwwwww so cute!" and another commenting, "So much happy right there."
This isn't the only time Fuller has shared photos of the newest member of the Goldman family. Baby Josephine has made other appearances on the sets of Food Network's shows and the doting "grandma" is all too happy to spend some time with her. Later in the same month, Fuller tweeted a picture of her holding baby Josephine, sharing with the world Josephine's first lipstick-stained kiss. She captioned it, "Josephine's first lipstick and my favorite moment on set of #holidaybakingchampionship," apparently crowning a new favorite moment. Though we suspect the first one is still her favorite, too. 
Fuller apparently also spends quality time with Goldman's daughter off the set. In June, she took to Twitter to announce to her fans that "I'm teaching Duff's baby all about makeup! She's so perfect! Auntie Nancy." We sure can't wait for more updates on how that's going!