Martha Stewart And Her Non-Snoop Dogs Go On A 'Rough' Ride Together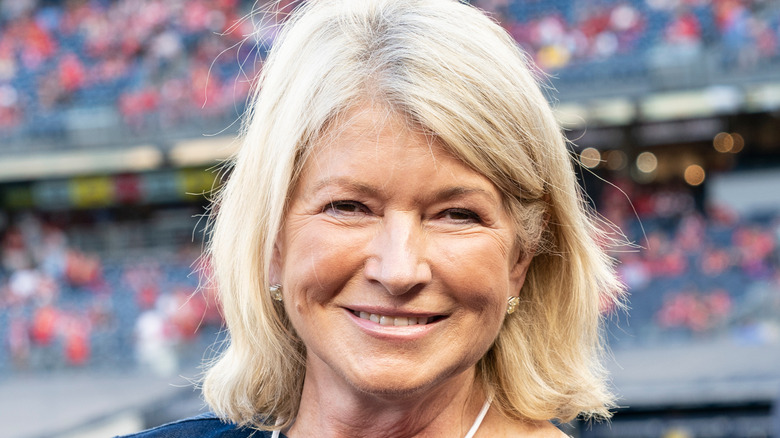 Shutterstock
The internet can't get enough of the seemingly unlikely friendship between Martha Stewart and Snoop Dogg, but the famous rapper isn't the only d-o-double-g in the homemaker's life. The 80-year-old (via Biography) is also a fur mamma to an entire quartet of four-legged, tail-wagging friends: two French Bulldogs, Creme Brulee and Bete Noire, and two Chow Chows named Emperor Han and Empress Qin (via Woof Republic), all of which she was able to spend a little bit of quality time with over the weekend.
Taking to her Instagram account on Saturday, August 14, Stewart offered a treat to her 1.4 million followers in the form of a delightful short video that captured her going for a ride "around a rough terrain" that, from the looks of it, might be located on the heavily wooded grounds of her Skylands property in Seal Harbor, Maine (via The Martha Blog). Stewart could be seen sitting in the driver's seat of a Polaris off-road vehicle in the clip, which she was able to drive despite still being booted up from her Achilles repair surgery. She gave the camera a smile and a wave before pointing to the back of her vehicle, where all four of her dogs were loaded up for the ride that the "Chopped" judge said in her Instagram post they were "thrilled" to go on.
Fans loved seeing Martha Stewart's sweet pups on her Instagram page
If you're a long-time follower of Martha Stewart's Instagram page, you know that the domestic goddess can break the internet with her posts just as well as she can whip up a delicious meal, and her Saturday afternoon update was yet another hit with her fans. As of this writing, the post has racked up nearly 60,000 likes as well as hundreds of comments from followers expressing their adoration for both the Food Network star and her furry friends. "This is everything I aspire to be in life," user amber_schiffer wrote, while another follower said that Stewart's situation was their "idea of heaven" (via Instagram). "Being run over by Martha and her dogs in their electric Polaris would be an honorable death," a third follower remarked. "For a second I thought you were cruising with a couple of bear cubs!" admitted user simplysiaramai.
Stewart obviously doesn't have any bear cubs to ride around with, though you may be surprised to learn that the television personality has a number of pets, some of which are more traditional than others. Stewart has three cats in addition to her four adorable dogs, as well as horses, donkeys, canaries, chickens, geese, and even 21 peacocks (via Town & Country). We wonder what kind of animal will join her family next!