Popcornopolis Fans Can Find This Craveable New Flavor At Sam's Club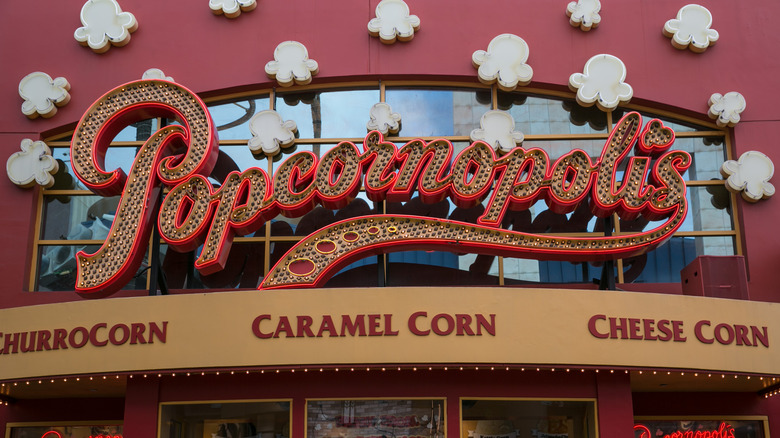 George Rose/Getty Images
If you look to Sam's Club to meet all your popcorn needs, then you may be excited to find out there's a new flavor you can find there. According to Chew Boom, gourmet popcorn brand Popcornopolis has introduced its new Honey Butter flavor at the wholesale retailer giant. The outlet describes Honey Butter as "kettle popcorn layered with real honey and creamery butter." This sweet and salty snack sounds like a treat fit for an opulent circus or at least for bringing home to enjoy while you stream "The Greatest Showman."
Popcornopolis has a lot going for it. The kettle popcorn is gluten-free and non-GMO, according to Chew Boom. If you're ready to climb aboard the Popcornopolis train, their new Honey Butter flavor is available to be purchased in two 18-oz bags in Sam's Club stores nationwide or on the Sam's Club website for $10.96. You can also purchase Popcornopolis products directly from its website in resealable pouches or even snack-size bags by the case, in case you want to throw your own circus. If you just want to be prepared for the days when your house feels like a circus, Popcornopolis has a variety of flavors to suit everyone's moods.
Popcornopolis has some fascinating flavors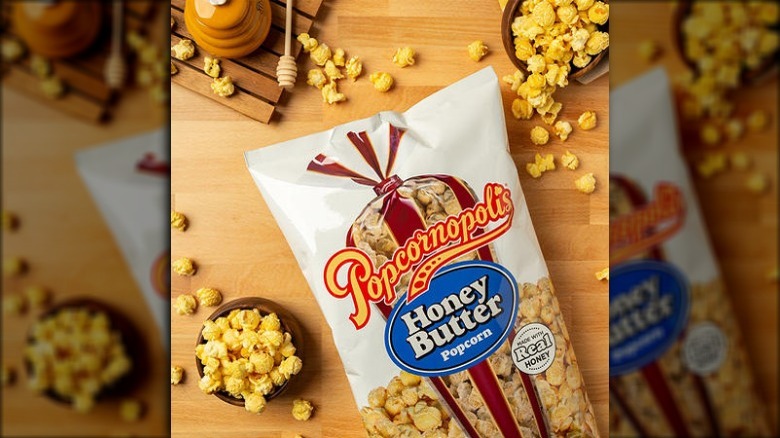 Sam's Club
Beyond the nostalgic cone shape of Popcornopolis' packaging, the brand also offers some intriguing flavors. Of course it has the basic Buttered Up! and Caramel Corn flavors for traditionalists, but for popcorn adventurists, it offers a whole lot more. A look at the Popcornopolis website may have you salivating with options like Jalapeño Cheddar, which the brand recommends pairing with a beverage for happy hour, and Zebra popcorn, a well-reviewed flavor consisting of Caramel popcorn striped with fine dark and white chocolate.
If you're on Sam's Club website, in addition to Honey Butter, you can find such Popcornopolis varieties as Caramel and Fried Pickle & Ranch, a flavor that has its roots in the Southern U.S. and became popular through state fairs, according to the product's description. There is one element all of the flavors apparently have in common — they are purportedly less likely to get stuck in your teeth than other brands. According to the Popcornopolis website, the company takes "extra care to sift out the kernels and hulls that might get stuck in your teeth." A delicious snack that's engineered with dental sensitivities in mind? We'll take it by the handful!