Chick-Fil-A Fans Are Freaking Out Over This Realistic Fast Food Wedding Cake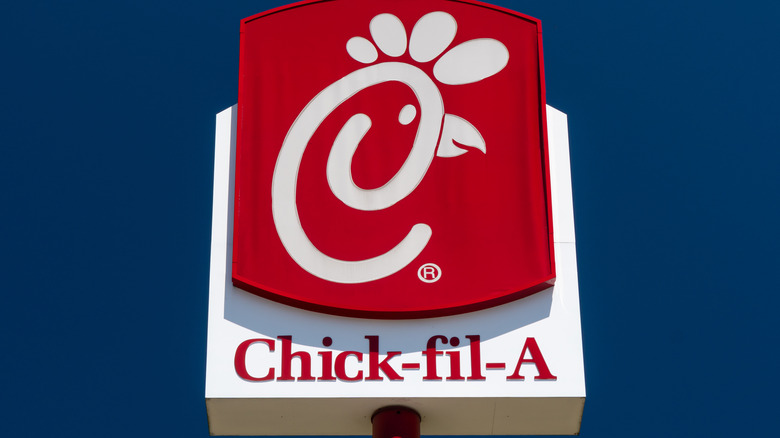 Ken Wolter/Shutterstock
For Chick-fil-A fans with a sweet tooth, it sounds too good to be true: a big, two-tiered cake surrounded by the chicken chain's waffle fries, chicken nuggets, and dipping sauces, and topped with the famous Original Chicken Sandwich. That's what a recent creation by the OKC Cake Lady looked like, anyhow. But for people with a serious sweet truth, the reality was even better — if that's possible. Everything on Oklahoma City bakery owner Nicole England's cake was, in fact, cake — right down to the to-go drink cup with lid. "Everything is edible except the straw," the OKC Cake Lady wrote in the caption to an Instagram post showing off the cake. (Oklahoma needs more environmentally friendly straws, apparently.)
The Cake Lady's Chick-fil-A-themed cake was a groom cake she made for one of her client's weddings. Scroll England's business Instagram, and you'll see the cake is one of many creative and highly realistic cake designs she has made for her two brands, Exquisite Wedding Cakes by Nicole and the all-occasion OKC Cake Lady. 
England proves there's more than one great cake maker in Oklahoma. Her business rival Amy Cakes scored the job of the season when the bakery was tapped to make the wedding cake for Alex Drummond, daughter of The Pioneer Woman Ree Drummond (via The Pioneer Woman blog).
Another prominent Oklahoma baker showed love for the Chick-fil-A wedding cake
Alex Drummond's wedding cake maker Amy Cakes and the OKC Cake Lady may be angling for the same customers in Oklahoma, but the Amy Cakes Instagram account showed some love to the Cake Lady in the comments under the video of the Chick-fil-A-themed groom cake. "Shut the front door!" Amy Cakes enthused — which is another way of saying, um, "That's amazing!"
The bride and groom had asked OKC Cake Lady Nicole England to make a Chick-fil-A groom cake because the couple met at one of the fast food chain's restaurants. The inside of the lid of the cake's chicken nugget box said, "You had me at first dip."
Other Chick-fil-A fans — and Cake Lady fans — lined up on Instagram to shower England with praise. Lorraine's Collection, which makes floral arrangements, wrote, "Girl ... you rock!!! I don't know what else to say!" The Oklahoma City Civic Center Special Events account, which promotes weddings at the center, said simply, "Incredible." Latrisha Johnson was impressed but wondered if the Cake Lady could take her game to a new level: "My daughter asked if you can make it taste like Chick-Fil-A. This is her favorite place to eat." The Cake Lady had to let her town. "I wish I could!" she replied.
The comment the Cake Lady might have appreciated the most said, "Absolutely Amazing! Thank you for making this incredible and very delicious cake for our son's wedding! He absolutely loved it!"