PETA Is Calling For A Big Change To Cleveland's Hot Dog Mascot Race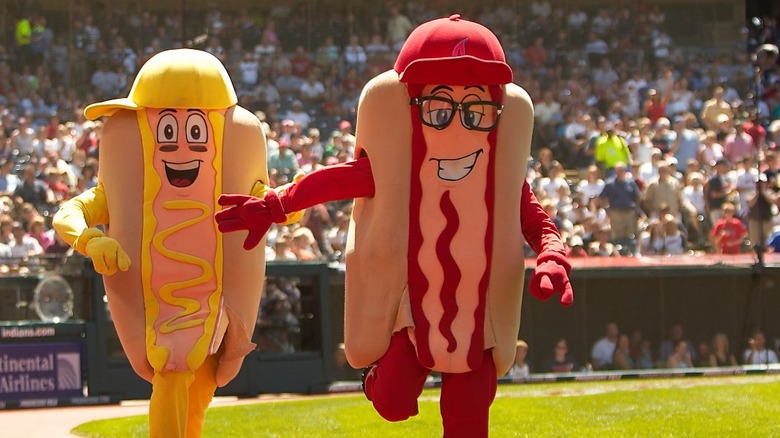 Cleveland Indians/Getty Images
Baseball fans in Cleveland will see many changes over the next few seasons. The most significant, of course, will be their team becoming the Cleveland Guardians and officially moving on from the racially insensitive name and mascot that the team has held for decades (via Fox8). There are also changes coming for the team's home turf, Progressive Field. Baseball Digest shares that multi-million dollar renovations to the Cleveland baseball stadium will include rebranding, expansion of viewing and walking spaces on all levels, and replacing the quiet, upscale Terrace Club restaurant with a more welcoming and social sports bar-style gathering spot. 
If one animal rights group gets their way there will be yet another change, one that affects games' popular mid-inning entertainment. The Hot Dog Derby, which takes place at every ballgame, is where fans get to root for their favorite ballpark condiment. Hot dog mascots representing ketchup, mustard, and onion (and sometimes bacon) race around the ballfield in a battle for first place (via Cleveland Scene). PETA recently wrote to the team's general manager, Mike Chernoff, to petition for a new mascot to join the fun, according to The Takeout. A relish dog, perhaps? Or a chili cheese dog? No, the mascot PETA would like to see in the race is a vegan hot dog. 
Why PETA thinks fans will embrace this new mascot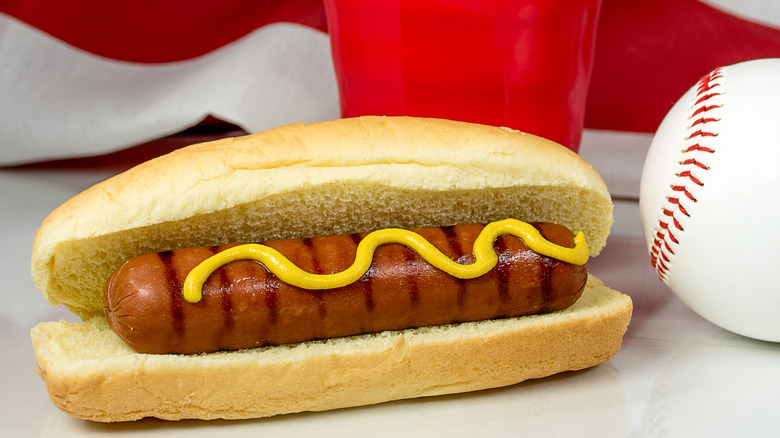 Maria Dryfhout/Shutterstock
The letter, shared in a press release on PETA's official website, lays out their request for this new addition: "We have a pitch that we hope you'll embrace as a way to continue [the] spirit of inclusivity: Will you please add a vegan hot dog mascot to your Hot Dog Derby?" The group hopes to promote the message of sparing animal lives, rather than turning them into a "stadium snack." But the group cites other reasons too, like the increase in people who've switched to a vegan diet in the last two decades, and that more than half of Americans now purchase meat-free and dairy-free products. PETA also assures the general manager that their idea "isn't coming out of left field." 
That's because PETA ranked Progressive Field as one of the "top 10 vegan friendly ball parks" in 2019, noting menu options like vegan tacos, vegan ice cream, and vegan hot dogs. In the letter, PETA offers to provide the mascot costume and to treat all ballplayers to a vegan hot dog lunch. There is no official answer yet from Chernoff or the Cleveland baseball organization, but fan responses are mixed. Comments on a Twitter post range from "AWESOME!!" to "Just stop already," or worse. Time will tell if PETA's idea is a homerun or a strikeout.