The Strange Thing Guy Fieri Does To Every DDD Restaurant He Visits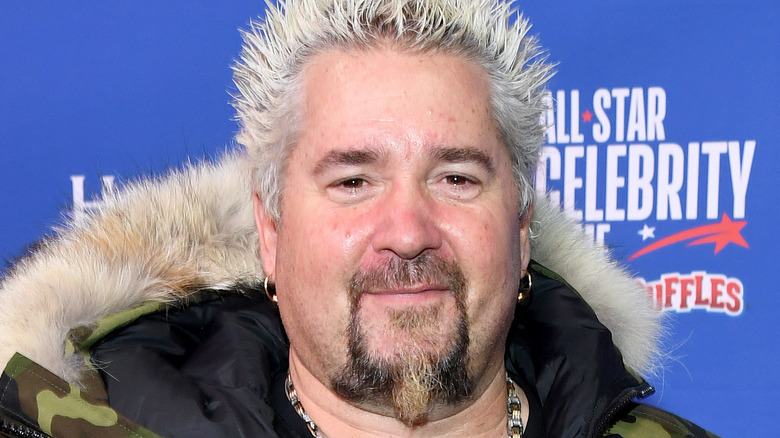 Kevin Mazur/Getty Images
You don't have to be a resident of Flavortown to know who Guy Fieri is. The spikey-haired restaurateur has been a staple on the Food Network since he won "Next Food Network Star" in 2006 (via Guy Fieri's website). His hit show "Diners, Drive-Ins and Dives" premiered a year later, according to the blog Diners, Drive-Ins and Dives Locations. The program colloquially known as "DDD" has put the spotlight on more than 1,275 restaurants around the world — places that have served up everything from classic diner fare to unique international cuisine. We're guessing that nobody has featured more eateries on television than Fieri — with the possible exception of Anthony Bourdain. (After all, as SFGate pointed out, Bourdain visited at least 30 dining establishments in San Francisco alone.)
Considering how many locations Fieri and the "DDD" crew have visited throughout the show's tenure, it's not outlandish to wonder if the Mayor of Flavortown has made a pit stop at one of your favorite local eateries, or maybe one you hit up once while on vacation. How would you know for sure? Even those who religiously tune in to the program probably couldn't recall every single joint featured on the show, and an internet search could send you spiraling down a "Diners, Drive-Ins and Dives" rabbit hole for hours. As it turns out, the Emmy Award-winning television host has made it easy to figure out whether or not a restaurant has been graced by his presence. He definitely leaves his mark at the place.
Fieri spray paints a memento inside every restaurant in Diners, Drive-Ins and Dives
Each episode of "Diner's, Drive-Ins and Dives" usually shows Guy Fieri dropping into a handful of restaurants before riding off in his famous red Camaro, but there's one other thing the goateed chef does behind the scenes. According to Thrillist, the television host commemorates his visit by busting out a few cans of spray paint and a stencil of his likeness to tag some surface in the restaurant — if not a wall, then maybe the hood that provides ventilation inside the kitchen. Fieri also tags three words: "Guy ate here."
For the "DDD" fans who tour the country for the sole purpose of stopping at the diners, drive-ins, and dives seen on Fieri's show, getting a photograph with the host's graffiti is as much a part of the experience as the meal itself. Restaurant owners can't help but love this Fieri fan ritual, even when he left his mark in their busy kitchens. "Guy put his stencil on our f****** hood," said Portland, Oregon restaurant owner Adam Sappington. "At first it was like, 'Oh man, I wish he hadn't done that.' But I can't be mad. ... People take their picture in front of it, and it's like another notch in their 'Triple D' belt. It's like, 'This is the 256th place we've been to!' It's pretty cool to be a part of that."
Guy Fieri started painting restaurant walls at the owners' request
Not everyone loves Guy Fieri's gimmick of leaving his mark at every place he visits for "Diners, Drive-Ins and Dives." Redditors have posted about how Fieri's paint job was "gross and disrespectful," and basically a violation of a space that otherwise had a lot of character and history. But it wasn't Fieri's idea to begin with. "Early on, some of the owners asked me to sign something in their restaurant, to show I'd been there," Fieri said in a 2010 radio interview (via Fans of Guy Fieri). "And I did — I did a caricature of me, with the spiky hair, and signed my name."
Maybe if Fieri hadn't made it in the television business, he could have had a career as a graffiti artist. Fieri admitted he would get carried away at first. "I love spray paint!" he said. "According to the crew, things got out of hand, and next thing you knew I was leaving these giant drawings and using up like six cans of spray paint."  It took some convincing, but Fieri eventually limited his artistic urges to a one-foot-by-one-foot square. "Now I have a stencil of my drawing, which I spray and sign," he said. The stencil includes the spiked hair, the sunglasses, and the goatee, of course. And we think someone from the network gave Fieri the stencil, considering that it also includes the familiar Food Network logo. 
Keep your eyes peeled for Fieri's tag the next time you're dining out — you never know where you might find it!