This Is What Martha Stewart's Home Kitchen Is Really Like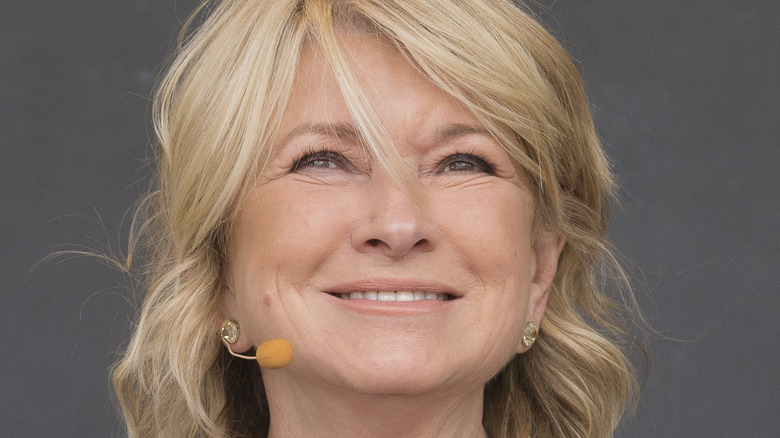 Sterling Munksgard/Shutterstock
For all the years we've been watching her on television, or following along with recipes from her cookbooks, it certainly feels like Martha Stewart has welcomed us into her home time and time again. And that's because she literally has. That "home sweet home" vibe that the celebrity chef gives off on screen is actually more than just a vibe. Stewart really does film her shows and work on many of her projects in her own home, and you've probably seen glimpses of the inside without even realizing it. 
According to behind-the-scenes blog Martha Moments, the setting of Stewart's long-running TV show was first her home in Turkey Hill, Connecticut, and then it was her home in Lily Pond in East Hampton, before ultimately the set relocated to a studio in Westport, Connecticut. Now Stewart lives on a farm in Bedford, New York, where both her cooking competition show "Bakeaway Camp" on Food Network as well as her home and garden show "Martha Knows Best" on HGTV are filmed (via The Cinemaholic and Republic World). For the majority of the scenes, Stewart is featured outside in her sprawling backyard, but fortunately MTV Cribs has given us a closer look at the interior of where the real magic happens — her kitchen, of course.
Martha Stewart calls her kitchen "command central"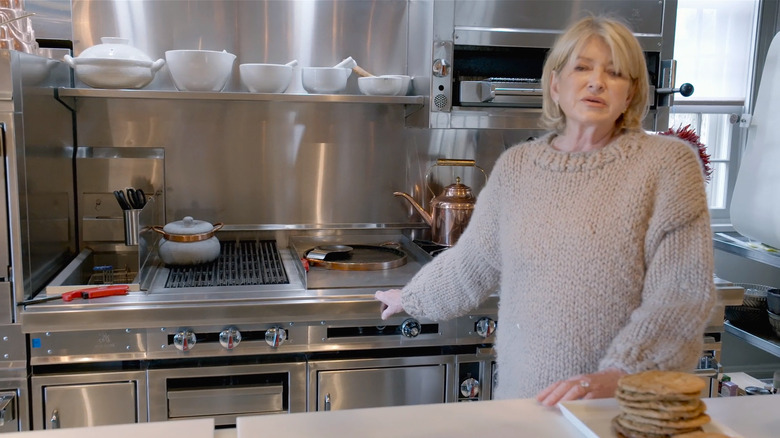 MTV
Stepping into Martha Stewart's kitchen, it's easy to see why she would refer to it as "command central." The room is not only massive, it's also restaurant-style and equipped with commercial-grade appliances, including a six-burner stove attached to a grill and a deep fryer. The cabinets are fully stocked with all the dinnerware you could imagine, and the ceiling is covered with hanging pots and pans. Stewart is clearly a fan of copper finishes in the kitchen, and as further elaborated on her official website, the whole house follows a monochromatic aesthetic. 
To top it all off, Stewart's kitchen has a mini-office built right into it, as well as a cappuccino station. This alone might seem like a luxury to any other homeowner, but considering Stewart always seems to be working on her ever-growing collection of cookbooks, it makes sense that "command central" would be set up the way it is. "So much cooking has been done in this kitchen, so many recipes have been developed, so many recipes have been photographed here," Stewart shared in the MTV episode. And since she bought the house in 2000 (via MarthaStewart.com), it's safe to say those kitchen walls have truly seen a lot.