What Made Kaley Cuoco's First Wedding Cake So Unique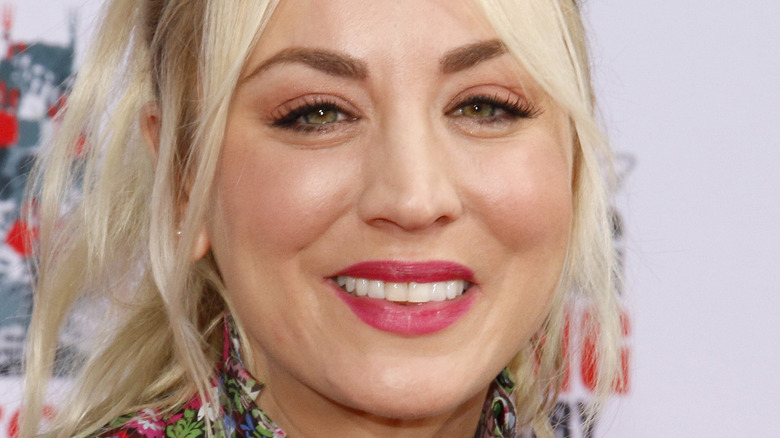 Tinseltown/Shutterstock
Kaley Cuoco is perhaps most famous for her role as Penny on hit CBS sitcom "The Big Bang Theory." On the show, Cuoco's character is a quirky waitress and aspiring actress who befriends the nerdy scientists who live across the hall in her apartment building. And, while character Penny ultimately finds love with one of those nerds on the show (via CBS News), the star's love life off-camera has been a bit more complicated.
Cuoco's first marriage was to tennis star Ryan Sweeting, whom she wed in December 2013 after about three months of dating (via People). The couple said "I do" during a fire and ice themed wedding held on New Year's Eve, according to People, complete with Cirque du Soleil vibes, a pink Vera Wang dress, and a whopping 40 chandeliers (via Cosmopolitan). But it was perhaps what was hanging from one of those chandeliers that made the now-ex-couple's special day so unforgettable.
Kaley Cuoco's wedding cake was upside down
Cuoco hung her six-tiered, rhinestone-covered, two-flavor (almond with toasted almond cream cheese buttercream frosting and chocolate almond cherry with cherry cream cheese buttercream frosting) wedding cake upside down from one of the crystal chandeliers (via People). Yup, you heard that right. An upside down cake hanging from a chandelier. It's certainly original, if anything.
But just how did Cuoco suspend her cake mid-air? The idea came from The Butter End's owner Kimberly Bailey, who told People, "I had this vision: What if the chandelier was high and the cake was underneath it? So I told Kaley and she kind of lost it. She got very excited and said, 'How do we even do that?'" The answer involves several trips to Home Depot and a test with sandbags to ensure the chandelier could withstand the weight of the cake and that it would be stable enough to be cut and eaten.
Kaley Cuoco's marriage to Sweeting ended in 2015 and in 2018, she married current husband Karl Cook (via Insider), a professional horseman. Perhaps Cuoco's first experience with wedding cake was extravagant enough, or perhaps she didn't want to jinx her second marriage, but the couple opted not to serve cake at their reception, and rather offer desserts including cake pops, rhubarb pie, and ice cream (via E!).