This Is Katie Couric's Favorite Giada De Laurentiis Recipe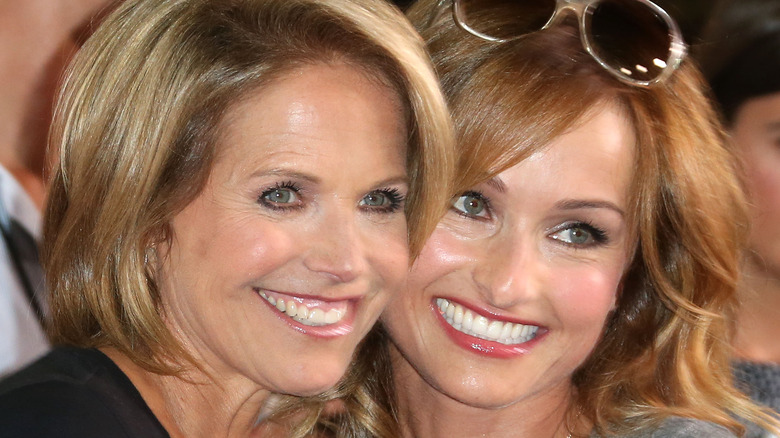 Frederick M. Brown/Getty Images
Giada De Laurentiis has plenty of fans. Anyone from home cooks looking to improve their skills to celebrity followers watch her shows, such as "Everyday Italian," and follow her on social media, where she shares recipes and highlights from her life.
Giada's fresh approach to Italian cooking lends itself well to late summer harvests of vegetables and herbs, and it seems that Katie Couric shares our enthusiasm for Giada's produce-centric dishes. If your garden is producing tons of tomatoes and bountiful basil, Giada has a delicious way to use them. She recently posted a marinated cherry tomato pasta on Instagram, and it attracted plenty of comments including a rave review from the legendary media personality and former "Today Show" host. Couric commented "My fave!!!" Katie wasn't the only one who loved the dish. "Delish and so easy!! Love it !!" offered one follower. Another wrote, "Just made this, it was delicious!"
De Laurentiis shared the recipe on her website Giadzy. While it requires some patience, it offers a feature we love in summer recipes: minimal time in front of a hot stove. 
Giada's recipe starts with cherry tomatoes. She halves these sweet little fruits in a large bowl, and adds olive oil, shallots, garlic, lemon (both juice and zest), kosher salt, and pepper flakes. Giada then covers the mixture and lets it marinate at room temperature for two to four hours.
Don't skip the marinating process
The marinating step requires some patience, but as food scientist Jessica Gavin explains on her website, "There's no easier way to make everyday food sparkle a little brighter and taste a little bolder than by using a marinade." The Beyond Meat website explains that successful marinades like Giada's contain three elements: an acid (like lemon juice), an oil (such as extra-virgin olive oil) and flavorings (like Giada's shallots, garlic, and pepper flakes). Marinating takes time because the goal is for the flavors to combine and the vegetables to soften slightly.
Once the tomatoes have marinated, Giada cooks up some al dente spaghetti and adds it to the bowl with the tomato mixture. She then tosses it gently until the pasta is coated. Then the beautiful and flavorful final touches are added: fresh basil leaves and shaved Parmesan cheese. You can serve it immediately or chill it and eat it as a pasta salad. Giada explains that the dish can also be kept in the refrigerator for two to three days.
Lemony, with sweet cherry tomatoes and fresh-from-the-garden basil. Does pasta get better than this?
One of Giada's Instagram followers shared an idea to help us use up another prolific late-summer garden vegetable in this recipe: "Add thinly sliced baby zucchini to the colander before you slowly drain the pasta, then toss it all together! Oh my!"