Nadiya Hussain's Funny Post About Her Marriage Has Instagram Smiling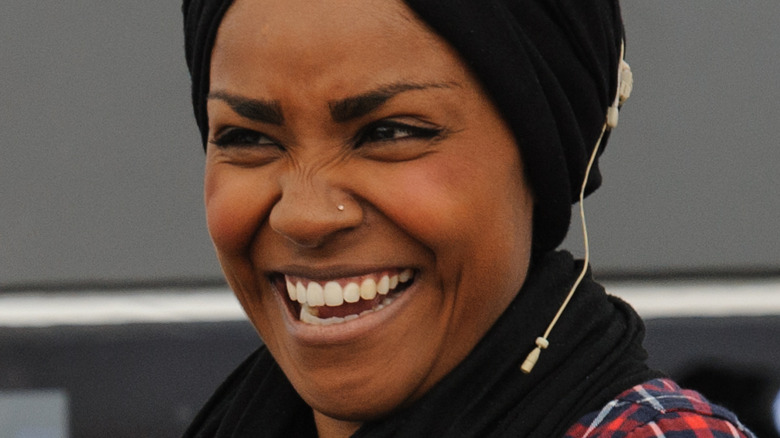 AntonioFranco/Shutterstock
"The Great British Bake Off" fans remember Nadiya Hussain as the charming lady who won Season 6 of the show. Others not so familiar with the British baking show may have watched her on Netflix's "Nadiya Bakes," where she bakes a series of desserts, each more delicious-looking than the other (via IMDb).
If you haven't heard of either show, you might certainly remember her as the lucky baker who got the honor of baking a birthday cake for Queen Elizabeth II. Not only was she asked by the Buckingham Palace to bake a cake for the queen's 90th birthday, but she was also given complete creative control over what she wanted to do, and so, she baked for the Queen an orange drizzle cake with orange marmalade and vanilla buttercream sandwiched in between (via BBC).
Some would say that Nadiya's successful career as a baker started with "The Great British Bake Off." And the person responsible for convincing Nadiya to participate in the cooking competition show was no other than her husband — Abdal Hussain. In an interview with The Sun, Nadiya admitted Abdal had been trying to convince her to apply for the show for over two years with no success. One fine day, he decided to fill an application on her behalf without her knowledge and only told her once she had gotten in.
The pair recently celebrated their 16th wedding anniversary
Nadiya Hussain recently shared a picture of her with Abdal Hussain on Instagram on the eve of their 16th wedding anniversary. In a cheeky caption, she said, "6 years ago I married him because he had a gorgeous face and a good job. He still has both ! Winning !" Nadiya's fans couldn't get enough of the lovestruck couple and commented saying that the two were "couple goals." One fan addressed Abdal, saying, "And now he has a gorgeous face, job, gorgeous wife and family. Congratulations."
It may come as a surprise that the young couple is already celebrating their 16th anniversary, but the now 36-year-old married Abdal when she was 19. According to The Sun, Nadiya and Abdal had an arranged marriage and had only met each other once before their wedding. Since their marriage was an Islamic one, Nadiya and Abdal married once again, this time to exchange wedding vows.
In 2018, Nadiya shared a picture with Abdal after their second wedding that left her fans melting and wrote, "Nothing fancy just love. No frills. Just us. We did it again. I do. I always will. I would do it all over again #married #secondtime." Needless to say, every time Nadiya shares a picture with her hubby Abdal, Instagram can't stop gushing over the two.