Slow Cooker Refried Beans Recipe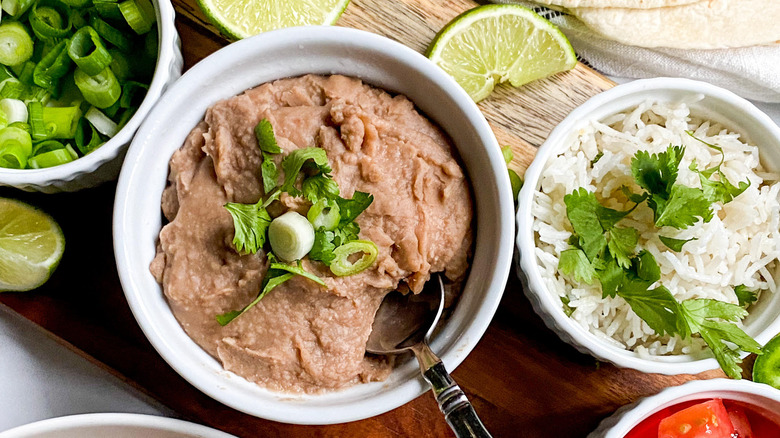 Miriam Hahn/Mashed
If you thought that refried beans got their name because they are cooked up in oil, this recipe may come as something of a surprise. Unlike its name suggests, refried beans aren't only un-fried, but surprisingly, no oil is even used to prepare this dish. This is not deliberate, because the name "refried beans" is a literal translation of the Spanish name for the dish "frijoles refritos," which actually means "well-fried beans" (via Grammarphobia).
This particular recipe by certified wellness coach Miriam Hahn of YouCare-SelfCare cooks up a dish that is really as good as refried beans can get. The secret, Hahn says, is making them from scratch. "Making [this dish at home] is so much healthier than buying them in the can. Typical refried beans are made with animal fat or lard and high amounts of sodium. Plus, it [is] sometimes hard to find them in a BPA-free can," Hahn says. The beans also come with a couple bonus points: "They are easy to make and make the house smell so good," she adds.
Gather the ingredients to make slow cooker refried beans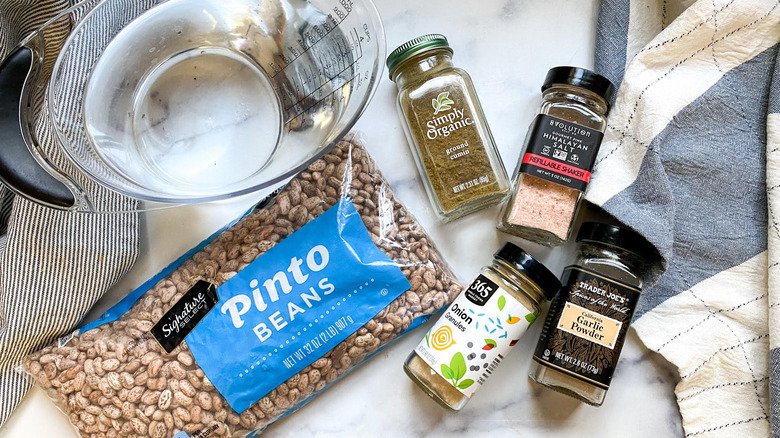 Miriam Hahn/Mashed
Making refried beans at home is a snap, particularly if you have a slow cooker and you're the type of person to keep dried beans in your pantry. To make your own refried beans, you'll need dried pinto beans, garlic powder or garlic granules, onion powder, as well as cumin powder. Hahn says it is entirely possible to swap out the dried pinto beans for another type of bean. "You can do this with black beans too, but the amount of water differs — you'll only need about four to five cups," Hahn says.
There are other ways to make refried beans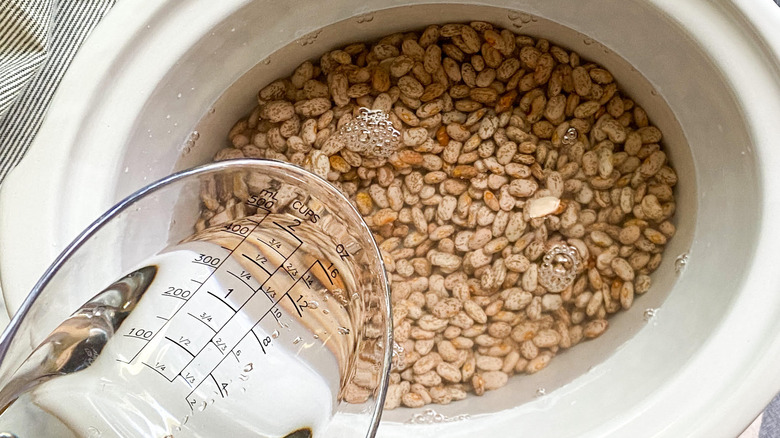 Miriam Hahn/Mashed
If you haven't tried making refried beans before, know that this recipe is remarkably forgiving, particularly if you are using a slow cooker. Hahn says doing away with the gadgets and cooking the beans on the stovetop is an option as well — but there's a catch. Hahn says to expect that "[the beans] will take a couple of hours [which will, in turn], make it hard if you need to leave the house." Hahn notes that there's even an Instant Pot way of cooking refried beans, but her preference is to make the beans in a slow cooker — if you have one, that is.
Refried beans can be cooked up to six hours before they are ready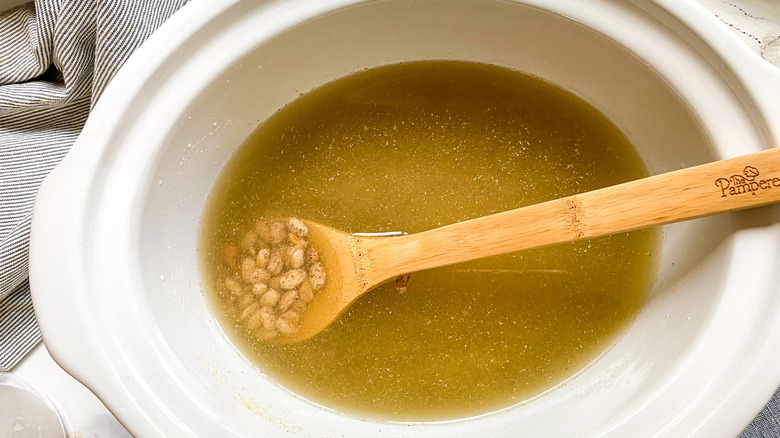 Miriam Hahn/Mashed
If you opt to use dry pinto beans, pour them out into a colander, and rinse your beans in water under the sink. Once your beans are clean, put all the liquids and spices (salt, garlic powder, onion powder, and cumin) into the slow cooker, and stir well. Set your slow cooker to "high," and cook for at least four and a half hours, and up to six hours.
Hahn warns that the amount of water you will need to make refried beans changes if you decide to use black beans. In this instance, she says, "You only need about four to five cups. Start with four, and you might need more when blending."
Blend the beans, then enjoy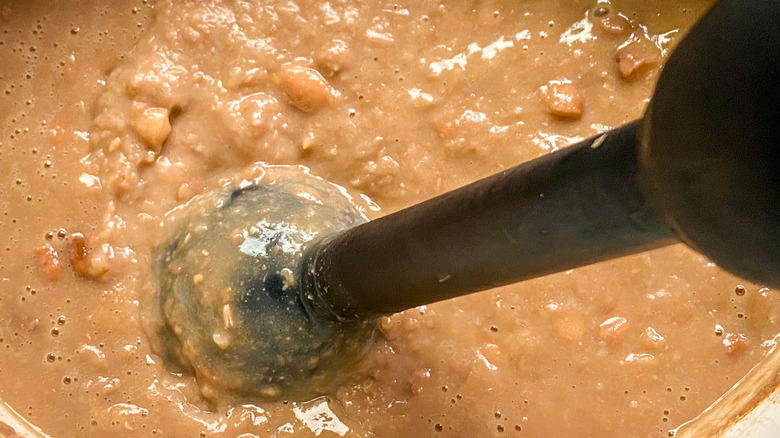 Miriam Hahn/Mashed
When the beans are cooked, you can blitz them with an immersion blender until they are smooth. In the absence of an immersion blender, you can use a stand-up blender, too, but you'll likely need to add ½ cup of water if you use the stand-up blender. (The extra liquid will help you get the beans to where you want them to be.) If you don't have an immersion blender, Hahn suggests mashing the beans by hand.
Once your beans are ready, Hahn notes that you can use the refried beans for just about anything. "They are good as a side dish, in a burrito, on a quesadilla, [or] as a dip," she says. The possibilities are truly endless, but however you decide to enjoy these slow cooker refried beans, they're sure to become a staple recipe in your home.
Slow Cooker Refried Beans Recipe
This slow cooker refried beans recipe is the ultimate side dish you'll want to prepare time and time again.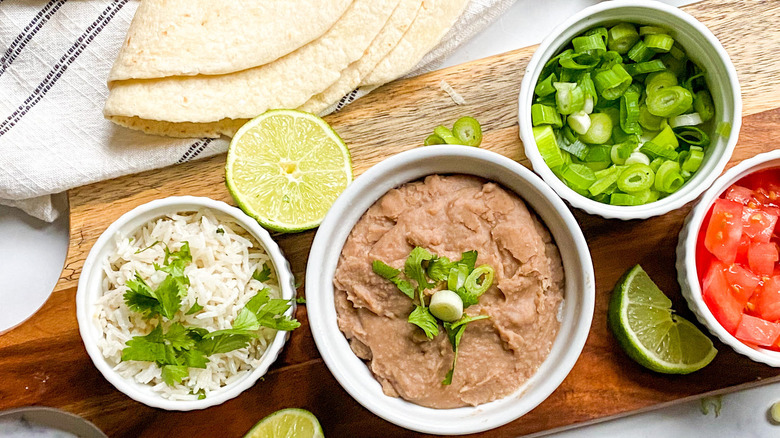 Ingredients
2 cups dry pinto beans
6 ½ cups water
1 teaspoon salt
1 teaspoon garlic powder or garlic granules
1 teaspoon onion powder
1 teaspoon cumin powder
Directions
Put the dry pinto beans into a colander, and rinse them under water.
Add the pinto beans, water, salt, garlic powder, onion powder, and cumin to the slow cooker. Stir.
Turn on to the high setting, and let the beans cook a minimum of 4 ½ hours and up to 6 hours.
Using an immersion blender, blend the beans until smooth.
Serve as a side dish, in a burrito, on a quesadilla, or as a dip.
Nutrition
| | |
| --- | --- |
| Calories per Serving | 171 |
| Total Fat | 0.7 g |
| Saturated Fat | 0.1 g |
| Trans Fat | 0.0 g |
| Cholesterol | 0.0 mg |
| | |
| --- | --- |
| Total Carbohydrates | 30.8 g |
| Dietary Fiber | 7.6 g |
| Total Sugars | 1.1 g |
| Sodium | 305.1 mg |
| Protein | 10.5 g |