Red Lobster's New Fall Menu Includes This Massive Feast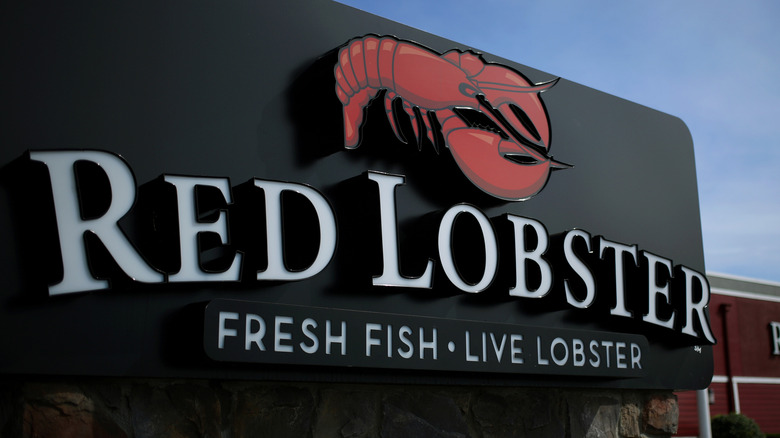 Bloomberg/Getty Images
Offering an abundance of seafood at affordable prices in even the most landlocked of locales, it's no wonder that Red Lobster has become the world's largest seafood restaurant company, with over 700 locations across the U.S. alone according to their website. Founded in Lakeland, Florida in 1968, the chain gained mass popularity for offering surprisingly affordable seafood dishes like snow crab legs, shrimp scampi, creamy lobster linguini, and of course, fresh Maine lobster. 
The restaurant became a household name after it was credited with inventing popcorn shrimp in 1974, which help put the seafood-centric chain on the map. Today, the most famed Red Lobster item may be the irresistibly buttery Cheddar Bay Biscuits, which took the top spot in Mashed's rankings of popular menu items at Red Lobster, and have acquired a massive cult following resulting in the chain serving an estimated 1 million biscuits per day.
Despite the franchise's comparatively low menu prices, Red Lobster has maintained a reputation for serving fresh, sustainably sourced seafood over the years — and was ranked as the #1 restaurant with the freshest seafood by Mashed readers. Now, the restaurant juggernaut is introducing a brand-new meal sure to satisfy the most voracious of appetites.
Red Lobster is adding to their popular menu of Signature Feasts
In a press release, the seafood chain shared news of the latest menu item meant to satisfy seriously hungry seafood lovers everywhere. The new Mariner's Feast includes Atlantic salmon topped with creamy Langostino and Norway lobster, a grilled scallop skewer, and fried shrimp (aka "Walt's Favorite Shrimp"), served with fresh lemon and a side of Red Lobster's cocktail sauce.
This new offering is an addition to the chain's popular Signature Feasts menu, which include the Seafarer's Feast (lobster tail, grilled sea scallops, garlic shrimp, and fried shrimp), Ultimate Feast (lobster tail, snow crab legs, garlic shrimp, and fried shrimp), Seaside Shrimp Trio (fried shrimp, garlic shrimp scampi, and creamy shrimp linguini), and Harborside Lobster and Shrimp.
For those who prefer a more carnivorous option, the Ultimate Surf and Turf Signature Feast consists of a six-ounce filet mignon, butter poached Maine lobster tail, and bacon-wrapped sea scallops. If that wasn't already enough food, all of the chain's feasts come with a choice of two sides and an order of warm Cheddar Bay Biscuits. The shellfish-packed Mariner's Feast is available now, with prices varying by location.