People Who Can't Stand Giada De Laurentiis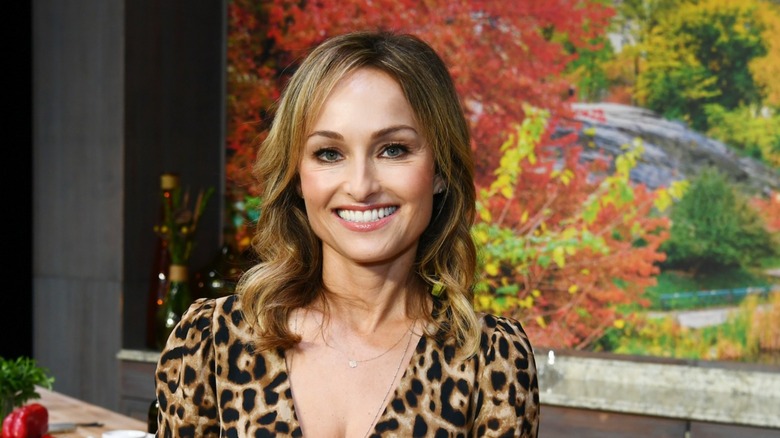 Dave Kotinsky/Getty Images
Unless you've been living under a rock, you've seen Italian-American chef Giada De Laurentiis just about everywhere for the past decade. The Emmy-award-winning chef is a frequent star on Food Network, whether it's alongside world-famous chefs or in the kitchen on her own. Most recently she collaborated with fellow chef Bobby Flay in Italy.
Giada De Laurentiis has her own cooking show, she's written a handful of cookbooks, and she was the first woman ever to open her own restaurant on the Las Vegas Strip. Talk about a big win for women. Her signature smile and authentic Italian cuisine have captured a lot of people's hearts (and stomachs), but many still can't stand the woman. Whether it's the smile, the food, or her personality that rubs people the wrong way, some celebrities have had a hard time hiding their disdain for her. Love her or hate her, let us go over the list of people who can't stand Giada De Laurentiis.
Nicole Kidman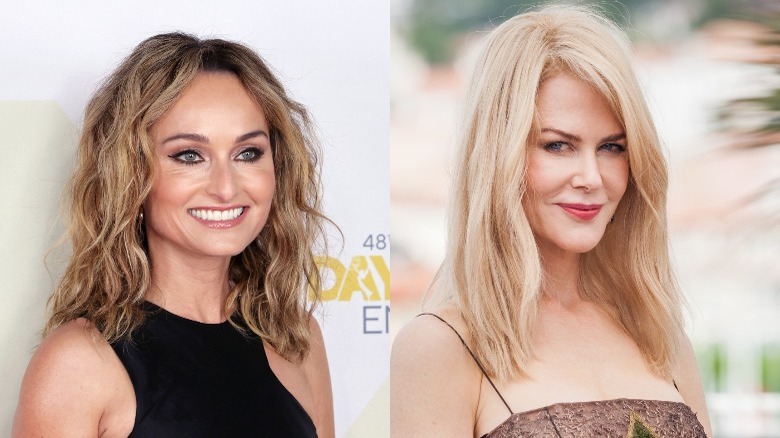 Kevin Winter/Getty
Let's start with the passive-aggressive tension between Giada De Laurentiis and Nicole Kidman. Back in 2017, Nicole publicly disliked Giada's cooking on The Ellen Show, almost spitting out her bite of the pre-made pizza dough De Laurentiis had made. Now, the insult doesn't come as a surprise considering De Laurentiis had been acting pretty annoyed prior when she was teaching Kidman and Ellen how to cook. The chef made some crude jokes about the Risotto balls she had them roll with their hands, which Kidman did not seem amused by.
After a few classic Kidman eye-rolls and some subtle digs at each other, Giada seemed to become flustered and frantic about the way the cooking segment was going. She practically yelled out her annoyances while Ellen just laughed and Kidman looked far from impressed. They all made a mess on the table, and the whole segment was amusing to say the least. But Nicole Kidman's acting skills were not enough to hide her feelings about Giada's abrasiveness. Whether she wanted us to pick up on the tension or she tried to hide it, it's safe to say Giada Di Laurentiis left a bad taste in Nicole Kidman's mouth.
Bobby Flay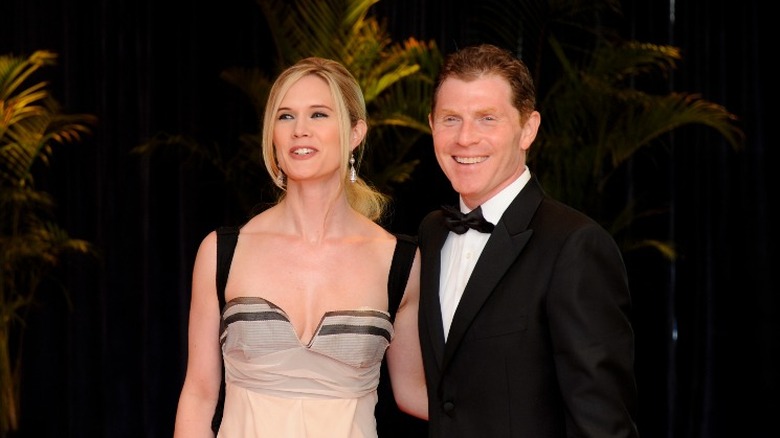 Rena Schild/Shutterstock
Bobby Flay and Giada De Laurentiis have recently been enjoying the taste of Italy together on their newest show, Bobby and Giada in Italy, on discovery+. But it hasn't always been all sunshine and roses between the two. Their relationship has also had some major fallouts. The two have a lot in common, both being chefs and TV personalities, and they have worked together on numerous occasions over the course of their careers. Needless to say, they have become very good friends.
But one of the hiccups of their friendship involves Giada De Laurentiis giving Flay the silent treatment for close to a year. Why? The rift came following their loss on Iron Chef America in 2006. The pair lost to none other than Rachael Ray and Mario Batali. De Laurentiis took it hard, being as competitive as she is known to be. Flay, on the other hand, took it with stride and laughed it off.
Well, sore losers hold grudges, and Giada held on for eight months, fuming over the loss, calling Bobby Flay a "jerk" and saying she never wanted to be around him again. Judging from their chemistry on their new show, De Laurentiis got over it, and they are friends once again. Still, that was a petty move on Giada's part, and we can't imagine Flay appreciated the drama.
Mario Batali
Infamous chef Mario Batali is another one of Giada De Laurentiis' fellow Food Network friends, and this one comes with a story of its own. Mario Batali is notorious, not just for his quirks like Crocs and pot brownies, but for his behavior as well. Batali has faced multiple sexual misconduct allegations both at work and outside of his work. He never denied the claims and actually took ownership of his responsibility in a statement.
Still, the chef definitely didn't have Giada De Laurentiis in his corner during the scandal. The worst of it came out in 2017, and during the whirlwind of accusations that followed, De Laurentiis actually commented quite frankly on the matter when asked by TMZ. "It's all very sad," said De Laurentiis, "what has to happen, happens." When asked if she was shocked to hear of the harassment, she awkwardly shrugged and walked away. Ouch. And to bring home her point, she later admitted that it was not a "huge shock" to hear of the sexual misconduct allegations Batali was facing. Mario Batali likely feels the burn and betrayal by his long-time friend, Giada De Laurentiis.
Rachael Ray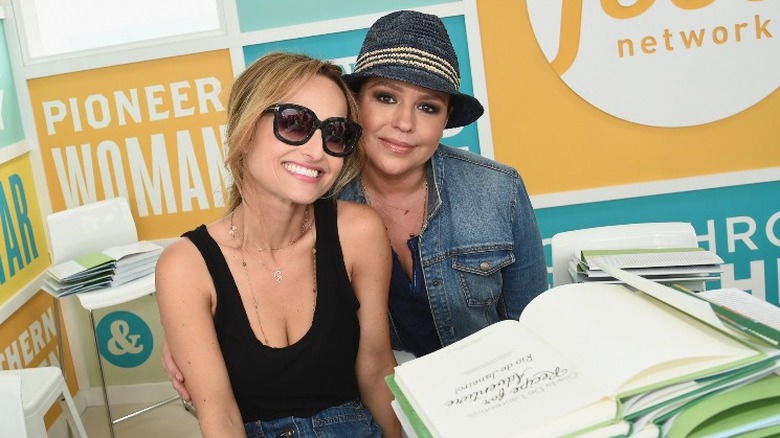 Ilya S. Savenok/Getty Images
Female chef rivalry? Giada De Laurentiis and Rachael Ray's differences started back in 2006 when De Laurentiis and Bobby Flay lost to Rachael Ray and Mario Batali on Iron Chef. As you know, De Laurentiis was deeply affected by the loss, ghosting Flay for months after. As you can imagine, she was probably not very fond of her competitor, Rachael Ray. The two have made appearances together on numerous occasions but never seem to have a genuine connection.
In 2011, De Laurentiis tried to make it sound like the two were on good terms, but it just didn't sound very convincing. "Do we hang out all the time? No. Are we best friends? No," De Laurentiis said according to People. "We do these festivals together, and she'll say to me, 'Oh, we'd better take a picture together and smile, because if we don't, God only knows what's going to get written about us.'" It sounds like De Laurentiis was trying her best to be cordial about it, but the grudge shines right through. Rachael Ray seems to be handling it the same way, keeping it cool while passively disliking Giada DeLaurentiis.
Matt Lauer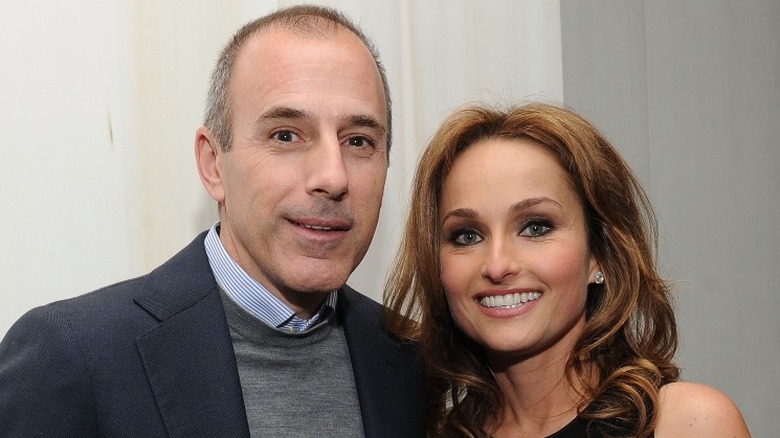 Jason Kempin/Getty Images
Former TV news anchor and personality Matt Lauer and Giada De Laurentiis have always had a cozy relationship. The long-time pals have been rumored to be involved romantically over the years, which they both have denied repeatedly. You might have seen the photos of the two linking arms in Barbados on the beach in 2011, which sparked a lot of talk, or some of the other intimate moments they've had.
With Matt Lauer's damning sexual harassment accusations and subsequent job loss in 2020, he likely doesn't appreciate rumors of another affair swirling around. The gossip took off despite Giada De Laurentiis being adamant to the media that nothing happened between them. Since De Laurentiis has been rumored to have had affairs with a few of her friendly colleagues and considering the public just loves to gossip about both of these stars, Lauer will probably keep his distance from the De Laurentiis for a while.
Super Fans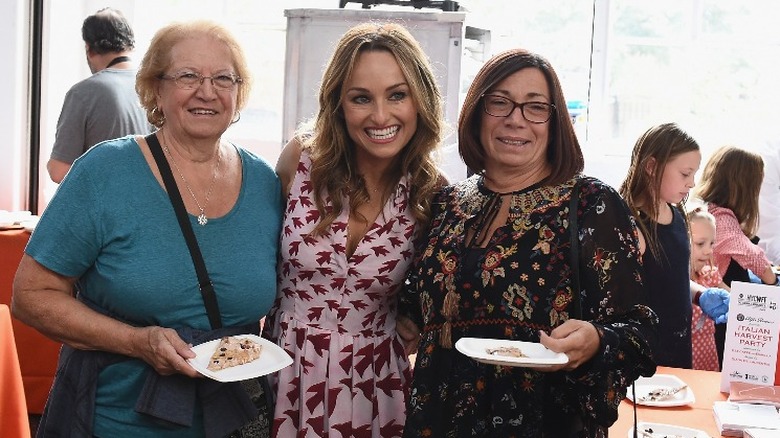 Ilya S. Savenok/Getty Images
The Le Cordon Bleu-trained chef may be friendly with her colleagues and co-stars, but Giada De Laurentiis has been open about how uncomfortable she feels when fans want to touch and hug her in public. Understandably, hugging and touching that many people at a book signing or other public appearance would make anyone feel exhausted enough to need their space. But Giada isn't really trying to hide her feelings towards her fans, even in the media. 
According to The Daily News, De Laurentiis has said "I wish I could say no touchy-touchy, but it doesn't work that way." This brutal honesty will probably rub many fans the wrong way. However, De Laurentiis seems to understand that this is what she signed up for by pursuing a career as a public figure on television. She may want to consider censoring her comments so she can keep her loyal fan base by her side, though.