What Makes Jamie Oliver's Eggplant Parmesan So Unique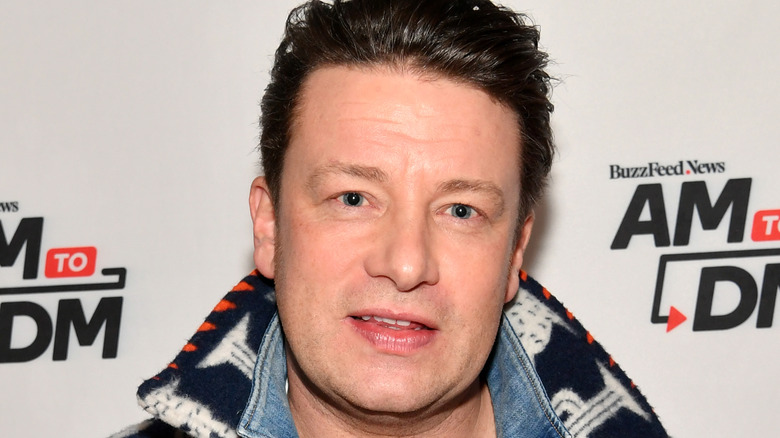 Slaven Vlasic/Getty Images
Silky eggplant slices that are breaded and fried, layered with fresh parmesan cheese and tomato sauce, and baked in the oven to gooey, crispy, smooth perfection — yep, eggplant parmesan is a classic Italian dish that has a special place in many people's hearts. It's hearty, meat-free, and nostalgic for both Italians and Americans who grew up with the specialty on their family dinner tables. According to La Cucina Italiana, eggplant parmesan has disputed roots in the Italian cities of Naples and Parma and the region of Sicily. Since making its way stateside, it has become a pillar of Italian-American cuisine.
Jamie Oliver, the British celebrity chef whose BBC show "The Naked Chef" made him internationally famous, has released his unique twist on this beloved dish. While he does refer to the vegetable using the French name "aubergine," that's not the only thing different about his recipe. Find out below how Oliver's take on eggplant parmesan is different from the standard.
Oliver adds another component to his eggplant parmesan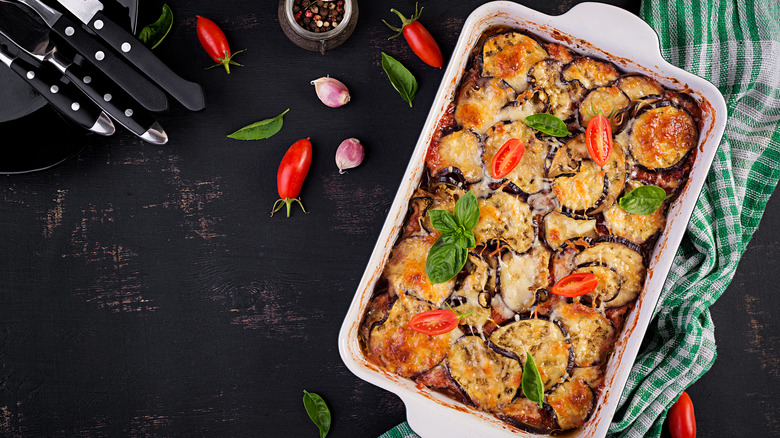 Timolina/Shutterstock
Oliver's eggplant parmesan recipe, which he actually calls Aubergine Parmesan Milanese and is available on his website, definitely deviates from more traditional methods. Instead of calling for a simple marinara sauce to layer with the eggplant, Oliver makes a base layer of spaghetti with tomato, garlic, and basil that is sure to contrast deliciously with the lightly fried and breaded eggplant.
The homemade (but quick) tomato sauce is made in the same large nonstick pan used to fry the eggplant slices. Once the eggplant has been covered with parmesan cheese and slid into the oven, the pan should be wiped clean and coated with olive oil. Over medium-high heat, fry the sliced garlic and cherry tomatoes, add fresh basil, and let the sauce simmer while the pasta cooks. Plate the sauced spaghetti, put a couple of pieces of crispy eggplant on top, and finish with extra basil and cheese. Next time it's Italian night at your home, this recipe is definitely worth a try.