Duff Goldman Wishes He Could Make A Cake For This Classic Rock Band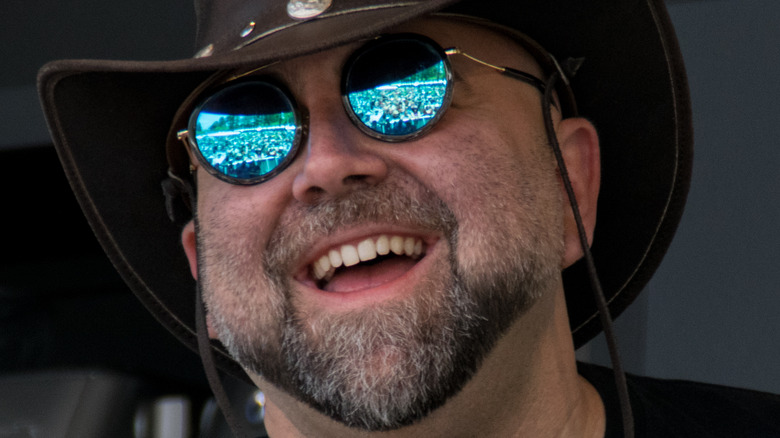 agwilson/Shutterstock
Duff Goldman is a baker extraordinaire known for making over-the-top cakes. His Food Network show "Ace of Cakes" featured Goldman making creations like a seven-tiered wedding cake straight out of a Dr. Seuss illustration, to a near-perfect replica of Chicago's famed ballpark, Wrigley Field (via Food Network). His new show, "Buddy vs. Duff," has Goldman and fellow baker Buddy Valastro trying to one-up each other with over-the-top works of edible art. That's probably why Goldman, according to Food Network, has drill saws and blowtorches along with rolling pins and mixers in his baking toolkit. 
Goldman, who owns Charm City Cakes in Baltimore, Maryland, and Charm City Cakes West in Los Angeles, makes custom cakes for all occasions. His website has pictures of "Star Wars"-themed cakes, a cake shaped like a trendy Hermès Birkin bag, car-shaped cakes, and even a Grumpy Cat cake. Goldman, who has made custom cakes for President Barack Obama, Katy Perry, Roger Moore, and author Tom Clancy (via Gossipgist) is also a huge rock fan and musician in his own right. Goldman plays bass for an Elvis tribute band called Danger Ace and is also a member of Indie band Sand Ox. 
As a cake master and musician, Goldman recently shared which classic rock band he would most love to pay tribute to in the form of a cake.
Duff would love to make a Led Zeppelin cake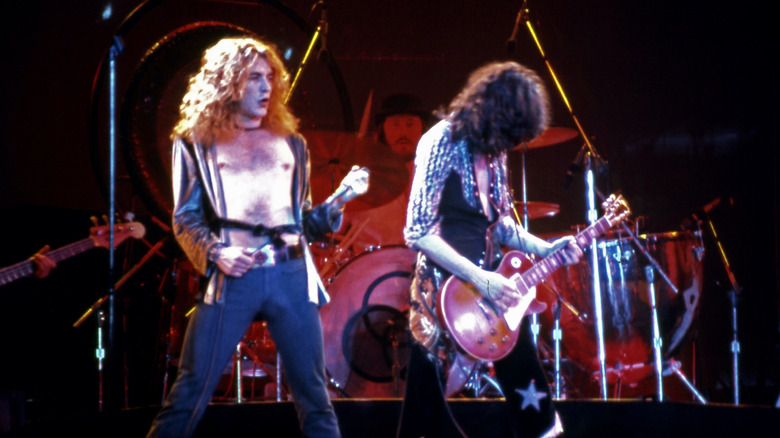 Bruce Alan Bennett/Shutterstock
In a Food Network interview, Duff Goldman was asked: "If you could make a cake for anyone, dead or alive, who would it be and what would you make?"
Goldman replied in a very specific way, saying that he would make a cake for Led Zeppelin in the summer of 1977 when they played New York's Madison Square Garden. Goldman, who noted he was just two years old at the time, said he wished he could have been there to deliver a cake and stay for the show. 
Goldman went on to describe what kind of cake he would design for the British band best known for classics like "Stairway to Heaven" and "Whole Lotta Love" (via Rolling Stone). 
He said he would make a cake fashioned like drummer John Bonham's drum kit. The only problem, according to Goldman, is that Bonham's drums were acrylic and see-through. His answer to the dilemma? "I'd probably do a wooden drum kit that was really sweet," he said.
As a finishing touch, Goldman would add a giant blimp-like balloon with the band's logo on it. Not quite finished, Goldman said he would add some sort of special effect to the cake — possibly a fire element.  Sounds like one hot rock 'n' roll fantasy cake.