Nissin's Latest Cup Noodles Box Set Honors This Mid-'90s Anime Classic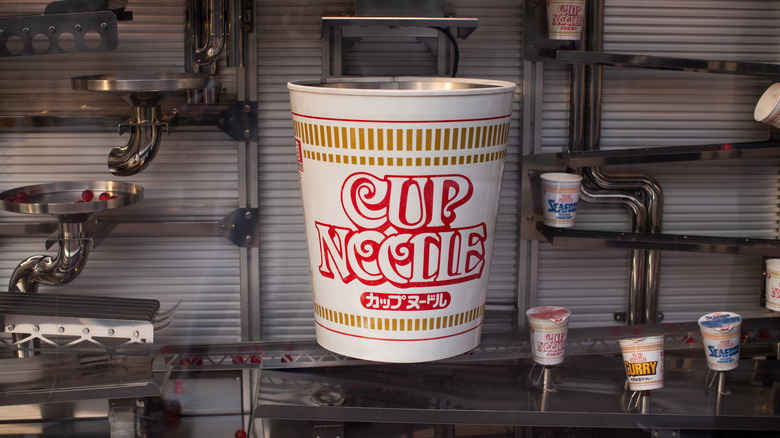 Morumotto/Shutterstock
Whether you're in college or just want a quick snack, Cup Noodles are an easy staple to keep on hand. Cup Noodles released a pumpkin spice flavor, and while pumpkin spice has become one of the staple fall flavors, we're curious to see how this tastes in ramen and if it'll fly off shelves like a pumpkin spice latte from Starbucks. But Cup Noodles has more coming out for fans of ramen — and anime — this fall.
According to Foodbeast, as part of Nissin's 50th-anniversary celebration, it will be releasing a set of Cup Noodles with designs inspired by the anime "Neon Genesis Evangelion," a show from the '90s. This pack is officially called the "Limited Edition Cup Noodle Gift Box," but if you're in the United States, don't expect to be able to buy this in stores. Foodbeast reports that this will be available only in Hong Kong from August to September. If you're still looking to snag a pack, you can try browsing online to see if any original buyers are hoping to resell these exclusive noodle gift sets.
What designs are part of this Cup Noodles set?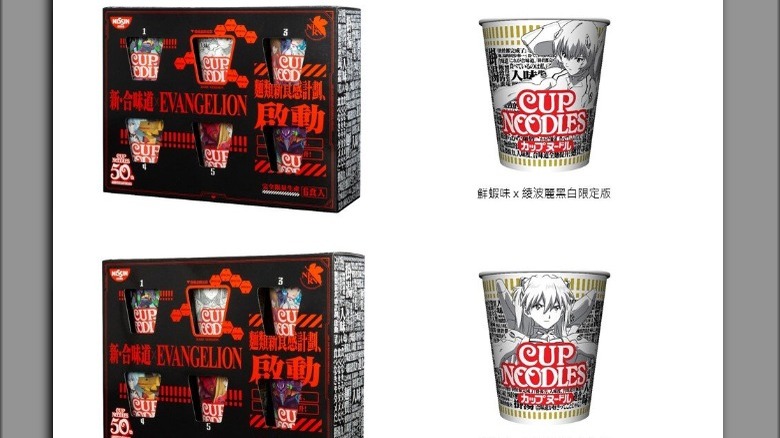 Nissin Foods Hong Kong
Of course, there's the bright red Cup Noodles logo in the middle of each cup of instant noodles, but with this "Neon Genesis Evangelion" set, you'll see some characters from the anime as part of the design as well. According to Hypebeast, characters on the package include Shinji, Ayanami, and Asuka. The site also says that each package has six Cup Noodles, and each package comes with "one rare Ayanami Zero or Limited Asuka ramen."
Trend Hunter reports that the packaging the cups come in will also be themed, and the ramen flavors include shrimp and seafood. The seafood flavor comes in a spicy variety as well. While many people might not be able to enjoy Neon Genesis Evangelion ramen, they can still make the best out of your instant ramen. Here's how to upgrade your at-home instant ramen and the popular instant ramen brands, ranked from best to worst, to help you decide what to purchase.