Creamy Avocado Chicken Salad Recipe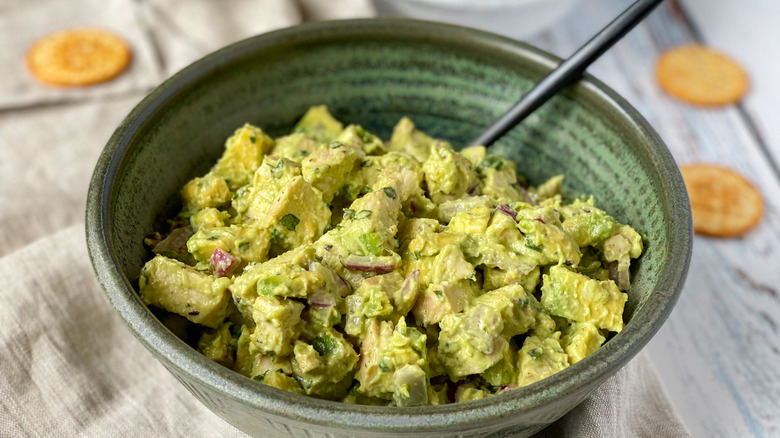 Hayley MacLean/Mashed
There are plenty of different types of salads to make, including your basic salad with lettuce, tomatoes, and your choice of dressing. There are also several options for a salad with a mayo base, including tuna salad, potato salad, and of course, chicken salad. This recipe for creamy chicken salad adds some avocado and red onions to that version, and it's filled with wonderful flavors that will please your palate. This dish is excellent for a quick lunch or as a side for a BBQ, and kids and adults alike will go wild for it. If you are a lover of all things avocado (and let's be honest ... who isn't?), then this is the perfect recipe for you! It's light and delicious, and our mouths are watering just thinking about it! 
Recipe developer and nutritionist Hayley MacLean is the brains behind this filling recipe you're sure to love. "I love how fresh and summer-y this salad is!" MacLean exclaims. "The avocado is so creamy and the lime juice and red onion add a great bite. All the ingredients really come together so well — it tastes just like sunshine in a bowl!" 
Keep reading to find out how to make this tasty and creamy chicken salad. Trust us, you're going to want to bookmark this page!
Gather the ingredients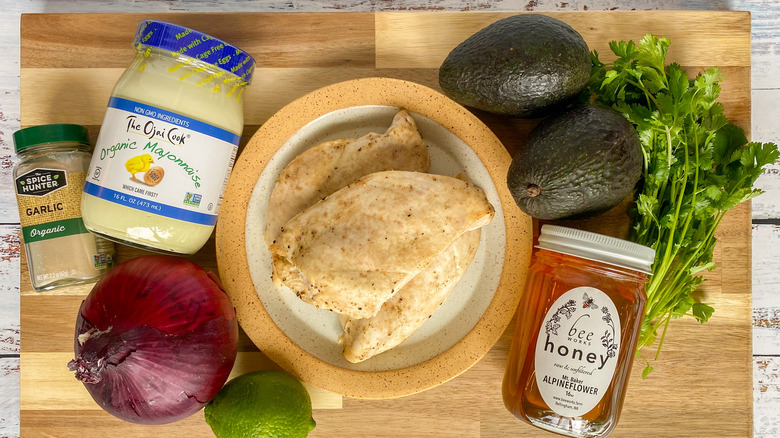 Hayley MacLean/Mashed
The first thing that you need to do is to make a grocery list to see what you need from the store. For starters, add chicken breasts to your list. You can either get them pre-cooked or make them when you get home, but the chicken needs to be cooked for this recipe. You will also need a pair of ripe avocados. A little bit of mayo, lime juice, and honey are three items that provide this salad with a ton of flavor.
In addition, add a red onion and a few tablespoons of fresh cilantro to your list. Last but not least, you need garlic powder, salt, and pepper.
Chop the chicken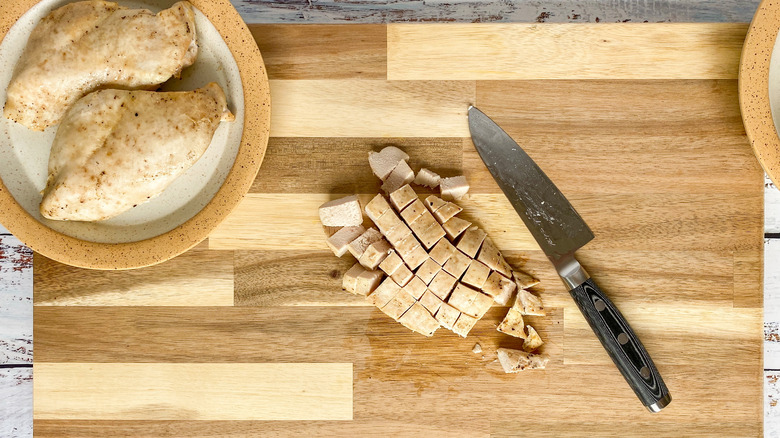 Hayley MacLean/Mashed
Take out your cooked chicken breasts, a cutting board, and a knife of your choice. Make sure the knife is pretty sharp so you can easily cut through the chicken. Then, go ahead and chop the chicken into ½-inch pieces. It's easiest to do this on a cutting board using a knife, but if you need to use a pair of kitchen scissors, that's also fine.
Once you have finished chopping the chicken, place the pieces into a bowl and set them aside. You will need the chicken in a few moments so don't put it too far!
Dice the avocado, red onion, and cilantro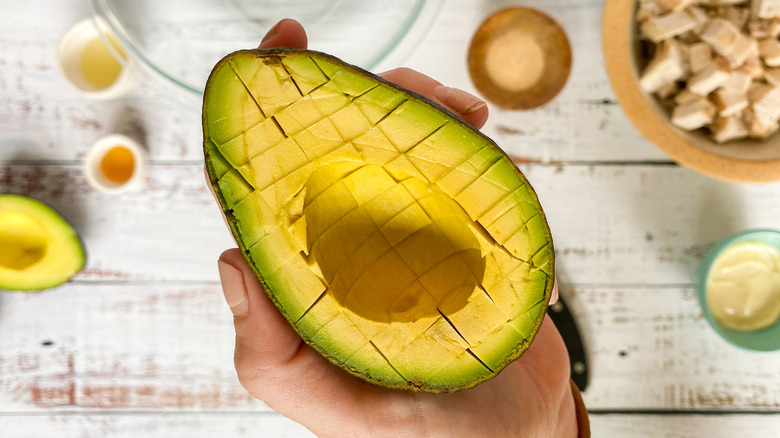 Hayley MacLean/Mashed
Now it's time to dice the avocado into perfect pieces. It's really simple to do, and luckily, MacLean has some great instructions for readers. "To dice the avocado, lay the avocado half on your work surface and slice about every ¼-inch both lengthwise and then widthwise," she says. "After this a spoon will easily scoop out the avocado bits! Alternately, you can spoon out the avocado without dicing it first, however I love the little bites of avocado that dicing it first adds to the salad." 
Now is a good time to also dice the red onion, cut open the lime, and mince your cilantro, if you haven't done so already.
Combine the ingredients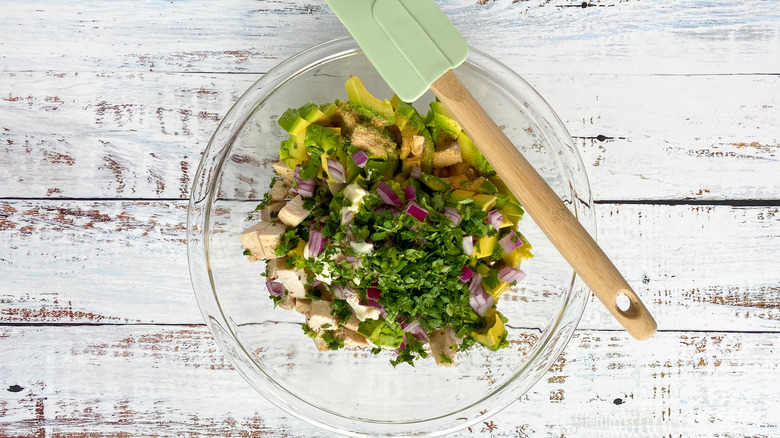 Hayley MacLean/Mashed
Grab a medium-sized mixing bowl and start adding in your items, one by one. First, dump in the diced chicken, followed by the avocado. Then, you can mix in the wet ingredients, including the mayo, lime juice, and honey. The last few items that need to go into the bowl include the red onion, cilantro, and garlic powder. Doesn't the cilantro smell wonderful? Give everything a few good mixes to coat the chicken and veggies evenly with the wet ingredients.
At this time, you can also add some salt and pepper to taste.
Serve the chicken salad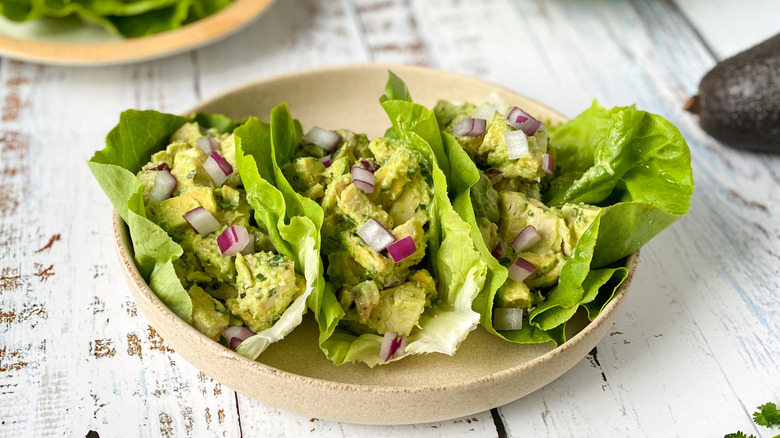 Hayley MacLean/Mashed
This is probably one of the simplest recipes that you will ever make, and guess what? You're all finished. This dish is best when served immediately and as far as serving suggestions go, there are plenty. "I love serving this in lettuce wraps or in a sandwich; however its great with just a few crackers or on its own as well! It would be perfect at a BBQ, it is so fresh and tasty!" MacLean raves. 
If you have leftovers (which we don't think that you will), then they will stay good for 3 to 5 days in the fridge in an airtight container with plastic wrap pressed onto the surface of the salad, which will slow the avocado from browning. Now the last thing to do is dig in! 
Creamy Avocado Chicken Salad Recipe
Ripe avocado helps make this chicken salad creamy and delicious, perfect for a light lunch on bread or lettuce wraps or as a side dish at a summer BBQ.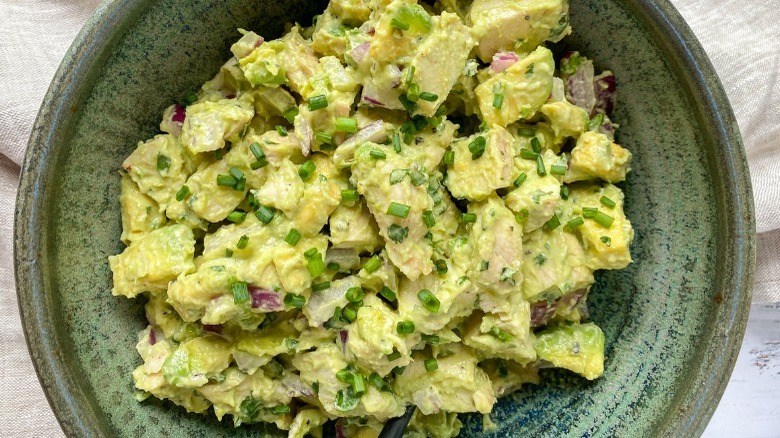 Ingredients
3 chicken breasts, cooked
2 ripe avocados
¼ cup mayonnaise
1 tablespoon lime juice
1 teaspoon honey
⅓ cup red onion, diced
2 tablespoons fresh cilantro, minced
1 teaspoon garlic powder
Salt and pepper to taste
Directions
Chop the cooked chicken breasts into ½-inch pieces.
Dice the avocado into ¼-inch pieces.
Add the chicken, avocado, mayonnaise, lime juice, honey, red onion, cilantro, and garlic powder to a medium-sized mixing bowl and mix until combined and avocado begins to break down.
Add salt and pepper to taste.
Serve immediately.
Nutrition
| | |
| --- | --- |
| Calories per Serving | 502 |
| Total Fat | 38.0 g |
| Saturated Fat | 7.3 g |
| Trans Fat | 0.1 g |
| Cholesterol | 89.2 mg |
| | |
| --- | --- |
| Total Carbohydrates | 12.7 g |
| Dietary Fiber | 7.3 g |
| Total Sugars | 2.8 g |
| Sodium | 619.6 mg |
| Protein | 29.6 g |