Duff Goldman Made All The Cakes In This Katy Perry Music Video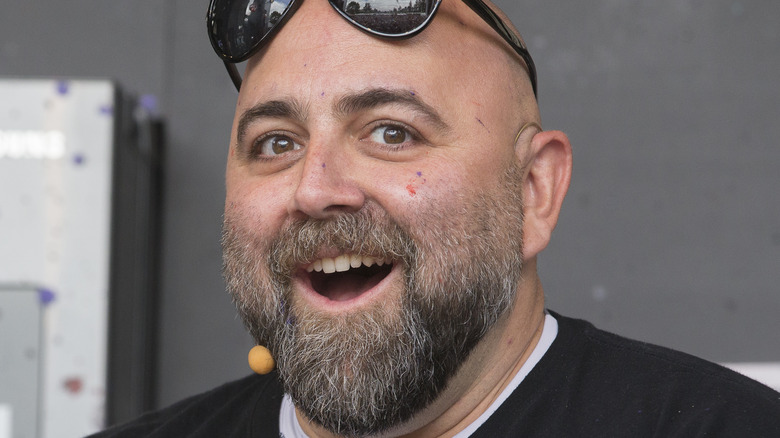 Sterling Munksgard/Shutterstock
Baker and television personality Duff Goldman has earned quite the reputation over the years for his over-the-top cakes. Whether he's showing off his own skills, as he did on his former show "Ace of Cakes," or judging the culinary creations of others on cooking competition shows such as "Spring Baking Championship" or "Holiday Baking Championship," Goldman knows his way around the kitchen, possessing a dessert expertise in particular. So, when pop star Katy Perry was conceptualizing what a lyric video might look like for her single "Birthday" and she got the idea to do something involving cake, it was Goldman that Perry's team reached out to. 
Or, more specifically, Goldman and his crew at Cakemix Bakery & DIY Decorating Studio in Los Angeles, as People reported. The baking dream team followed the pop star's brief, putting together baked creations like a rainbow cake, hamburger cake, cat cake and many, many more. The unique lyric video features text on a variety of edible surfaces, piped onto macarons, atop cakes, and even single words piped along each cake layer of a rainbow cake, just to name a few. The baked treats and various other kitchen accessories served as a slate to write out all the lyrics in the song, bringing Perry's vision to life on screen in a seriously sweet way.
Here's what happened to all the cakes used in the music video
Even though cakes weren't the only vessel for the lyric delivery, throughout the video the sheer amount of cakes that Goldman and his team crafted was truly staggering. So, once all the necessary footage had been captured and everything was wrapped up, what exactly happened to all those colorful cakes decorated with Katy Perry lyrics? Simple — members of the production team, from the camera crew to those responsible for sound, were allowed to take the sweet treats home to enjoy (via People). As Goldman told People, "I'm sure there are photos of them all at home with their families eating Katy Perry cakes!"
In honor of all her hard work during the creative process, Perry was able to take home a sweet treat as well, although it wasn't just one of the cakes from the video. Instead, she was gifted some glittering pink cupcakes with her name spelled out on them rather than her lyrics. And, as an added bonus, while Goldman was doing a delivery elsewhere on the big day, the rest of the team had the opportunity to meet the pop star as they showed off the cakes they had created. Talk about a fun day at the office!