Church's Chicken Just Added This Fall Comfort Food To Its Menu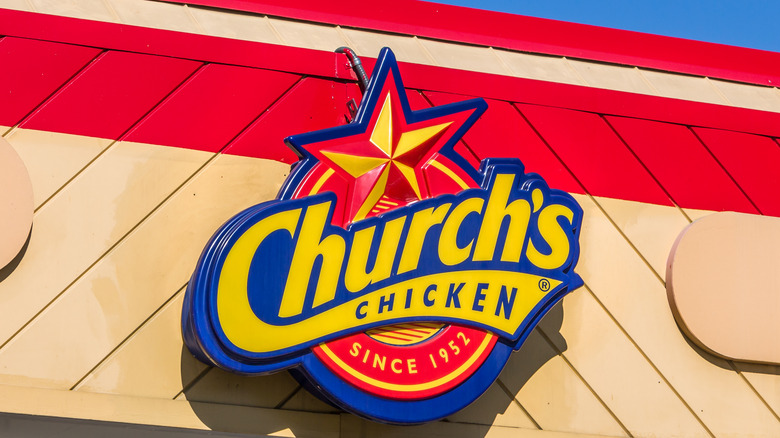 Ken Wolter/Shutterstock
Church's Chicken knows you have a lot of choices if you're craving fast food fried chicken. You could go to Chick-fil-A, KFC, or Popeyes, too. But what are you going to get as a side order at any of these three chains? KFC's "sides" menu and the same menu at Chick-fil-A both offer macaroni and cheese. If you have a hankering for mashed potatoes, then you can go to KFC again, but you'll also find them on Popeyes' menu. If you like coleslaw, well, you can probably find it in any high school cafeteria in America — or again, Popeyes and KFC. Not to be outdone, Chick-fil-A is the place to go to get a Kale Crunch salad. Then again, that may just be for people who think kale somehow balances out whatever you're getting from the deep fryer.
Now, if you like a place where side orders are more like the main event, then you might want to head to your nearest Church's Chicken. Sure, they have the standard slaw, mashers, and mac and cheese. But Church's side-order menu also has fried okra and jalapeño peppers you can tear open and squirt over your chicken. Oh, and here's something brand new you definitely won't find at those other chicken places: sweet potato casserole.
Church's sweet potato casserole, melted marshmallows and all, is available for a limited time
The Church's Chicken menu describes its newest entry, the sweet potato casserole, as made with sweet potatoes, creamy butter, sugar, cinnamon, nutmeg, and other spices. All this gets topped off with "melty mini-marshmallows." Now that's what you call a side dish. It comes in one size, "shareable," and while prices may vary, a certain G. Ramsay at Fast Food Post found it at their local Church's for $4.69.
The new sweet potato casserole is a fitting addition to the Church's menu, now that we're on the verge of autumn. It will definitely give your Church's chicken dinner some Thanksgiving flair. That doesn't mean you should wait until November to order it, though. Someone at Thrillist talked to Church's and learned the casserole is one of those limited-time-only promotions and will be gone by October 31. Since the sweet potato casserole is big enough for sharing anyway, you might consider including it in another new deal at Church's: the $20, six-person meal deal.