Easy Apple Kugel Recipe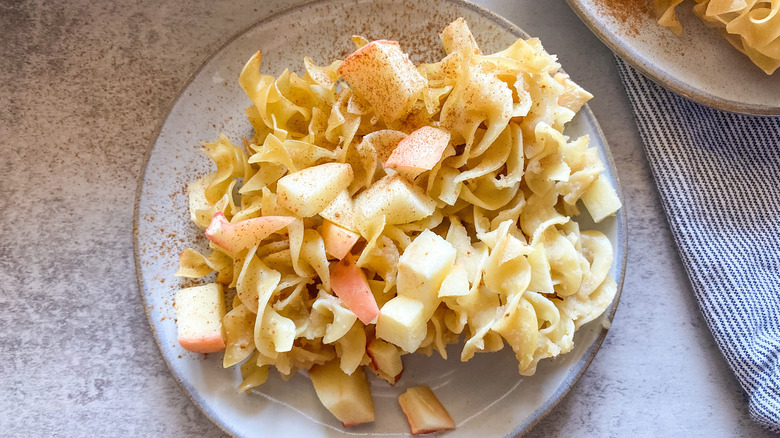 Kristen Carli/Mashed
If you haven't yet tried kugel, then let us introduce you to one of the tastiest and most unique dishes that you will ever have the pleasure of enjoying. Kugel is a noodle dish that originated in Germany. It's composed of noodles, and it usually includes some sort of fruit and a dash of cinnamon. Recipe developer Kristen Carli came up with a fun spin on the kugel, adding some applesauce and cinnamon. It might sound like somewhat of a weird combination, but trust us when we tell you that it's incredible. As they say ... don't knock it 'til you try it! Not only is this dish incredibly tasty, but it's also super filling, which is always a win.
"Kugel is an egg noodle casserole," Carli explains. "I love this as a dessert or breakfast. I like making it ahead of time and eating it during busy work weeks."
Keep reading to find out how to make this amazing apple kugel. 
Gather the ingredients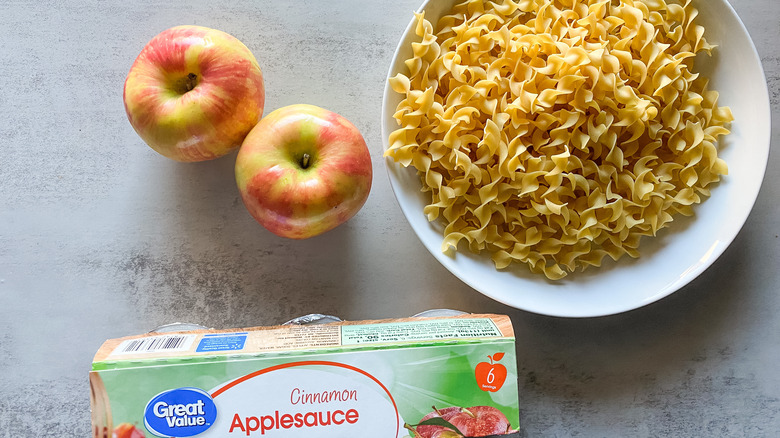 Kristen Carli/Mashed
The first part of this recipe (or any other recipe prep for that matter), is to make a list of all the required ingredients. The great part about this dish is that you need only three items, making it simple and affordable. The first thing you need is a pound of egg noodles, which provide a good base for this filling dish. In addition, you will need a few cups of cinnamon applesauce.
Last but not least, grab a pair of Honeycrisp apples. Make sure that you dice them before you use them for this recipe. Now, it's time to begin.
Preheat the oven and prep the baking dish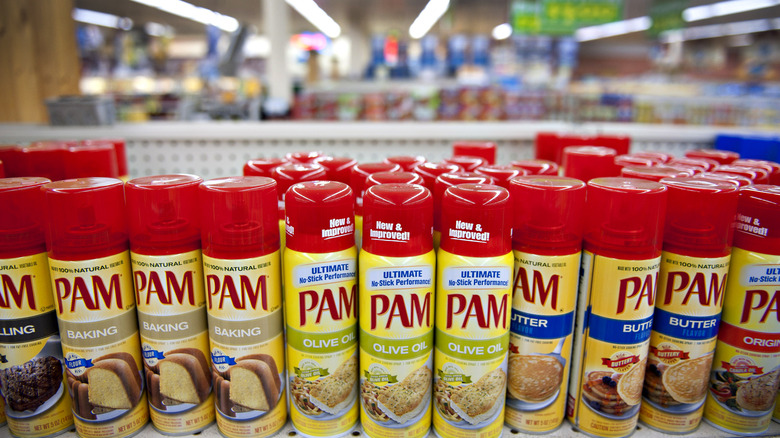 Bloomberg/Getty Images
The first order of business is to preheat your oven to 350 F. Then, it will be good to go when you finish cooking. It's always essential to preheat the oven because if you put your dish in before it hits the necessary temperature, it can ruin whatever you're making. Of course, that's something that we don't want to happen. 
Next, grab a 9x13-inch baking dish to use for the recipe. Spray it with nonstick cooking spray, getting the bottom and the sides of the dish really well. This ensures that none of the good stuff will stick to the bottom.
Boil water and add pasta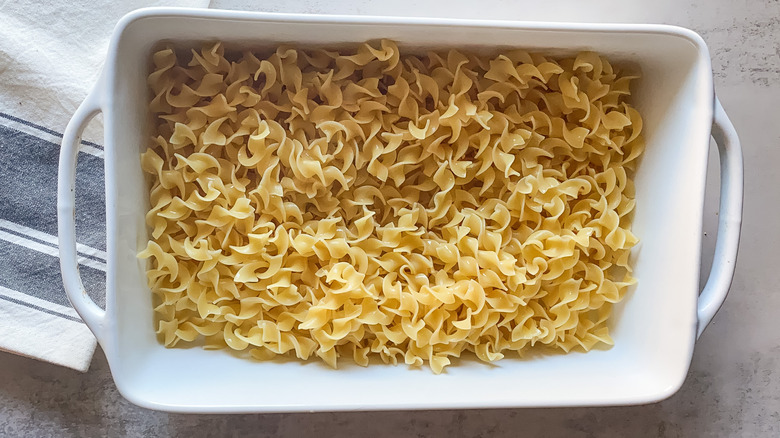 Kristen Carli/Mashed
Now that your oven is on and getting nice and toasty, it's time to roll up our sleeves and get to work. Take out a large pot and fill it with water. Then, place it on your stove and kick the heat up to high. Once the water starts to boil, you can add the pasta in. Since every brand of pasta varies slightly in cook time and directions, this is the part where you will want to read the back of the pasta box for exact details on how to cook it. 
When the pasta finishes, drain it and pour it into the baking dish.
Add the applesauce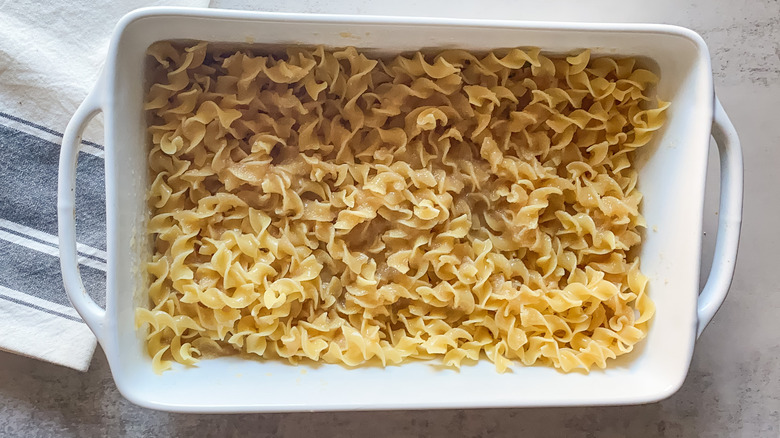 Kristen Carli/Mashed
Once you have the pasta in the baking dish, go ahead and pour the applesauce over the top. Using a spoon, stir the noodles and pasta together to ensure that the noodles are evenly coated. After that, sprinkle your diced apples over the top of the pasta. Again, you want to make sure that you try to distribute the apples as evenly as possible.
It may already look like a masterpiece, but there's still one more step that you need to take to complete the recipe. 
Bake the kugel and enjoy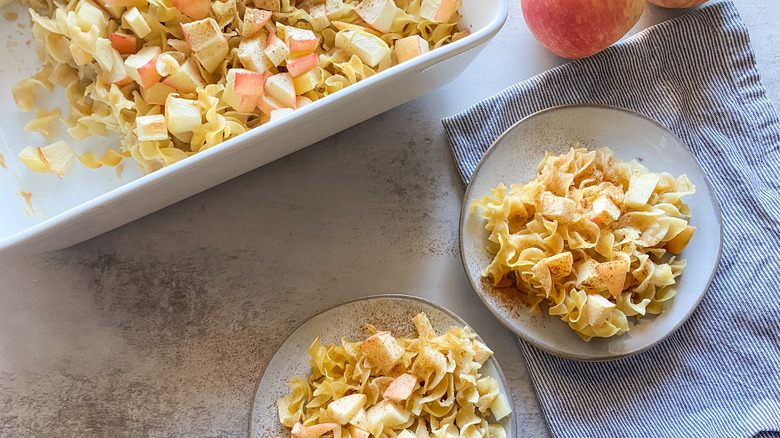 Kristen Carli/Mashed
Now that your noodles are all dressed up with applesauce and apples, it's time to stick them in the oven. Set your timer for 40 minutes, checking the kugel frequently to ensure it doesn't burn. Once your timer dings (or the kugel looks ready ahead of time), use your oven mitts to take it out. Sprinkle cinnamon over the top of the dish if you wish!
If you have any leftovers, then you're in luck. Carli shares that they will stay good for four days as long as they're stored in an airtight container. Now there's only one thing left to do — dig in!
Easy Apple Kugel Recipe
If you haven't yet tried kugel, then let us introduce you to one of the tastiest and most unique dishes that you will ever have the pleasure of enjoying.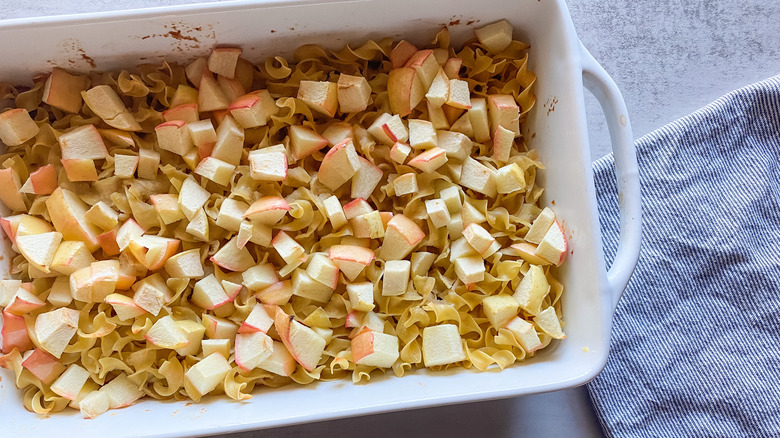 Ingredients
1 pound egg noodles
3 cups cinnamon applesauce
2 Honeycrisp apples, diced
Optional Ingredients
Directions
Preheat oven to 350 F. Spray a 9x13-inch baking dish with nonstick cooking spray.
Bring a large pot of water to a boil. Add egg noodles. Cook according to package directions. Drain and pour into baking dish.
Add applesauce to pasta. Stir to combine.
Top with diced apples.
Bake for 40 minutes.
Sprinkle with cinnamon if desired.
Serve and enjoy.
Nutrition
| | |
| --- | --- |
| Calories per Serving | 373 |
| Total Fat | 3.6 g |
| Saturated Fat | 0.9 g |
| Trans Fat | 0.0 g |
| Cholesterol | 63.5 mg |
| | |
| --- | --- |
| Total Carbohydrates | 76.0 g |
| Dietary Fiber | 5.3 g |
| Total Sugars | 19.2 g |
| Sodium | 18.9 mg |
| Protein | 11.1 g |