Aldi Shoppers Swear By These Silicone Donut Pans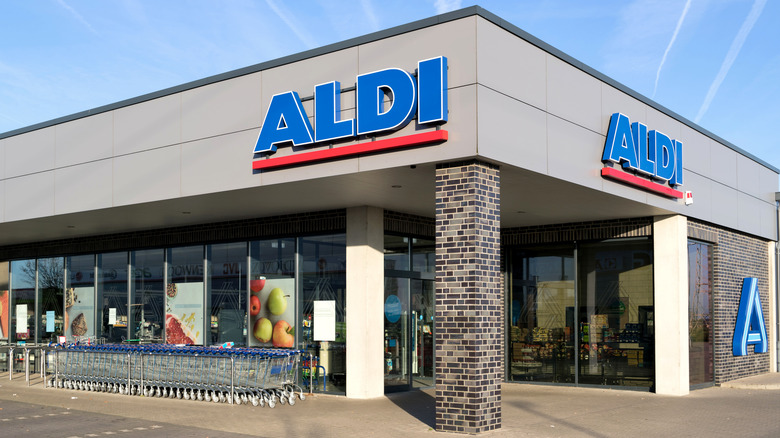 Bjoern Wylezich/Shutterstock
If you haven't yet discovered the joys of baking with silicone, then now would be a good time — if you have an Aldi near you, that is. Aldi Reviewer reports that this week's Aldi Finds ad includes a variety of silicone pans by Crofton, all for $6.99. Aldi offers four options that include a square pan for cakes, or molded pans for making six donuts, 12 muffins, or 24 mini muffins. They come in blue or pink with a textured sprinkle design, per @aldifavoritefinds on Instagram. But having a wide range of color options is just one of silicone's advantages over the more traditional metal or glass pans.
Then again, your old pans have been doing the job, so why switch to silicone? The Spruce Eats outlines some other reasons to go with silicone. It's non-stick, and no greasing should be necessary. It heats evenly, and it's durable and versatile since it's safe in the dishwasher, microwave, and freezer. Some that are new to silicone worry the stuff might melt in the oven, but the Crofton product is safe up to 450 degrees. On the negative side, a product reviewer at the East Bay Times said baked items stuck to their silicone pans after all, and the material is so flimsy that it's hard to transfer a muffin pan full of wet batter into the oven without spilling. Thankfully, the Crofton pans at Aldi solved the flimsiness problem by adding a stabilizing steel rim.
With the right baking routine, Aldi's silicone donut pans don't stick
An Aldi fan on Instagram that goes by @aldifavoritefinds assured their followers that the Crofton silicone pans won't stick, either. "I have never, ever sprayed it with non-stick spray," they said. "I take any regular muffin mix or recipe and just adjust the time down a bit for the donut pan, and every batch of donuts has popped right out of the pan as long as I let them fully cool first." Aldi had the same pans among its finds a year ago, and @aldifavoritefinds bought a silicone pan at that time that still looks like new.
Followers of the account that had tried the pans for themselves also said they were satisfied with the results. "I made mini meatballs in the mini muffin pan and they came out so easily, and cleanup was a breeze," one user wrote. "The pans are awesome!!" Another Instagrammer said, "I only bought one donut pan last year. That was a mistake. You need more than one." One commenter had a bad experience with Aldi's silicone baking sheets, but @aldifavoritefinds assured them the muffin and bagel pans are better. "I agree that the cookie sheets were not the best," they said.