How John Cena Helped Nicole Byer Get Over Annoying Nailed It! Fans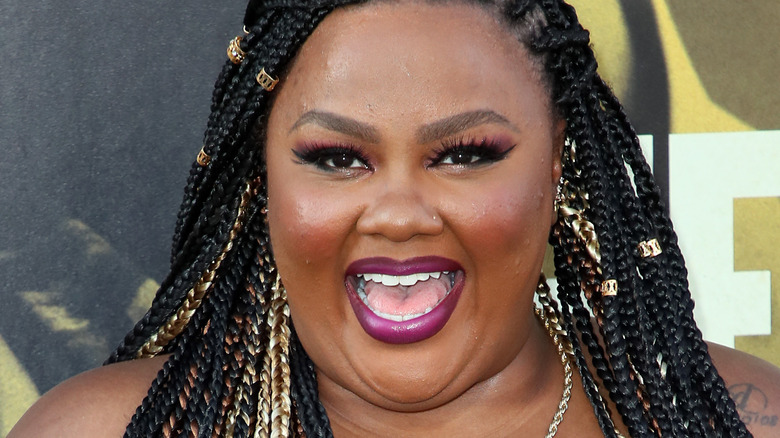 David Livingston/Getty Images
If you've seen Nicole Byer's standup, then you might not recognize the same Nicole Byer who is host of the family friendly Netflix baking competition "Nailed It!" One of her comedy bits, which you can find on YouTube, is about what she does with a Shake Shack burger in an airport bathroom. Let's just say this routine is not suitable for work, not suitable for children, and would only appeal to those with a raunchy sense of humor. Byer's comic sensibilities work just as well in the very different environment of "Nailed It!" because they mesh with the show's funny premise: Competing bakers who aren't especially good at baking try to copy an expertly crafted cake or other dessert, usually with hilariously disastrous results.
The show works so well, in fact, that it's up for an Emmy this year, for Outstanding Competition program, per The Emmys' website. Byer was also nominated, for Outstanding Host for a Reality or Competition Program. She was nominated in 2020, too, although she lost out to RuPaul, who could win his sixth Emmy in a row this year for "RuPaul's Drag Race" (via Emmys). "Rupaul will win this year and that's OK!" Byer told the Daily Beast.
Perhaps it would be best if Byer's two very different worlds — dirty standup comic and G-rated baking show host — never met. As it turned out, they collided often and jarringly, at least until Byer got some friendly advice from John Cena.
John Cena told Nicole Byer that fans are only trying to connect with her
Nicole Byer told the Daily Beast she never thought "Nailed It!" would get big. Season 6 debuts later this month. Now, the crowds she gets at her dirty comedy shows associate her with the much tamer Netflix show. In fact, some people are coming to see her standup because they love "Nailed It!" Facing a different kind of crowd at comedy clubs these days, Byer has toned down her routines a little. While she's willing to seek a new balance now that she's more well known, one thing about her newfound comedy fans used to bug her. Audience members would yell "Nailed it!" after her punchlines, just as contestants on her baking show are prompted to say after they reveal their usually abysmal cake creations.
She complained about this annoying audience tic to John Cena while the two of them were filming "Wipeout," the obstacle course competition show they cohost (via TBS). Cena, who might be recognized on the street for any of his dozens of TV and movie roles, or his professional wrestling career, helped Byer feel better about the fans who shout "Nailed it!" at her. He told her that fans are just trying to connect with her the only way they know how, per the Daily Beast. "So now it doesn't bother me," she said. "You can yell it all you want. Also, I don't even hear it anymore."