Cold Brew Vanilla Soda Recipe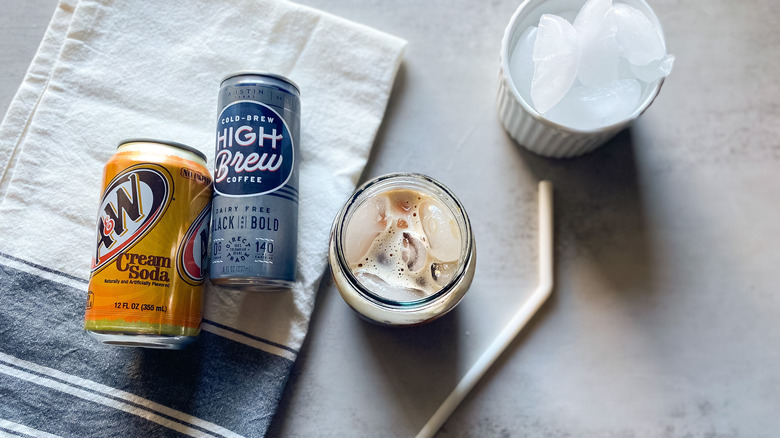 Kristen Carli/Mashed
With the diverse range of coffee drinks available on the market, there's no reason to be bored with your daily cup of java. Sure, a regular cup of filter coffee does the trick when it comes to an energy boost, but why not venture away from the usual suspects and try something fun? Recipe developer Kristen Carli has an idea you'll definitely want to taste. 
Cold brew coffee made an appearance a handful of years ago, replacing iced coffee as the most coveted drink for a refreshing, caffeinated option. Unlike iced coffee, which is brewed normally and served over ice, cold brew coffee is made with a slower steeping method using 一 you guessed it 一 cold water. Thanks to the different process, the final product is smoother and works well for making blended coffee drinks. Carli says that previously, "I created a recipe for Mashed on cold brew cola too!"
She was immediately a fan, and this time, Carli kept the cold brew coffee as the foundation of the drink and mixed it with cream soda and vanilla to add plenty of flavor. She loves the different take and remarks, "This is super simple!" Let's learn how to make it.
Get the ingredients together for this cold brew vanilla coffee recipe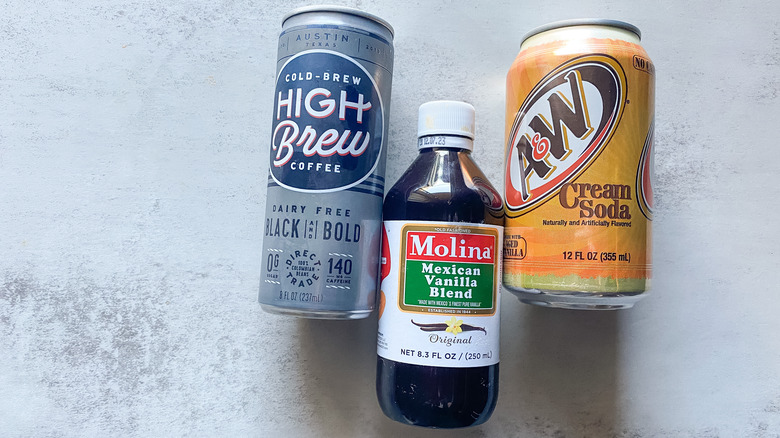 Kristen Carli/Mashed
As Carli says, this recipe is simple, and the ingredient list certainly reflects this fact. You'll just need three ingredients and some ice to serve this cold brew drink. For starters, you'll need some cold brew coffee. If you want to keep it simple, then stick to store-bought cans or bottles. Alternatively, if you're patient or already in the habit of it, then make your own brew.
Next, you'll need a can of good ol' cream soda. Different brands of cream soda have wildly varied tastes, so a standard option like A&W is a good bet for a balanced flavor. Unlike some soft drinks, cream soda has no caffeine, so you won't be overloaded. You'll only need four ounces each of the soda and cold brew, so you might want to consider making an extra drink if anyone else is around.
The vanilla extract is a nice touch to enhance the flavoring in the cream soda, producing a slightly sweet result you'll want to sip non-stop! Finally, ice cubes keep the drink cold and fresh so that you can take your time enjoying your coffee.
Start by filling a cup with ice cubes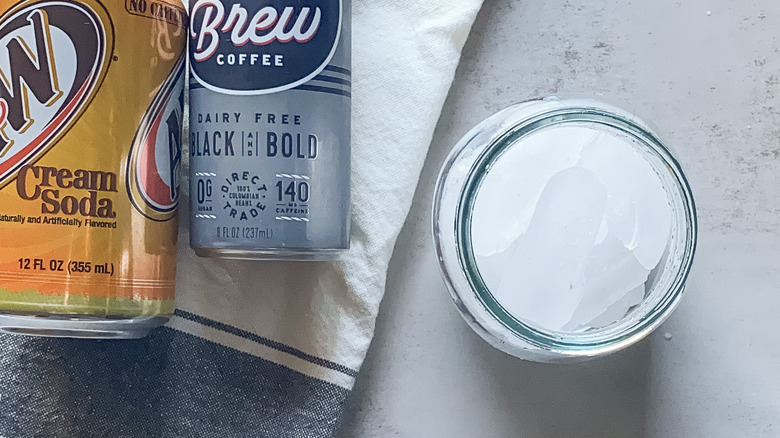 Kristen Carli/Mashed
First things first: Set out a small glass that will fit eight ounces and some ice. Next, make sure to properly chill your glass by filling it with ice cubes to ensure that your drink remains fresh and cool for longer. Having a cool glass will delay the rate at which the ice cubes start to melt and dilute your drink. You don't want to have to chug your coffee to prevent it from becoming watery!
Pour in the cold brew coffee and cream soda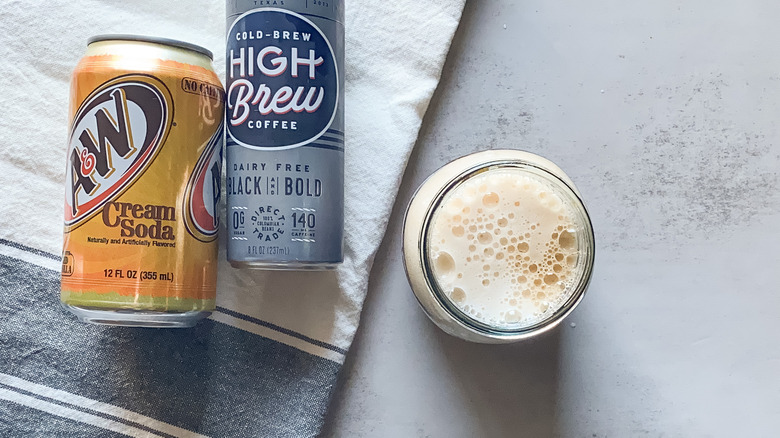 Kristen Carli/Mashed
Now that your glass is cool and icy, top the ice cubes with four ounces of cold brew coffee. Next, pour in another four ounces of cream soda to the mix. Carli notes that "The carbonation is key," so you'll want to avoid making the drink ahead of time in order to preserve the creamy bubbles. You're just one step away from sipping on this java refresher!
Stir in the vanilla extract and serve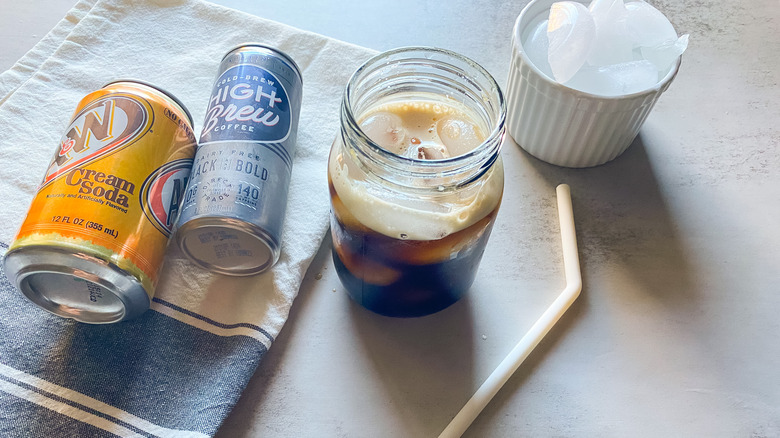 Kristen Carli/Mashed
Next, add half a teaspoon of vanilla extract to your drink, and stir the contents of the glass with a spoon or straw to combine. There you have it 一 your cold brew vanilla soda is ready to serve.
Carli is a big fan of this drink, declaring that "This is a flavorful refreshing beverage that is packed with caffeine." As Carli points out, this drink is great for a little pick-me-up in the middle of the day. If you love cream soda and wish it had a bit more of a kick, then this variation is perfect. Likewise, if you tend to add sugar or milk to round out your coffee, we bet you'll love what cream soda and vanilla can accomplish. Surprise your friends with a glass of this cool drink, and we guarantee they'll ask for the recipe!
Cold Brew Vanilla Soda Recipe
With the range of coffee drinks on the market, there's no reason to be bored with your cup of java. That's why you should try this cold brew vanilla soda.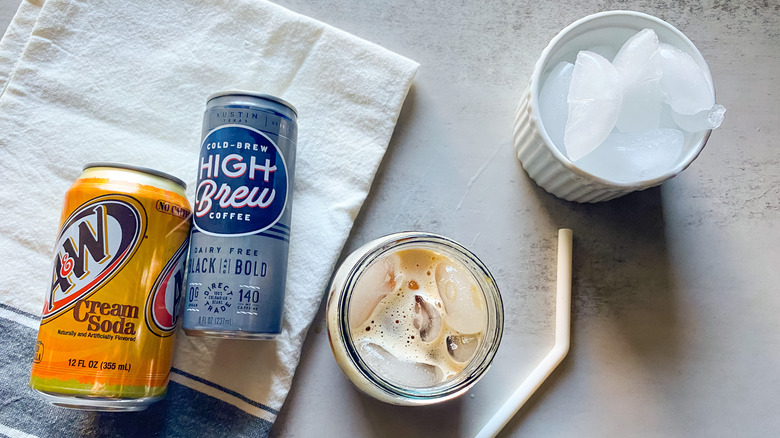 Ingredients
½ cup ice
4 ounces cold brew coffee
4 ounces cream soda
½ teaspoon vanilla extract
Directions
Fill a small cup with ice.
Top the ice with cold brew coffee.
Pour in the cream soda.
Add the vanilla extract and stir.
Serve your cold brew vanilla soda.
Nutrition
| | |
| --- | --- |
| Calories per Serving | 65 |
| Total Fat | 0.0 g |
| Saturated Fat | 0.0 g |
| Trans Fat | 0.0 g |
| Cholesterol | 0.0 mg |
| | |
| --- | --- |
| Total Carbohydrates | 15.3 g |
| Dietary Fiber | 0.0 g |
| Total Sugars | 15.3 g |
| Sodium | 20.8 mg |
| Protein | 0.1 g |