Air Fryer Hamburgers Recipe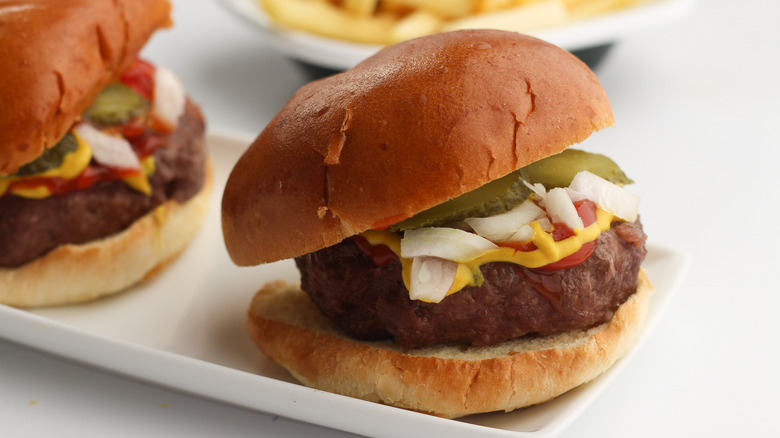 Susan Olayinka/Mashed
It's legitimately hard to think of a food that's better than the hamburger. And no, we're not even talking about a cheeseburger — just a hamburger that's been dressed up with exactly the right amount of condiments to add savor and tang and flavor, but not so many additional ingredients as to overcome the taste of burger and bun. Take a look at the classic McDonald's hamburger for an example of food done just right: it's an all-beef patty served on a bun with ketchup, mustard, pickles, and white onion.
Now take a look at this hamburger recipe from chef and recipe developer Susan Olayinka of The Flexible Fridge. Note any similarities? You will indeed, because when burger perfection has been achieved, you don't gild the proverbial lily. Okay, so actually there are two differences here: One, you can make the burger patties as large as you want them, which is good, because while they are big on taste, those McD's burgers aren't all that big on burger size.
And two, while matching McD's in ingredients, the flavor here doesn't come out quite like fast food, exactly. "I would say it's really akin to barbecue," says Olayinka, adding: "I find that the air fryer can broil things really well, making it taste very crispy."
Gather the ingredients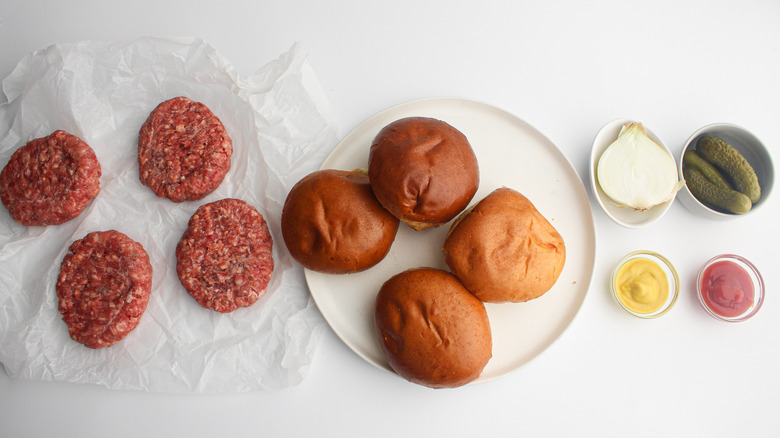 Susan Olayinka/Mashed
If you were with us a moment ago as we introduced this recipe, then you probably already know all of the ingredients at play here, but once again, they are: beef patties, buns (brioche buns, ideally, but any work fine), gherkins (or other sandwich pickles if need be), white onion, yellow mustard, and ketchup. 
And that's it! Resist the urge to load up on other ingredients — this really is burger perfection. If you must round out your bites, do it by adding some fries into the mix as you take a chomp, not by adding anything to your burgers.
Air fry the patties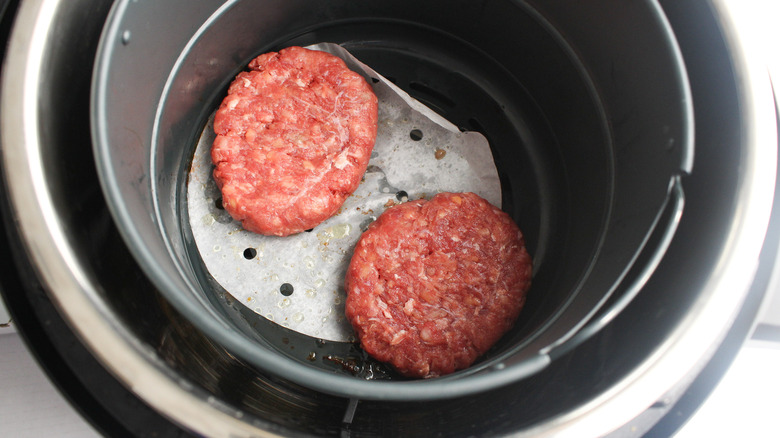 Susan Olayinka/Mashed
Air fryers heat up fast (one of their pros) but it's still a good idea to preheat yours for a few minutes before you start cooking. If you can fit all four patties, you can cook them at the same time; if not, work in batches of two. Either way, cook the burger patties in the air fryer at 350 degrees F for a total of 10 minutes, flipping the burgers after 5 minutes. (If the patties are quite large, add a minute.)
It's a good idea to check the internal temperature of at least one patty, but they should be good when cooked like this.
Prep the rest of your ingredients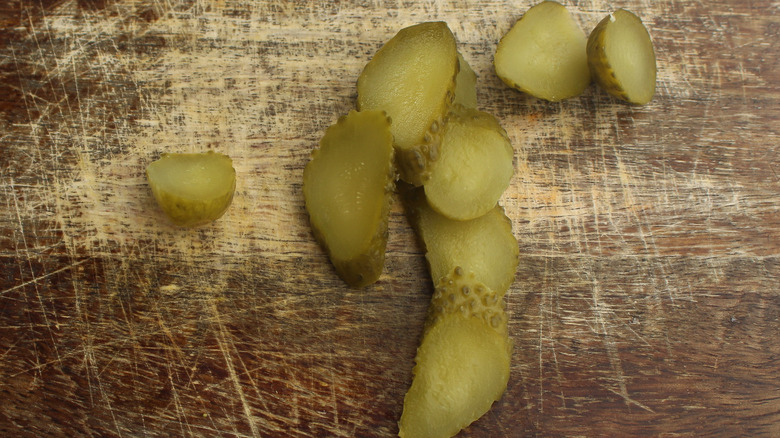 Susan Olayinka/Mashed
While the burger patties cook, it's time to prep those two toppings of yours. You can slice your pickles and onions into pieces that will be perfect on those stacked up burgers, with the thickness really your preference, but the thinner the slice, the more flavor is released, and you can always layer up the pickles and onions.
And get your mustard and ketchup ready, but really no need to measure those — you'll be applying the condiments directly to the burgers as you assemble them.
Assemble your burgers and enjoy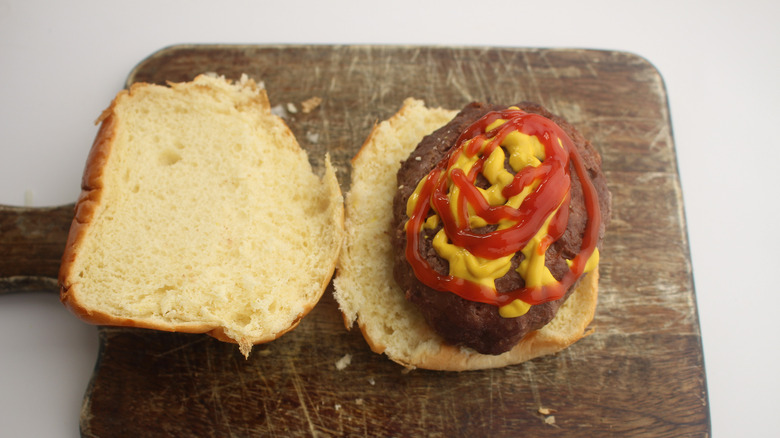 Susan Olayinka/Mashed
To assemble your burgers, start with the bottom bun laid flat, then add a beef patty. Add a few swirls of the yellow mustard and ketchup atop the meat, then lay on the sliced white onion and the sliced pickles, and finally close up the burger with the top bun. Repeat that quick and easy process with the other burgers and then you're done — it's time to enjoy.
And ideally you should do so with a side of fries and a shake. Or a salad and some unsweetened ice tea, depending on the kind of day you're having.
Air Fryer Hamburgers Recipe
When it's a rainy day or too cold to grill, fire up your air fryer and make these easy, delicious hamburgers with all the toppings.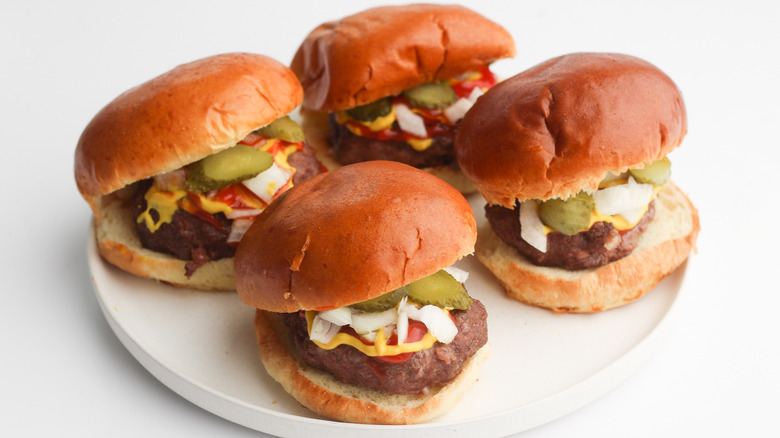 Ingredients
4 beef burger patties
4 small gherkins
½ white onion
4 brioche burger buns
mustard, for topping
ketchup, for topping
Directions
Preheat the air fryer to 350 F.
Place 2 beef burger patties in air fryer and cook for 10 minutes, flipping after 5 minutes.
Remove the patties and repeat the process for the other 2 patties. Set aside.
Meanwhile, chop the gherkins into ½ -inch pieces and set aside.
Thinly slice the white onion into discs and set aside.
Take a bottom bun and place onto it a cooked burger, as much mustard and ketchup as you'd like, some sliced white onion, and some gherkin slices, and then close it up with the top bun.
Repeat the process for the other three burgers, serve, and enjoy!
Nutrition
| | |
| --- | --- |
| Calories per Serving | 573 |
| Total Fat | 18.2 g |
| Saturated Fat | 7.2 g |
| Trans Fat | 0.9 g |
| Cholesterol | 214.2 mg |
| | |
| --- | --- |
| Total Carbohydrates | 24.1 g |
| Dietary Fiber | 1.9 g |
| Total Sugars | 3.8 g |
| Sodium | 998.2 mg |
| Protein | 78.3 g |