Copycat Outback Steakhouse Mac And Cheese Recipe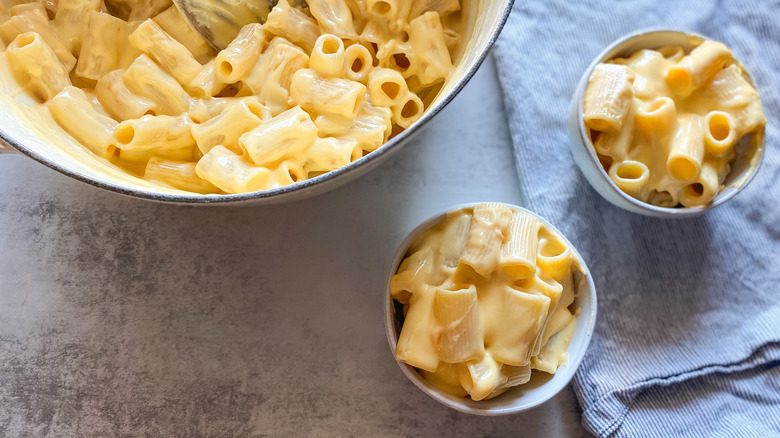 Kristen Carli/Mashed
Outback Steakhouse may be primarily known for its juicy steaks, but its delectable sides are nothing to sneeze at, either. Particularly scrumptious amongst the items on the restaurant's menu is Outback's mac and cheese, made with wide-cut rigatoni and creamy cheese. But if you don't want to make a trip to Outback Steakhouse just to grab some mac and cheese, you're in luck. It's actually very simple to recreate their recipe at home with just a few simple ingredients.
Nutritionist and recipe developer Kristen Carli's version of Outback Steakhouse's mac and cheese comes together in a snap on the stovetop, making it darn near perfect for a quick weeknight side dish or an easy and satisfying meal all on its own. Even the pickiest eaters will surely gobble up a bowl of this delicious and incredibly cheesy pasta goodness. It's also sure to hit the spot for anyone who's in the mood for satisfying comfort food. And, as if that weren't enough, with a cook time of only 15 minutes and just a few groceries or pantry basics needed, even the busiest home cook won't have any trouble whipping this mac and cheese up whenever the craving hits.
Gather your ingredients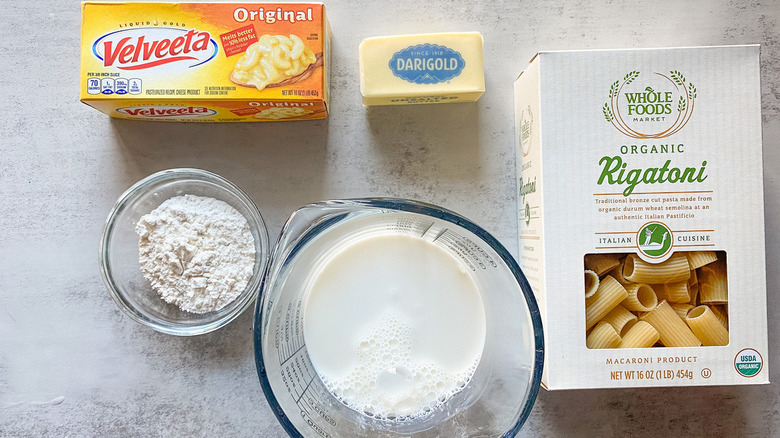 Kristen Carli/Mashed
While this copycat Outback Steakhouse mac and cheese delivers restaurant-quality results, it can be made mostly with kitchen staples you probably already have on hand. Otherwise, procuring them is a simple matter of a trip to the grocery store. To be authentic to Outback's original recipe, you'll need rigatoni pasta. That said, you want to change things up when it comes to the shape of your pasta, that's okay too. "Any shape will be delicious," Carli tells us. "I personally love orecchiette." The shell shape of orecchiette will do especially well in mac and cheese, as it can hold on to a fair amount of the cheese sauce, making every bite flavorful.
The creaminess in Outback's recipe comes from Velveeta, a shelf-stable cheese product that you can keep in your pantry until you're ready. Prepare your Velveeta by cutting it into cubes. The exact size isn't strictly important here, though somewhat smaller cubes will make the melting process later on a touch faster. Other than that, you'll just need butter, flour, milk, and salt. Gather all of those up and you're ready to go.
Boil pasta and prepare the sauce base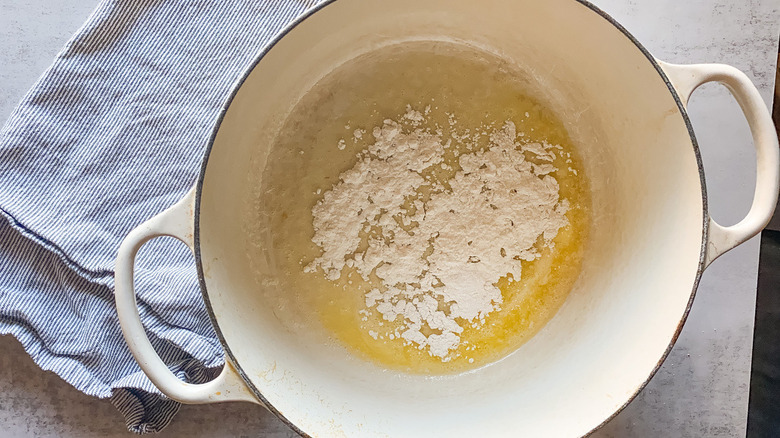 Kristen Carli/Mashed
To start your mac and cheese, bring a large pot of water to a boil and add a generous amount of salt. This salt will help to give the pasta itself some flavor, even after it's drained. Once the water has reached a boil, add 1 pound of rigatoni, or another pasta of your choice. Follow the package directions to cook the pasta until it is al dente, which means it still has just a little bit of bite to it (as opposed to mushy overcooked pasta). Once your pasta is done, drain it well and set it aside.
While your pasta is boiling away, you can get started on your sauce. In a large stockpot, melt ½ stick of butter over medium heat, then sprinkle in the flour. Whisk the flour and butter together until they form a smooth paste with no lumps. This will serve as the thickening agent for your sauce known as a roux, so you want to make sure every bit of flour has been incorporated into the butter and creates a cohesive whole.
Once the flour and butter are combined, pour in the milk and salt, whisking constantly. Make sure to whisk all of the butter and flour mixture into the milk, scraping the bottom of the pot to ensure that everything is fully incorporated and nothing is burning. Continue whisking for about five minutes, or until the sauce has thickened.
Add in the cheese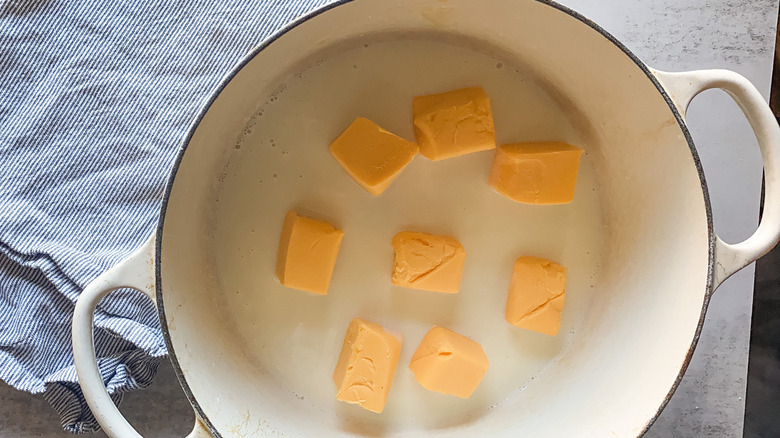 Kristen Carli/Mashed
Once your milk sauce is bubbly and thickened, it's finally time to add in the cheese. Using a spoon or spatula, stir in the cubes of Velveeta into the already heated pan. Continue stirring until the Velveeta has melted and the cheese sauce has become smooth, creamy, and thick. 
Depending on the size of your Velveeta cubes, this could go rather quickly or may take up to around 10 minutes. Be patient and take the time to make sure that everything is fully incorporated to ensure a perfectly smooth sauce. Also, make sure you're that you're regularly (though gently) scraping the bottom of the pot with your spoon to make sure that your sauce is heating evenly and nothing is sticking to the cooking surface or burning.
Bring it all together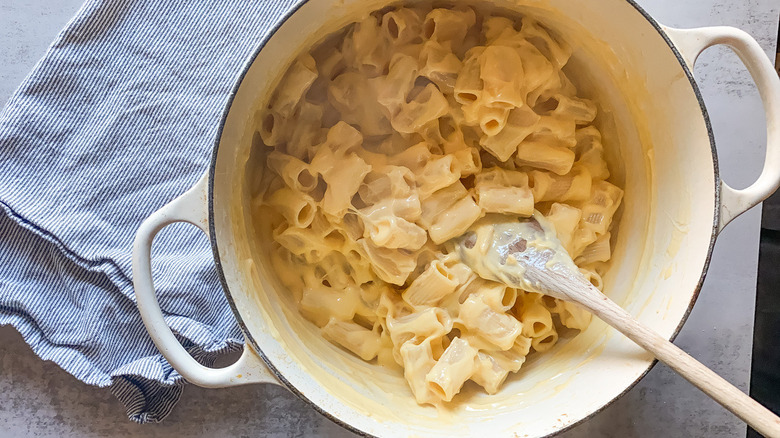 Kristen Carli/Mashed
As soon as your Velveeta is fully incorporated into the sauce, it's time to bring your mac and cheese all together. Simply add the cooked and drained pasta into the stockpot, and stir it up from the bottom until the pasta is evenly coated in cheese sauce. 
At this point, your mac and cheese is ready to go. Dish it up and enjoy it straight away! If you have any leftovers, Carli recommends reheating them on the stovetop over low heat. While you're doing so, add just a splash of milk to ensure that everything remains creamy, just as it was when served up fresh.
Copycat Outback Steakhouse Mac And Cheese Recipe
This version of Outback Steakhouse's mac and cheese comes together in a snap on the stove, making it great for a quick side dish or an easy and satisfying meal.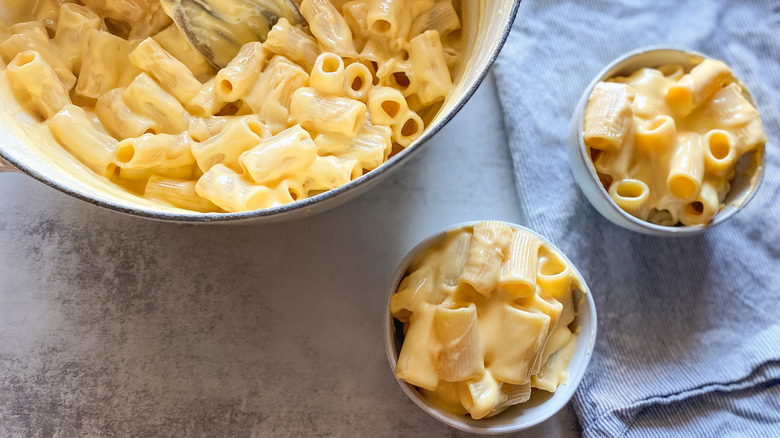 Ingredients
1 pound rigatoni noodles
½ stick unsalted butter
2 tablespoons flour
1 ½ cups milk
1 teaspoon salt
8 ounces Velveeta cheese, cubed
Directions
Bring a large pot of water to a boil. Add pasta and cook according to package directions. Drain and set aside.
In a large stockpot, over medium heat, add butter. Once melted, add flour. Whisk to combine.
Add milk and salt. Continue to whisk for about 5 minutes until thickened.
Add Velveeta cubes. Stir and allow the cheese to melt, which will take about 10 minutes.
Add cooked pasta. Stir well.
Nutrition
| | |
| --- | --- |
| Calories per Serving | 822 |
| Total Fat | 35.4 g |
| Saturated Fat | 20.3 g |
| Trans Fat | 1.1 g |
| Cholesterol | 97.4 mg |
| | |
| --- | --- |
| Total Carbohydrates | 92.8 g |
| Dietary Fiber | 3.7 g |
| Total Sugars | 7.8 g |
| Sodium | 650.3 mg |
| Protein | 31.8 g |