Roasted Broccoli And Asparagus Recipe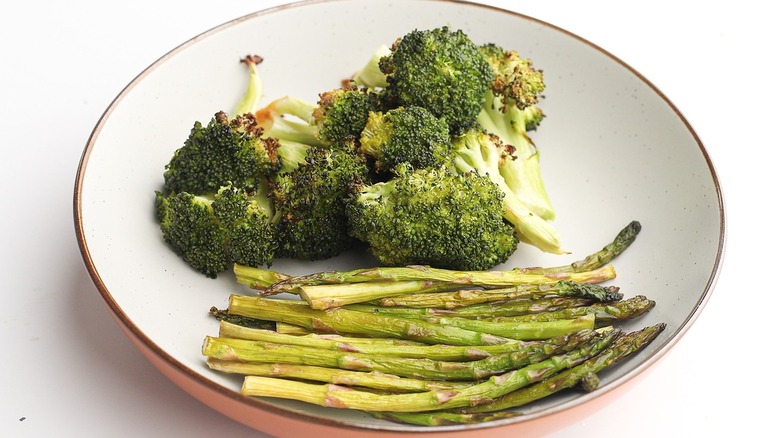 Susan Olayinka/Mashed
When you're trying to think of a vegetable to have with dinner, you may become slightly overwhelmed by the task. There is a seemingly endless variety of vegetables to choose from — from carrots to potatoes, spinach to zucchini, and just about everything in between — and the options become pretty daunting. Also, considering the fact that some veggies are easier (and tastier!) to cook than others, there are two that complement nearly any meal, at any time: broccoli and asparagus!
Both broccoli and asparagus have wonderfully earthy flavors and, together, they make for a great vegetable pairing. If you've never considered making both broccoli and asparagus together, you definitely should — and recipe developer Susan Olayinka's recipe will help you do it with ease! Olayinka, who runs The Flexible Fridge blog, has a simple but effective roasted broccoli and asparagus recipe that will perfectly complement your next dinner. Olayinka herself refers to this recipe as both "easy and healthy," and considering the fact that it takes less than 30 minutes to fully prepare and cook, it's pretty easy to see why! Whether you want to incorporate more vegetables into your meals or simply love broccoli and asparagus, give this easy recipe a try the next time you make a home-cooked meal.
Gather the ingredients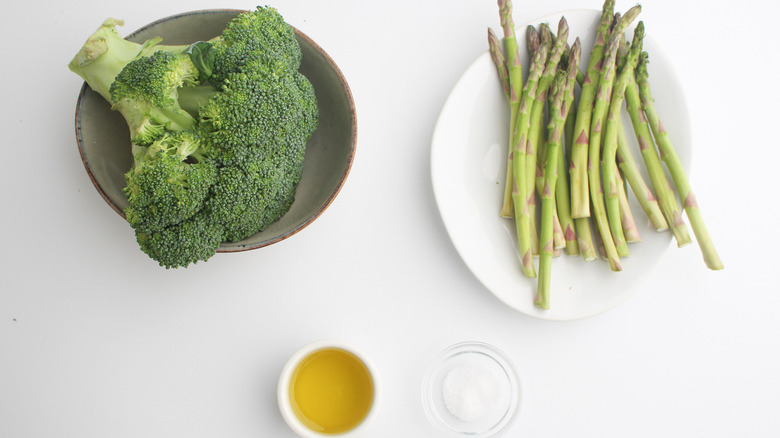 Susan Olayinka/Mashed
Before you can start cooking your roasted broccoli and asparagus, you'll want to make sure that you have the right ingredients. Fortunately, this recipe is super easy and minimalist, so the only ingredients that you'll need are broccoli, asparagus spears, olive oil, salt, and pepper! While this recipe does call for minimal ingredients, Olayinka does note that there is room for some substitutions and additions. For example, you could use a different kind of oil, like rape seed oil, instead of olive oil. Additionally, you could add seasonings like garlic or onion powder if you want a little extra flavor. 
Start by chopping the broccoli and adding the vegetables to a mixing bowl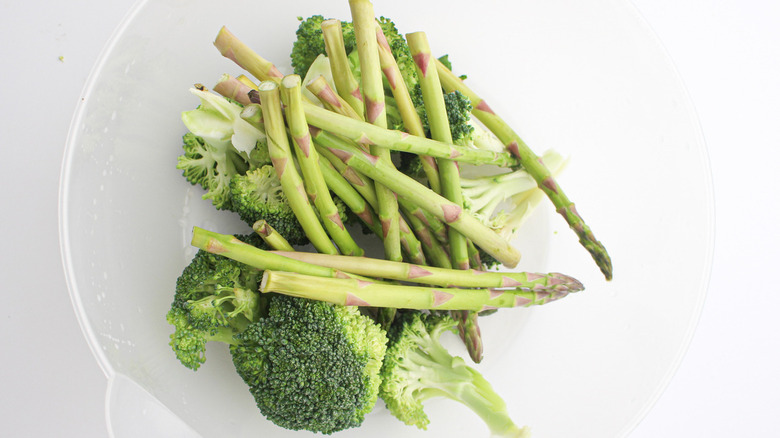 Susan Olayinka/Mashed
Once you have your ingredients sorted, you can begin preparing the broccoli and asparagus for cooking. Since you'll be roasting the veggies, go ahead and start by preheating your oven to 350 F. Then, grab your broccoli head and cut it up into individual, bite-sized pieces. Add the broccoli pieces to a mixing bowl. You may want to cut off the white, tough ends of each asparagus spear before adding them to the bowl. Once you do that, toss them in with the broccoli pieces.
Add olive oil, salt, and pepper to the vegetables and then bake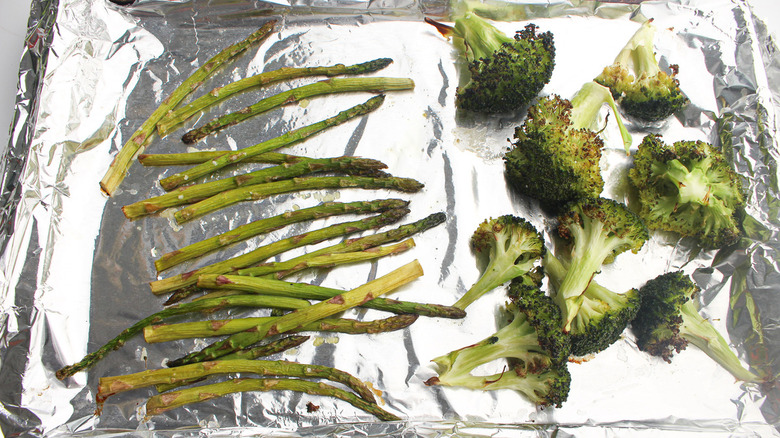 Susan Olayinka/Mashed
In the mixing bowl with the broccoli and asparagus spears, add in the olive oil (or oil of choice) along with salt and pepper. If you're opting to use other seasonings, add those now too. Toss the veggies so each piece is evenly coated with the oil and seasoning. Then, lay out the vegetables in an even, single layer onto a baking sheet — you can also line the sheet with aluminum foil to ensure that the vegetables don't stick. Finally, pop the vegetables into the preheated oven to cook for 15 minutes. You'll know they're ready when the broccoli has some brown color and the asparagus has become tender and slightly wilted. 
Serve the broccoli and asparagus as a dinner side dish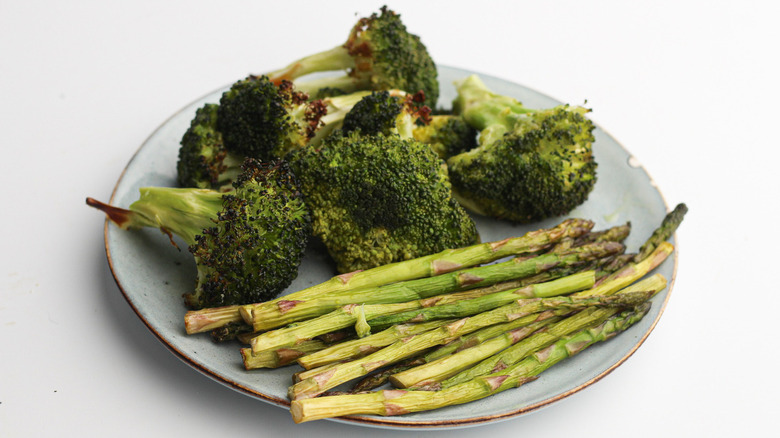 Susan Olayinka/Mashed
Once your broccoli and asparagus are done cooking in the oven, you are ready to serve and enjoy your roasted vegetables! You'll be grateful for how easy it is to whip up such a wholesome and fulfilling side dish — and, since you only need one baking sheet, cleanup will be super easy as well. These vegetables pair well with dinner mains such as salmon, steak, chicken, and tofu, and Olayinka notes that they pair well with a roast dinner as well. However you incorporate roasted broccoli and asparagus, you can do so knowing that it's a simple, foolproof recipe that pairs well with nearly any dish. 
Roasted Broccoli And Asparagus Recipe
When you're in need of a veggie side dish, you really can't go wrong with this recipe for roasted broccoli and asparagus. It pairs well with everything!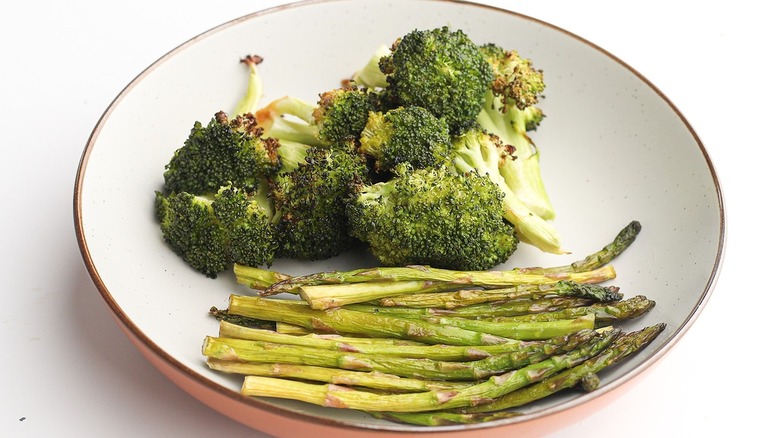 Ingredients
½ head of broccoli
15 spears of asparagus
2 tablespoons of extra-virgin olive oil
½ teaspoon salt
½ teaspoon black pepper
Directions
Preheat the oven to 350 F.
Chop up the broccoli into bite-sized pieces and place the pieces into a mixing bowl.
Chop the white, tough ends off the asparagus spears and add the spears to the bowl.
Coat the broccoli and asparagus with extra-virgin olive oil, salt, and black pepper.
Bake for 15 minutes.
Remove the roasted vegetables from the oven and serve immediately.
Nutrition
| | |
| --- | --- |
| Calories per Serving | 131 |
| Total Fat | 9.5 g |
| Saturated Fat | 1.3 g |
| Trans Fat | 0.0 g |
| Cholesterol | 0.0 mg |
| | |
| --- | --- |
| Total Carbohydrates | 10.1 g |
| Dietary Fiber | 4.4 g |
| Total Sugars | 3.2 g |
| Sodium | 422.9 mg |
| Protein | 4.7 g |