Tender Rump Roast Recipe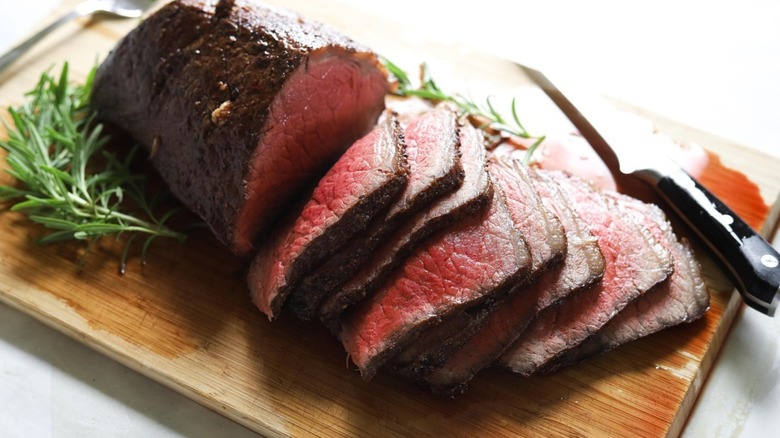 Kit Hondrum/Mashed
While beef has never been one of the cheaper cuts of meat, lately it seems the prices are going through the roof! That being said, there's still nothing more enjoyable for a special occasion meal or holiday feast than a rare roast beef dinner.
Because of the expense, when you do shell out the big bucks to buy a rump roast, you want to make absolutely sure you cook it to perfection. While roast beef may be beautiful in its simplicity, it's also fairly simple to mess it up and have it turn into a dry, unappetizing disappointment. The beauty of choosing a roast beef dinner for your menu when entertaining or preparing dinner for the family is there are so many tasty side dishes that pair really well with it. From a Caesar salad to scalloped potatoes to your favorite vegetables, it can be an absolutely perfectly balanced meal to please everyone.
If you follow these steps from recipe developer Kit Hondrum of Kit's Kitchen, you'll have a gorgeous, tender, melt-in-the-mouth roast beef on your table that's worth every penny you paid for it.
Get your ingredients to prepare tender rump roast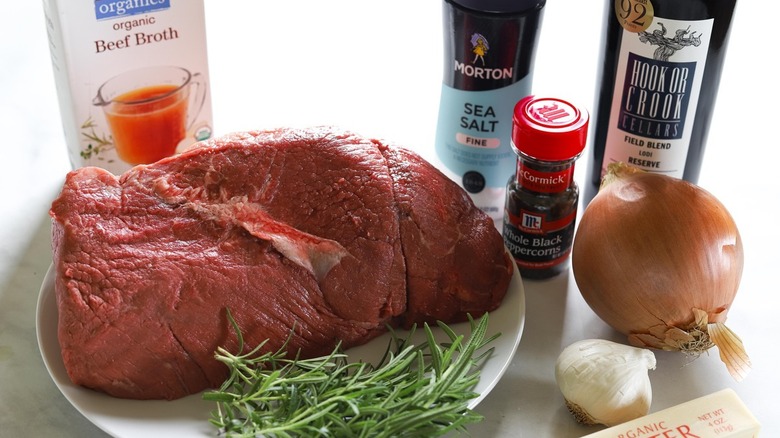 Kit Hondrum/Mashed
The main thing you're going to need is, of course, a rump roast, something Hondrum says can also be found using the alias of "bottom round." In this recipe, she uses a 4-pound roast which she says should be good for serving 10 people, though you may get just 8 (or fewer) servings out of it if people are super hungry. You're also going to need fresh garlic, sea salt, black pepper, salted butter, beef broth (canned, boxed, homemade ... heck, even a reconstituted bouillon cube in a pinch), a nice dry red wine, a yellow onion, and two sprigs of fresh rosemary.
One note regarding fresh rosemary: While in most cases it's best to use fresh rather than dried herbs whenever possible, sometimes they're not that easy to find out of season, so you may have to opt for the dried stuff. Two sprigs' worth of dried rosemary amounts to about ⅔ teaspoon (via Delishably). 
Prepare the raw rump roast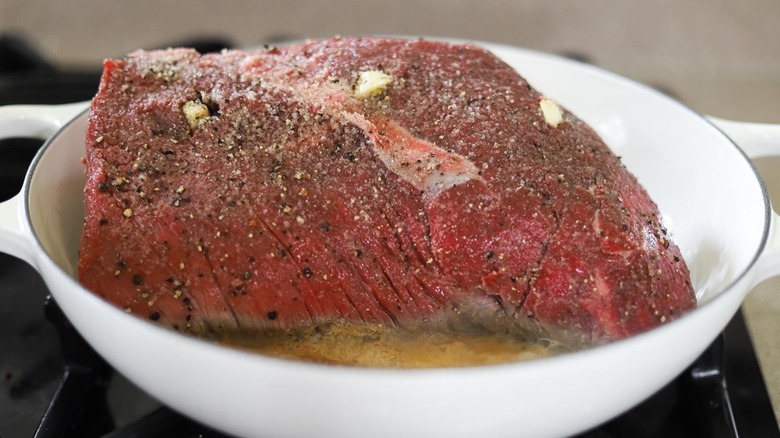 Kit Hondrum/Mashed
Take the beef out of the refrigerator about two hours before you start cooking it, although Hondrum does not recommend leaving it out much longer. Two hours out of the fridge will allow it to warm up to something approaching room temperature. Hondrum does say, "It will still be a little cool after two hours, but not cold," and the warm-up will allow it to cook more evenly.
While the meat is taking the chill off, peel the garlic cloves, then take a thin, sharp knife and make three slits about 2 to 3 inches deep on one side of the roast. Fill each slit with one garlic clove and a sprinkling of salt and pepper. Once all 3 slits are filled, flip the roast, and repeat the process on the other side to use up the rest of the garlic cloves. Sprinkle the remaining salt and pepper all over the roast, and rub it in well. Then, go wash your hands and move onto the next step!
Sear the beef for an even brown color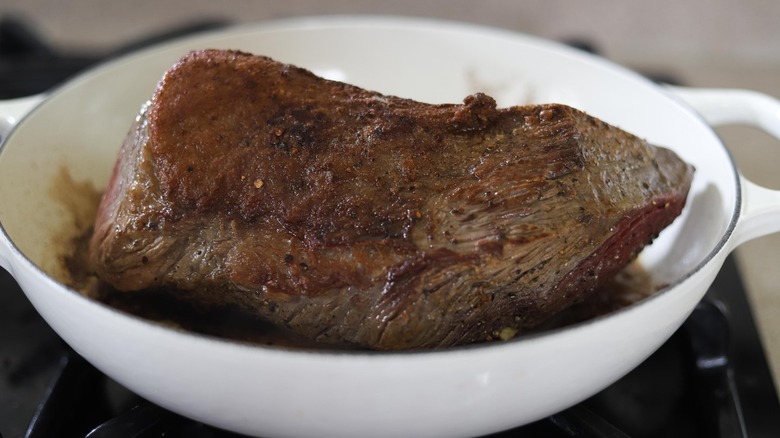 Kit Hondrum/Mashed
When the meat's two hours of resting time is up, it's time to preheat the oven to 275 F. This might seem like a really low cooking temperature, but that's okay, because your meat will still come out perfectly cooked and a lovely deep brown. You know why? Because you're going to sear it before it goes in the oven.
To sear the beef, melt the butter in an oven-safe skillet, such as a cast iron pan. Turn the heat up to medium-high so it melts quickly but doesn't burn. Add the beef to the melted butter, then sear it on all sides until it's brown all over. (Hondrum says this took her about 15 minutes in all.) When the beef is brown, remove it to a plate while you use the broth and the wine to de-glaze the pan. Add the beef back into the pan, then arrange the onion slices and the rosemary around it.
Roast the beef low and slow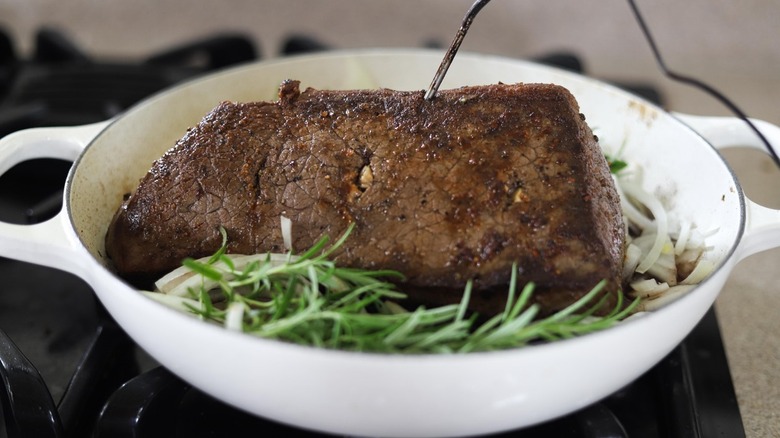 Kit Hondrum/Mashed
Cook the rump roast until it reaches an internal temperature of 115 F. This should take about 12 to 15 minutes per pound, so anywhere from 48 minutes to one hour for a 4-pound roast. If you are roasting a smaller piece of meat, you should reduce the cooking time accordingly, and Hondrum advises you to cut back on the salt and pepper as well. Another piece of advice she has is to use a meat thermometer, saying, "With a roast, it's just a guessing game if you don't use a thermometer."
This oven-roasted beef, Hondrum says, really doesn't lend itself well to cooking to medium or well-done. "This cut of meat is very lean," she explains, "so it does not do well if cooked more than medium-rare using the roasting method. It will be tough." If you're not a fan of pink meat, however, she suggests you cook bottom round in a slow-cooker to make barbacoa or a "fall-apart pot roast."
Let the beef rest before you serve it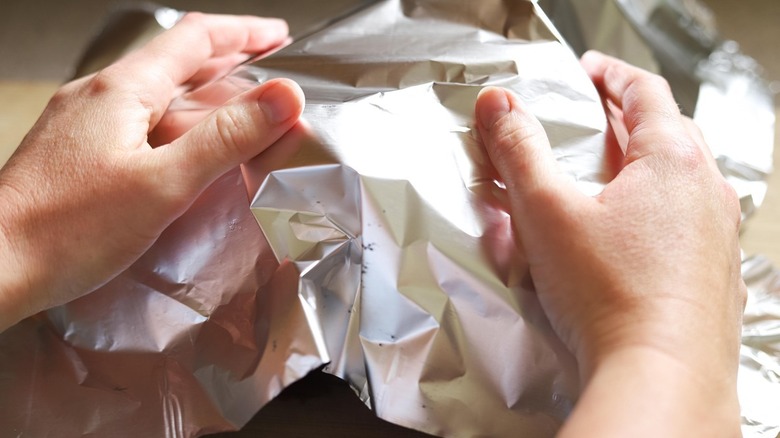 Kit Hondrum/Mashed
Take the roast out right when it reaches 115 F, but don't try to cut into it right away. Instead, Hondrum says you'll need to place it on a cutting board, and cover it loosely with a foil tent. Let it rest for about 20 minutes, during which time the internal temperature should continue to rise to about 130 F. This temperature, Hondrum says, "will give you the perfect warm red center without being overdone." If you like your beef even rarer, you can serve it up when the temperature hits 125 F, however Hondrum does not advise going any lower than that.
Make good use of the pan juices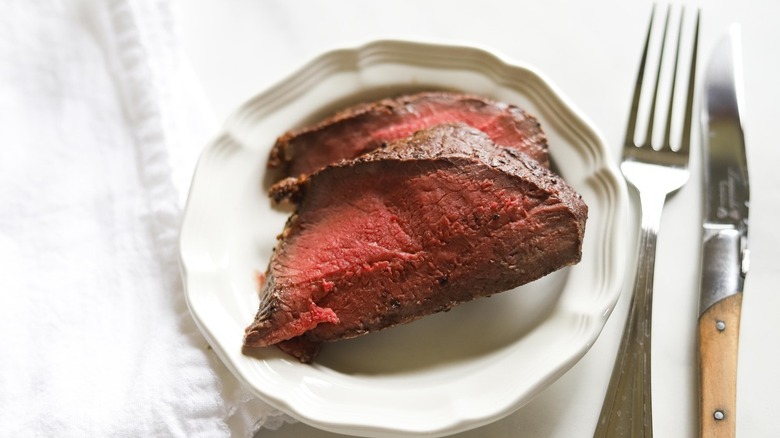 Kit Hondrum/Mashed
Your roast may be resting, but you won't be. Instead, you should strain (and save) the pan juices, and also check the onions to see if they're done. Hondrum tells us that thinly-sliced onions should be soft enough to serve after an hour in the oven, but if you cooked a smaller roast for a shorter period of time, you may need to finish cooking the onions on the stovetop.
The pan juices, she says, can be used to make a gravy with the addition of a little cornstarch or flour, or you can strain the fat and serve the beef "au jus." If you serve the juices and the onions together, Hondrum says they're "basically like a salty French onion soup," and advises, "You don't want to let them go to waste!"
Tender Rump Roast Recipe
By following this recipe, you'll have a gorgeous, tender, melt-in-the-mouth rump roast on your table that the family will love.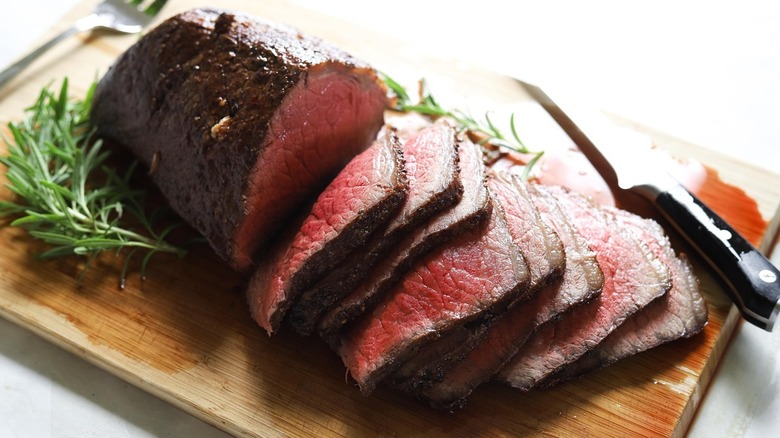 Total time: 1 hour, 15 minutes
Ingredients
4-pound rump roast
6 cloves garlic
2 tablespoons sea salt
2 teaspoons black pepper
2 tablespoons salted butter
½ cup beef broth
½ cup dry red wine
1 large yellow onion, thinly sliced
2 sprigs rosemary
Directions
Remove the rump roast from the refrigerator about 2 hours (no longer than that) before starting recipe to allow it to come closer to room temperature.
Use a sharp, thin knife to make three slits about 2 to 3 inches deep on one side of the roast. Stuff each slit with one garlic clove and some sea salt and black pepper. Flip the roast over, and make three more slits on the other side, and stuff with garlic, sea salt, and black pepper. Rub the remaining sea salt and pepper over the outside of the roast.
Preheat oven to 275 F.
Melt the salted butter over medium-high heat in an oven-safe skillet. Sear all sides of beef to brown. This should take about 15 minutes. Remove roast to a plate, and de-glaze the pan with the beef broth and dry red wine.
Place the roast back in pan, and place onion slices and rosemary sprigs around it.
Roast at 275 F until you get an internal temperature of 115 F, which should take about 12 to 15 minutes per pound of meat (48 minutes to 1 hour for 4 pounds).
Remove the roast to a cutting board, tent loosely with foil, and allow it to rest for about 20 minutes. Serve when the internal temperature reaches 130 F for medium-rare or 125 F for rare.
Nutrition
| | |
| --- | --- |
| Calories per Serving | 403 |
| Total Fat | 24.5 g |
| Saturated Fat | 10.2 g |
| Trans Fat | 0.1 g |
| Cholesterol | 142.2 mg |
| | |
| --- | --- |
| Total Carbohydrates | 3.0 g |
| Dietary Fiber | 0.6 g |
| Total Sugars | 0.8 g |
| Sodium | 526.5 mg |
| Protein | 38.2 g |