Costco's 16-Count Drumstick Variety Pack Is A Total Steal
Costco always has good deals, which is why people pay $60 or more a year (via the Costco website) to shop there. But when Costco puts a sale price on a product, then the deal becomes too good to pass up.
The Costco Buys blog uncovered one of these steals of a deal September 6 on its Instagram account. And we're not talking about some off-brand toothpaste that the big warehouse chain is trying to unload. This is a snack brand that's so big it's got its own website: Drumstick ice cream cones from Nestlé. Costco is selling the 16-count variety pack of Drumsticks for $6.99 through September 26. That's $2.50 off the regular Costco price. To compare, we found an eight-pack of Drumsticks at Target for $6.49 — nearly double what Costco is selling the popular ice cream treats for these days. You'll need to visit your local warehouse to see if it has Nestlé Drumstick in stock.
Reviewers love everything about Drumstick except the price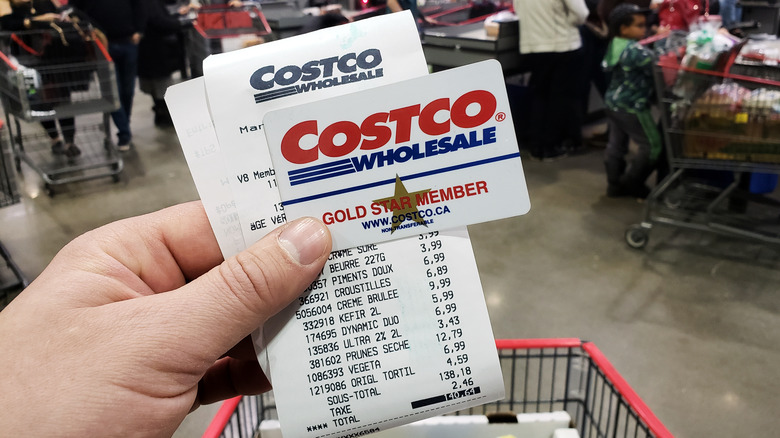 dennizn/Shutterstock
The Nestlé Drumstick variety pack at Costco comes with three flavors: vanilla, vanilla caramel, and vanilla fudge (via Instagram). Costco Buys called them "a hit with everyone," and most consumers apparently agree. The reviewers at ChickAdvisor give Drumsticks an average rating of 4.5 out of 5. "I think this is the standard cone in our home," said a reviewer from British Columbia. "Crunchy on the outside, soft on the inside, and you have a nice soft center. ... I love the nuts on the outside to balance the sugar/sweetness from the chocolate and ice cream itself. You can't go wrong with this one."
A lot of reviewers on ChickAdvisor had the same criticism, however. "It's one of the more expensive ice creams out there, but it's also worth the money," a Quebecois reviewer said. Another reviewer didn't find the high price so agreeable: "Price is too high normally but will get when on sale." We don't want to speak for Costcos in Canada, but Costco Buys' local Costco is just across the border in Michigan. So if you're allowed in the U.S.A. by September 26, now is the time to stock up on Drumsticks.