Jenny Lam On The Biggest Misconception People Have About Vietnamese Food - Exclusive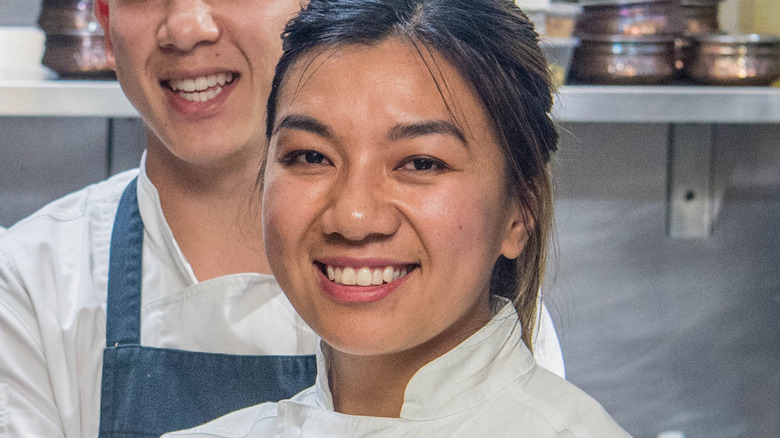 Hien Nguyen
We may receive a commission on purchases made from links.
Jenny Lam proved her mettle as a contestant on Season 10 of "MasterChef Australia," and her life changed dramatically after "graduating" from the show. As Lam told us in an exclusive interview with Mashed, she originally intended to open a cooking school, but she needed experience in a commercial kitchen first. 
Lam worked for six months at a top restaurant in Perth (where she resides), when her mother told her about a location that had just popped up where she could open her own Vietnamese restaurant. Lam knew what it would entail and was hesitant. But her family had been in the hospitality industry for two decades, and they all worked together to help Lam realize her dream. Lam's restaurant Bunn Mee is a wildly successful Vietnamese street food restaurant (via Facebook), and with the publication of her cookbook, "Eat Like A Viet," it's safe to say that Lam is something of an expert in Vietnamese cooking.
We asked her if she believed that people had a misconception of what Vietnamese food is. Based on her own experience, Lam noticed that some restaurants and chefs Westernize traditional Vietnamese dishes, so "you're not actually eating it how we eat it." Most Americans know pho and rice paper rolls, but they're streamlined versions of the real thing. On top of that, what's served in restaurants isn't what Vietnamese families eat day-to-day. For example, pho is considered to be Vietnam's national dish, but it's actually only eaten on special occasions because the authentic recipe takes 12 hours to cook. "There's so much more to Vietnamese cooking," Lam said.  
An underrated Vietnamese food you should try
The name of Jenny Lam's restaurant, Bunn Mee, is a playful take on the popular Vietnamese sandwich, banh mi. This is a French-influenced meal-in-a-baguette. According to Lam, though, many non-Vietnamese people haven't had the opportunity to experience the wide variety of ingredients, greens, and herbs that are common in Vietnamese cooking. 
In Lam's opinion, the most underrated Vietnamese food is winter melon, also known as ash gourd. It's a fruit in the gourd family that resembles a watermelon, per Healthline. The winter melon's flesh can't be eaten raw, so in Vietnamese cooking, it's treated like a vegetable and cooked for soup, usually with prawns. As Lam told us, winter melon soup is consumed with something fatty, like caramelized pork belly, to balance out the fat and refresh the palate. "And I guarantee you," she said, "winter melon would be eaten in every Vietnamese home every week."
For more information about Jenny Lam and her restaurant Bunn Mee, visit her Facebook page. Her cookbook "Eat Like A Viet" can be purchased as a Kindle version on Amazon.