Instagram Is Loving Duff Goldman's Visit To This Famous Movie Home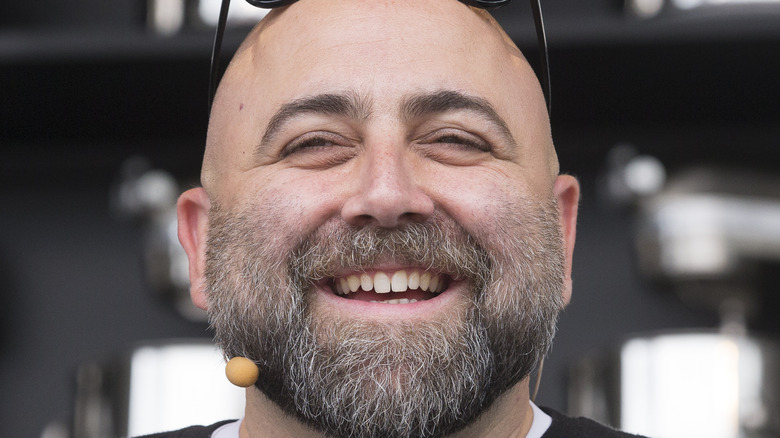 Sterling Munksgard/Shutterstock
Trust Duff Goldman to make sure that his fans are always entertained by his colorful content. He loves his fans and does not shy away from acknowledging that whenever he gets a chance. For example, he shared a letter and an illustration made by a fan last year on Twitter and wrote, "I really love fan mail day." Another fan sent Goldman a cute sketch where he was depicted as the winner on the TV show, "Buddy vs. Duff." Safe to say, the baker was rather amused and acknowledged the fan for making his day.
With the chef pretty active on social media, his followers always have something new and fun to look forward to. On that note, Goldman delighted many fans yesterday by sharing pictures on Instagram from his visit to a rather famous house. People could not get enough of his latest update and had a lot to say.
A 2004 movie made this house famous
So, where did Duff Goldman end up going? Napoleon Dynamite's house, of course. His Instagram caption was simple but said it all. He wrote, "vote for Pedro." Per Mental Floss, "Napoleon Dynamite" was a quirky 2004 indie film that ended up becoming hugely popular. The film was about two teenagers, Napoleon and Pedro, as they found ways to tackle challenges together. The former encouraged his friend to try running for class president. Goldman's caption is, of course, a nod to that detail from the movie.
The film has stayed popular and many fans, like Goldman, have paid a visit to Napoleon's home in Preston, Idaho. Chef Michael Voltaggio was so impressed by this latest update that he commented, "You are now the coolest friend I have." Another fan said that they love the film and have watched it hundreds of times. "This is amazing. One of most favorite movie[s] of all time... I frequently quote it," they added.