Instant Pot Chicken Biryani Recipe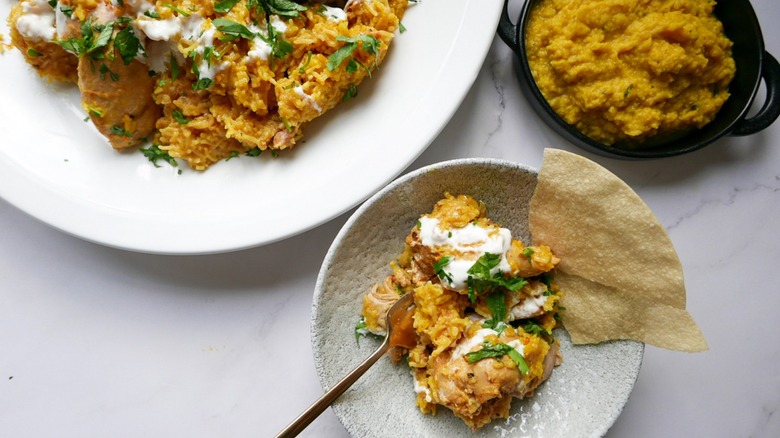 Ting Dalton/Mashed
When the average person thinks of Indian food, they probably imagine the cuisine's most common dishes, like chicken tikka masala, saag paneer, samosas, and flatbreads like naan and roti. They also probably think of Indian food as something to order from a local takeout spot, not something that's easy to cook at home. But as it turns out, there's far more to Indian cuisine than its most familiar foods, and it's actually quite doable to whip up a deliciously fragrant Indian dish right in your own kitchen — especially if you have an Instant Pot.
Biryani — an Indian rice dish typically made with meat and an array of herbs, nuts, and spices — is one such dish. Recipe developer Ting Dalton of Cook Simply has come up with a recipe for chicken biryani that's big on flavor, but easy to prepare. "Having traveled extensively throughout India, I tried so many different types [of biryani]," Dalton says. "This version isn't traditional, but has lots of flavors and spices that are popular in India and easy to find in the supermarket."
Marinating the chicken requires some advance planning, but once you've done that, the rest is smooth sailing. Dalton agrees: "This is such a flavorful dish and so filling and comforting for the whole family. I love how the hardest part is marinating the chicken. The Instant Pot does the rest of the work," she says. You may never order takeout again!
Get your Instant Pot chicken biryani ingredients together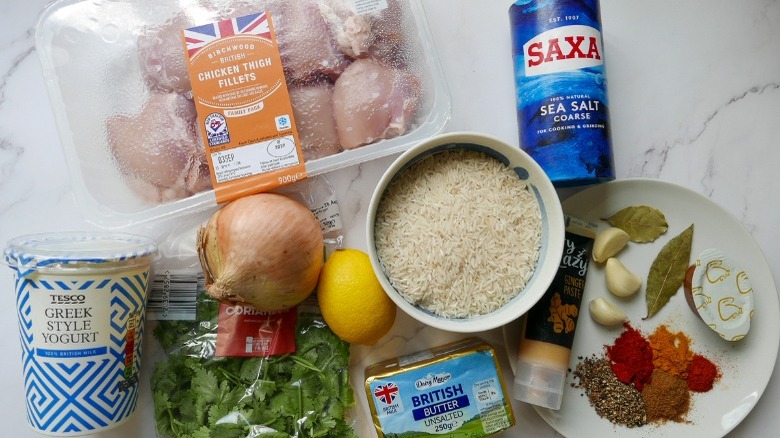 Ting Dalton/Mashed
This chicken biryani isn't complicated to make, but it does require a lot of ingredients, so make sure to look over your spice rack to make sure you have everything you need. For this recipe, you'll need plain yogurt, lemon juice, grated ginger, minced garlic, chopped yellow onion, unsalted butter, basmati rice, and boneless skinless chicken thighs. 
Now, for the seasonings. You'll need garam masala, cayenne, turmeric, cumin, paprika, salt, bay leaves, and saffron. For garnish, prep some fresh cilantro and slice up some green chilis — Dalton recommends "birdseye chilis, which are particularly fiery," but you can skip it if you're not a fan of extra heat.
Feeling overwhelmed? Dalton says you can use dried ginger and garlic powder instead of the fresh stuff, and if you had to omit one spice, let it be the saffron. Dalton also says you can use chicken breasts instead of thighs, but if you opt for bone-in thighs, add two to three minutes to the cooking time.
Marinate the chicken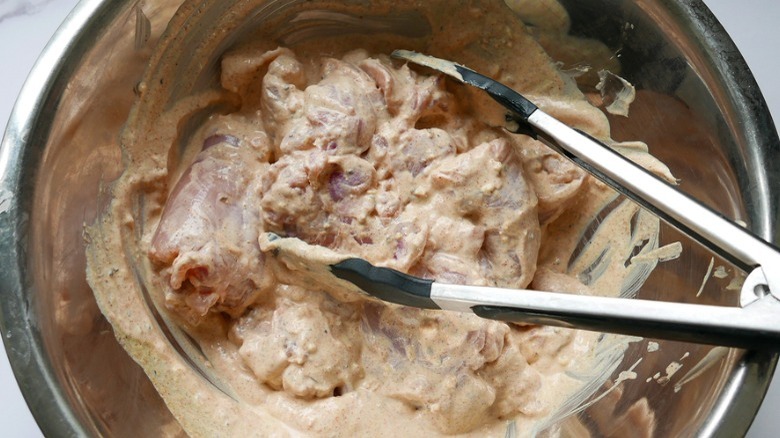 Ting Dalton/Mashed
This next step is technically the most time-consuming, but it's where the real flavor magic happens. Add the yogurt, lemon juice, ginger, garlic, cumin, garam masala, cayenne, paprika, turmeric, and salt in a bowl, and stir everything together. "If you'd like it really spicy with a kick," Dalton says, "I'd cut one to two chilis, and add it to the marinade."
Add the chicken, mixing again to make sure every inch of the meat is nice and covered. Then, let it sit for at least three hours. It's probably easiest to do this the night before you plan to make it. Plus, the longer the chicken hangs out, the more flavorful it'll be.
Start cooking, then let the Instant Pot work its magic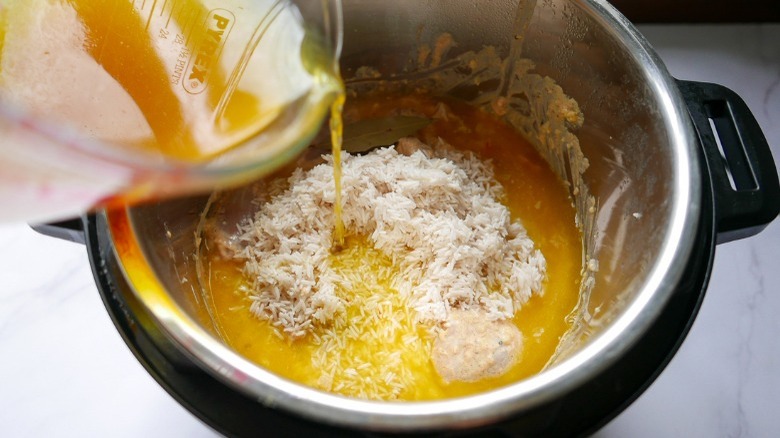 Ting Dalton/Mashed
Start by pressing the trusty old sauté button on your Instant Pot. Add the butter, and let it melt, then add the chopped onion. Cook, stirring occasionally, until the onion is soft, fragrant, and a little bit browned.
While that's cooking down, measure out your chicken broth and mix your saffron — if you're using it, of course — into the liquid, which will help infuse extra flavor into the broth and make everything taste better.
After the onion is adequately cooked down, turn the sauté setting off. It's time to add everything else to the Instant Pot. Put the chicken (and all of its marinade), bay leaves, rinsed basmati rice, and saffron-infused chicken broth in with the onions. Give everything a good stir, making sure the mixture is uniform and everything is good and saturated in broth and marinade. Then, put the lid on the pot, and pressure cook on high for 12 minutes. The hard part is over — you can rest easy!
Serve, and enjoy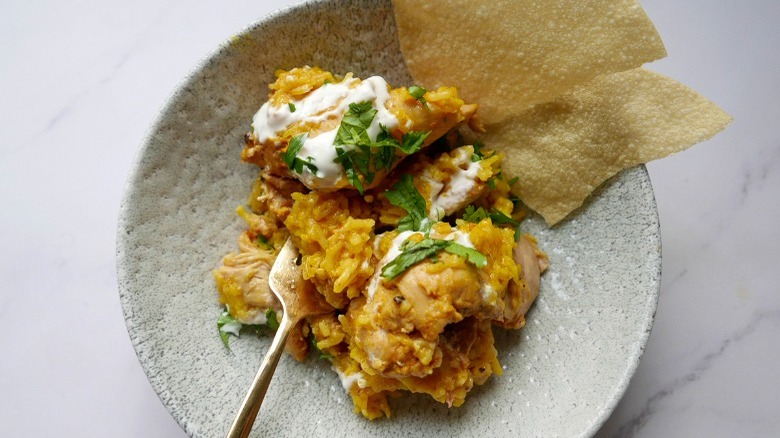 Ting Dalton/Mashed
When the Instant Pot timer goes off, let the pressure naturally release for an additional three minutes, and then take the lid off. Fluff the biryani up (like you would if you were cooking white rice), and plate it. To each serving, add a dollop of yogurt and a garnish of cilantro leaves, plus sliced green chili if the people you're serving are a fan of spice.
This chicken biryani is a flavorful and filling dish on its down, but meals are always more fun when they're full of variety. Dalton suggests pairing this biryani with "naan bread, papadums, and any sides," noting that her family "love[s] it with some Tarka dhal," which is an Indian lentil dish.
This recipe makes six servings. If you end up with leftovers, Dalton says they "will keep in a suitable container for three days. You can also freeze this for up to three months. Make sure to thaw properly before reheating."
Instant Pot Chicken Biryani Recipe
This recipe for Instant Pot chicken biryani is big on flavor, but so easy to prepare right in your own kitchen.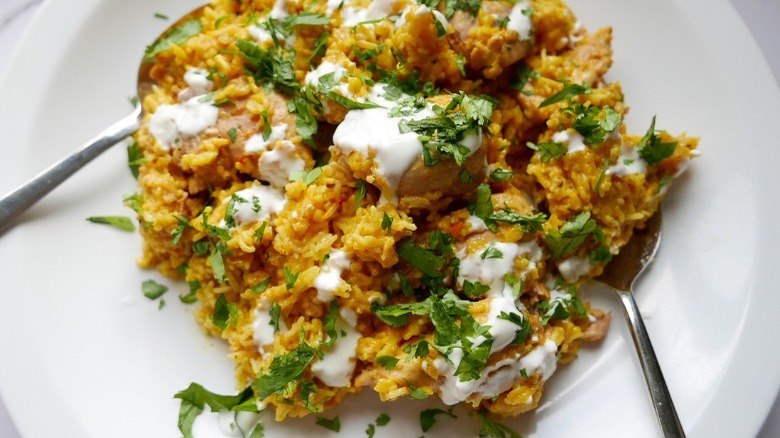 Ingredients
½ cup plain yogurt, plus more for serving
juice of 1 lemon
1 tablespoon fresh ginger
3 cloves garlic, minced
1 teaspoon cumin
1 tablespoon garam masala
½ teaspoon cayenne
1 teaspoon paprika
1 teaspoon turmeric
2 teaspoons salt
1 pound boneless skinless chicken thighs
2 tablespoons butter
1 yellow onion, chopped
2 bay leaves
2 cups basmati rice, rinsed
½ teaspoon saffron
1 ½ cups chicken broth
Optional Ingredients
handful fresh cilantro, for garnish
sliced green chili, for garnish
Directions
In a large bowl, mix together the yogurt, lemon juice, ginger, minced garlic, cumin, garam masala, cayenne, paprika, turmeric, and salt. Add the chicken thighs, and toss to coat.
Leave to marinate for 3 hours minimum or overnight.
Once ready to cook, push the sauté button on the Instant Pot.
Add the butter to the pot, and let it melt. Then, add the chopped onion, and cook until golden and soft, around 8 minutes.
Turn off the sauté mode.
Add the chicken and the marinade to the Instant Pot, then stir to combine with the onions. Add the bay leaves, rice, saffron, and chicken broth. Mix well, and make sure all the ingredients are submerged in the liquid.
Put the cover on the Instant Pot, and pressure cook on high for 12 minutes. When the timer goes off, leave for 3 minutes for natural release. Once released, open the lid.
Use a spoon to fluff up the rice and combine the ingredients.
Serve, garnishing with dollops of yogurt, fresh cilantro, and sliced chili.
Nutrition
| | |
| --- | --- |
| Calories per Serving | 407 |
| Total Fat | 9.1 g |
| Saturated Fat | 4.1 g |
| Trans Fat | 0.2 g |
| Cholesterol | 85.7 mg |
| | |
| --- | --- |
| Total Carbohydrates | 57.6 g |
| Dietary Fiber | 2.1 g |
| Total Sugars | 3.2 g |
| Sodium | 600.1 mg |
| Protein | 22.2 g |