Krispy Kreme Has Pokémon-Themed Doughnuts, But Only In This Country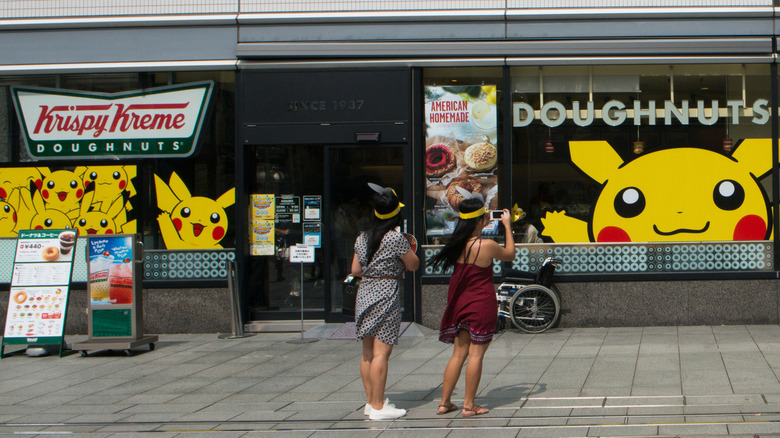 Bloomberg/Getty Images
While it may seem hard to believe for those of us who grew up playing the games and watching the show on TV, the worldwide phenomenon Pokémon will be turning 25 this year. And to help celebrate the occasion, it will be teaming up with the popular doughnut chain Krispy Kreme to release a birthday treat like no other. Krispy Kreme has just announced that, in honor of Pokémon's milestone, they will be releasing a series of five festive doughnuts. According to Food Beast, four of the new specialty donuts are decorated and flavored to match one of the original starter Pokémon characters, while the fifth one, flavored with original glaze, will be shaped and decorated to look like a Poke ball, with white icing and colorful red glaze.
The Bulbasaur doughnut will be flavored with colorful green apple icing and decorated with sand sugar and a swirl of creme, while fiery-red Charmander will feature vanilla custard with a white truffle glaze. The Squirtle-themed doughnut will be filled with tasty strawberry and dipped in decadent while chocolate, while the fourth and final one, bearing the famous likeness of Pikachu, will feature a chocolate creme flavor that has been dipped in white truffle.
These special-edition Pokemon-themed Krispy Kreme doughnuts will only be available in Australia
Unfortunately for fans in the United States, these new offerings will only be available in Australia. A box of twelve of these limited-edition Pokémon doughnuts will be available at participating Krispy Kreme locations in Australia for $29.95 AUD, or about $22 U.S. dollars, according to Hypebeast. But although these specialty donuts can only be purchased Down Under, at least for now, Pokémon fans in the United States don't have to despair quite yet. 
While Pokémon-themed Krispy Kreme treats might not have made it over to this part of the world, Americans can mark the brand's 25th anniversary with new special-edition Pokémon Oreos, which will be released in stores in the U.S. starting on September 13 (via Geek Wire). Each branded Oreo cookie will feature a picture of one of sixteen iconic Pokémon characters, including Pikachu, Bulbasaur, Charmander, and Squirtle, the same Pokemon characters who are starring on the Krispy Kreme doughnuts. Not every Oreo package will contain all sixteen characters, however, so Pokémon fans will have to work to catch them all, making it a very fitting way to celebrate the milestone.