Nissin's Latest Instant Noodles Flavor Is Its Spiciest Ever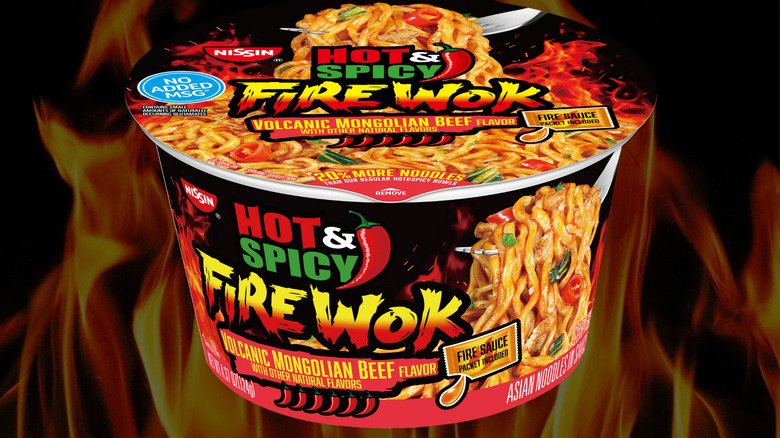 Bloomberg/Getty Images
Instant noodles are ideal when you're looking for something quick and easy to satiate your hunger. They also come in a range of flavors meaning there's something for all tastes. Whereas some people might opt for a basic chicken noodle soup, anyone looking for intense flavor will want to read all about Nissin Foods' latest product. Nissin Foods sure knows a thing or two about instant noodles since the company's founder Momofuku Ando is credited with inventing the tasty dish (via the Nissin Foods website). There's no doubt that a lot of people are grateful for the simple and filling meal.
While there have always been instant noodles options ranging from mild to spicy, Nissin's most recent creation of instant noodles is topping the heat charts. The company website recommends the noodles "for those who really, really love really, really hot," and you might want to take it as a sign to tread cautiously. The new line of instant noodles is based on the brand's Hot & Spicy noodles, and spice lovers should rush to try them out.
What can consumers expect from the new flavors?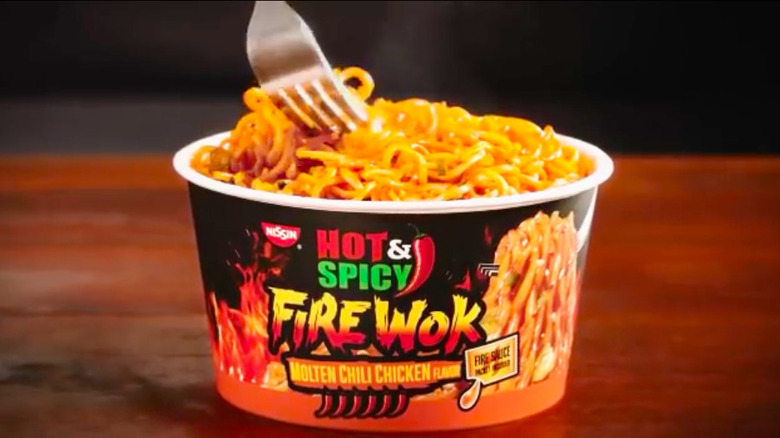 Instagram
According to the Nissin Foods website, four new hot flavors have been released, with spice levels ranging from four to six. Nerdbot explains that the scale maxes out at six, so you can bet that they're hot. Nonetheless, FoodSided adds that the heat is balanced with intense savory flavors, so it isn't overkill. As well, the noodles come with an extra packet of Fire Sauce so you can regulate the level of heat to a certain degree. Molten Chili Chicken and Volcanic Mongolian Beef are the two hottest flavors, followed by Scorchin' Sesame Shrimp and Sizzlin' Rich Pork.
Chew Boom indicates that the Volcanic Mongolian Beef option, which is the newest of the flavors, will be available at select Walmart locations across the country. The other three flavors are available nationwide. If you plan to try the spicy flavors, Nissin Foods is encouraging customers to share their experience facing the heat on social media. Simply use @HotandSpicyFireWok on TikTok to show off your spice tolerance. Make sure to connect with other spice lovers with #HSFireWokChallenge. For a dish that's ready in five minutes and comes with a bit of extra entertainment, you'll definitely get your money's worth!