This Should Be New Mexico's Official Food, According To Reddit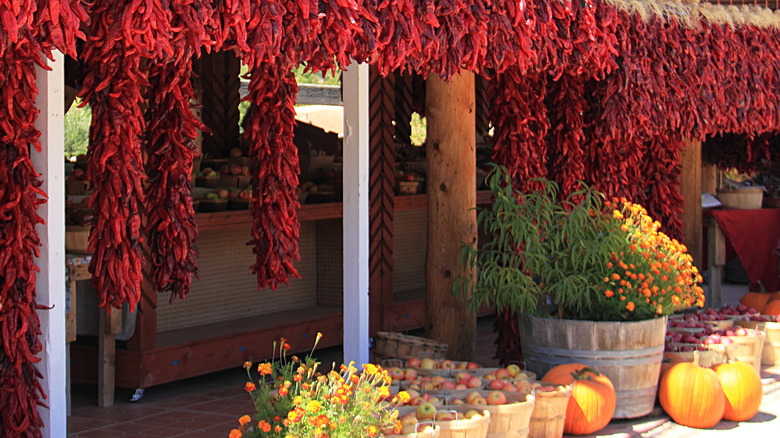 Faina Gurevich/Shutterstock
You may visit New Mexico for the state's stark southwestern beauty, but you'll likely be seduced by its food. As you travel around the state, you might enjoy a cup of piñon coffee accompanied by delicious, honey-drenched sopapillas or cinnamon-flavored bizcochitos (the official state cookie, according to Only in Your State). You could dine on juniper-sauced buffalo short ribs with blue corn blueberry grits at the Indian Pueblo Kitchen in Albuquerque, then head down the road to Grants for hot Cheetos with cheese sauce from Chubby's Food Stand. Oh, and don't leave the state without trying a green chili cheeseburger from Blake's Lotaburger, perhaps the nation's most unsung regional fast food chain. Wherever you go throughout New Mexico, you're likely to hear the state's official question: Red or green? As the LA Times points out, this question has to do with two different types of chile sauce.
If you ask 10 different New Mexicans about the state's best food, you're likely to get 10 different answers about the state's best food. Likewise, if you ask 10 different Redditors about, well, anything, you're likely to get a dozen different answers, plus a few side arguments about irrelevant issues. Such was the case with a recent Reddit thread titled "I'm cooking one meal from every state in the United States, what meal best represents your state?" Eventually, however, the New Mexico Reddit contingent managed to more or less reach a consensus.
Reddit can't agree on the name of NM's top food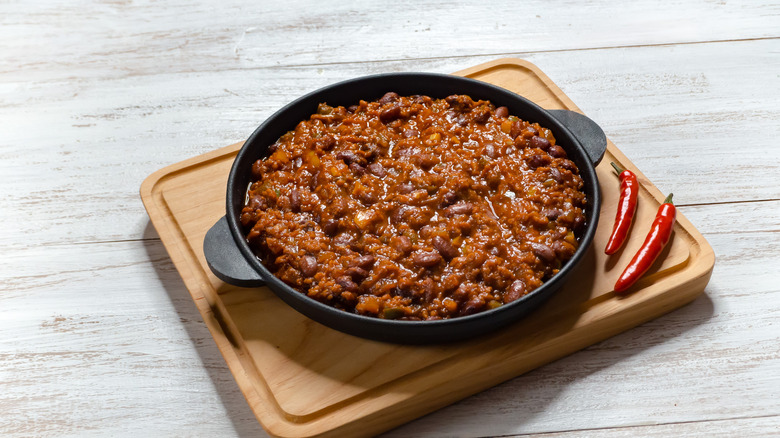 Stanislav71/Shutterstock
Redditors put forth several candidates for New Mexico's best dish including roast green chiles. grown in Hatch (chile capital of the world, according to the Hatch Valley Chile Festival), green chile chicken enchiladas, stuffed sopapillas, green chile pork stew, Navajo tacos, chiles rellenos, and even green chile apple pie, plus a "lotta" votes for Blake's green chili burger. The most popular non-fast food item, however, was probably a dish called "adovada" or maybe "adovado" or possibly "adobado." In fact, New Mexico Redditors wound up squabbling over exactly how to say, or spell, the name of this dish.
A few Redditors were adamant that the word is never spelled with a "b." As one insisted, 'Nobody calls it adobado in NM. Literally nobody," while another claimed, "The only way people in New Mexico say it is Adovada." Another person pointed out, however, "It's said three ways. Adovada and adovado are both variations of Adobado," while a native New Mexican and resident of 31 years explained: "In my town, if you go to the Americanized Mexican food place, it's adovada. If you buy it from the meat market pre-seasoned, it's adovado, and if you go to the super Mexican food truck, adobado. All the same dish, all the same New Mexican town." Tomayto, tomahto ... However you say (or spell) it, there's one thing no-one was arguing about: this stew of pork in red chile sauce is muy delicioso.