Costco's Pumpkin Pie Is Back But Not Everyone Is Happy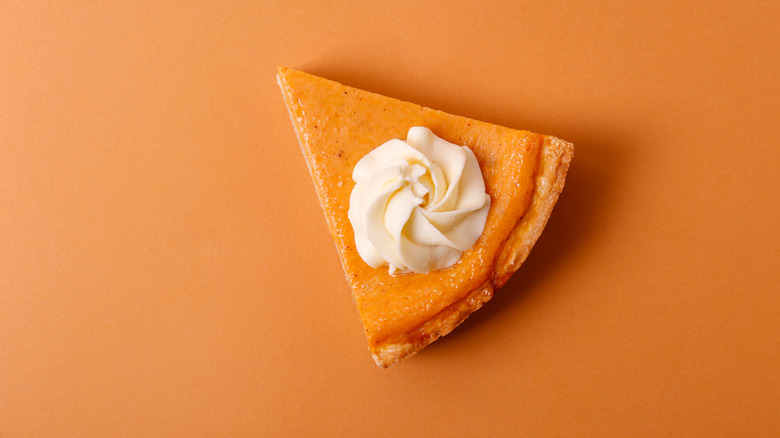 evrymmnt/Shutterstock
Now that Labor Day weekend has come and gone, it might be time to accept the end of summer and embrace all that fall has to offer — apple cider, cinnamon-spiced treats, candied pecans, and the glorious pumpkin. The next big thing since Starbucks announced the return of its Pumpkin Spice Lattes in August is the return of Costco's 12-inch pumpkin pies on the wholesale retailer's bakery shelves. Though the store just officially announced the return of its pumpkin pie, Costco fans have been spotting this seasonal favorite since as early as August 24.
Known to be one of Costco's best-selling items, the pumpkin pies racked up a whopping $6.1 million in sales for the chain in 2019 (via People). Of the four months that the pie was available, $2.1 million worth of sales came in within the three days leading up to Thanksgiving weekend alone. Why the hype, you ask? It's all in the pie's fall-flavored creamy filling and perfectly firm, flaky pastry crust, of course! In fact, Spoon University found Costco's 4-pound pumpkin pie to be the best amongst its Target, Walmart, and Trader Joe's counterparts.
Costco's pumpkin pie is a savior for anyone who can't be bothered to make a pie from scratch. Fans were quick to show their excitement on Costco's pumpkin pie post, with comments like "best pumpkin pie on the planet" and "got one yesterday and it's all gone, everyone enjoyed it" pouring in on the chain's Facebook page. Some Costco fans, however, are not so happy with the pumpkin pie this year.
Fans of Costco's pumpkin pie are not happy with its taste and texture this year
While some fans admitted that they had already gone through quite a few Costco pumpkin pies already this year, others wished that the chain's pies were a tad more inclusive to other diets. One Facebook user said, "[N]eed a sugar free gluten free pumpkin pie please," while another wished there were low-carb options, as well as pies with zero-carb sweeteners and vegan alternatives.
Some pumpkin pie fans also noticed that, lately, the pie's texture has been sandy, gritty, and anything but buttery and creamy. "We LOV Costco pumpkin pies, but notice the last few years they have been gretty like sand! Hopefully this year they will be different!" one Costco fan admitted. Another fan noticed a change in the proportion of autumnal spices in the pumpkin pie, and added, "bring back the old recipe !!! Was spicier before !!!!!!"
That's not all. Costco has been selling its famous 12-inch pumpkin pies for $5.99 a pie, but this year, fans noticed that the price has been hiked up to $6.99 for the same serving. Considering that the retail giant has previously sold $6.1 million worth of pumpkin pies, the $1 raise is bound to bring in millions in profit (via People).