Instagram Isn't Totally Sold On Gordon Ramsay's 'Perfect Burger'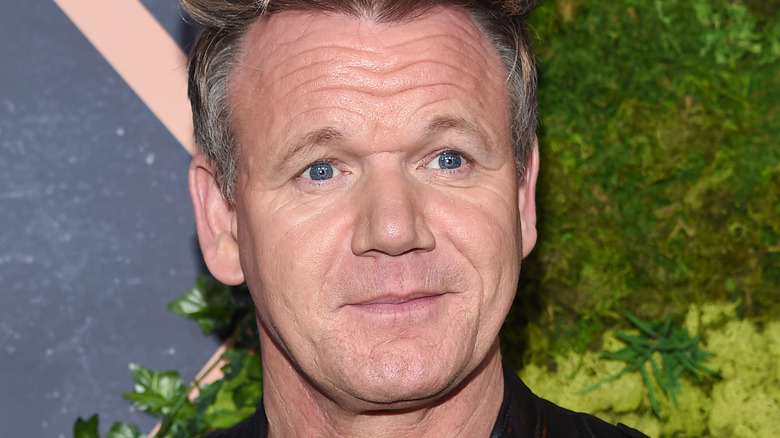 DFree/Shutterstock
If you watch Gordon Ramsay's videos on his YouTube channel, then you know the outrageously famous TV chef (or is that famously outraged?) is happy to share his recipes and cooking tips with his millions of fans. He was sharing again September 11 on Instagram, giving his followers the anatomy of a hamburger from his Street Burger eatery in London. Ramsay reposted a stop-motion video originally posted by the Gordon Ramsay Street Burger Instagram account, showing how to build the restaurant's OGR Burger one ingredient at a time: toasted bun, lettuce, tomato, raw red onion, pickle slices, beef patty, cheese, red house relish, and toasted bun top. "Now that's what you call the perfect burger!" Ramsay beamed on his Instagram page.
Ramsay may have thought he was showing off, but his burger breakdown video only opened him up to criticism from all the armchair chefs on Instagram. "Salads on the bottom? I don't know about that one Gordy," @danburrell sniped. Other commenters were particularly offended by the raw onions. "The onions should be grilled and the tomato should have seasoning and you should have a secret sauce," @_nixkzz complained. (Maybe they thought the house relish was ketchup.)
Ramsay did get some good reviews, notably from UFC champ Alexander Volkanovski ("Perfect!!") and celebrity chef Ayvaz Akbacak (three applause emojis).
Yes, Gordon Ramsay knows how to build a good hamburger
People more familiar with Gordon Ramsay's burger technique already know Ramsay is aware of the joys of grilled onions and seasoning the tomato slice. For a more thorough look at how Ramsay likes to dress up a burger, check out "Gordon Ramsay's Perfect Burger Tutorial" on the "Good Morning America" YouTube channel. In the video, Ramsay makes a big show of carmelizing his onions on the outdoor grill, next to the patties. "Fresh grilled onions on a burger — trust me, delicious!" Ramsay says as he seasons the onion slices. He also puts a good dollop of mustardy mayonnaise on the bottom and top buns, for those who think both sides should get the sauce. As for Ramsay's preference for veggies below the patty, all we can say is we haven't seen any complaints form people who, like Ramsay, has some Michelin stars under their belt.
We're not even sure we believe Ramsay when he calls his OGR Burger "perfect." What does that say about the new wagyu hamburger he debuted at Harrods last year, per Eater London? Listed on the Harrods Gordon Ramsay Burger menu as the 1849 Burger, this truly great hamburger includes a Chilean wagyu beef patty, truffle cheese, shaved truffle, a mushroom ragu, and aged balsamic vinegar. The only thing less than perfect about Ramsay's wagyu burger is the price: £80 ($111), compared to the £15 ($21) listed on the Street Burger menu for the OGR Burger.