The Chopped Star You Forgot Was In SpongeBob SquarePants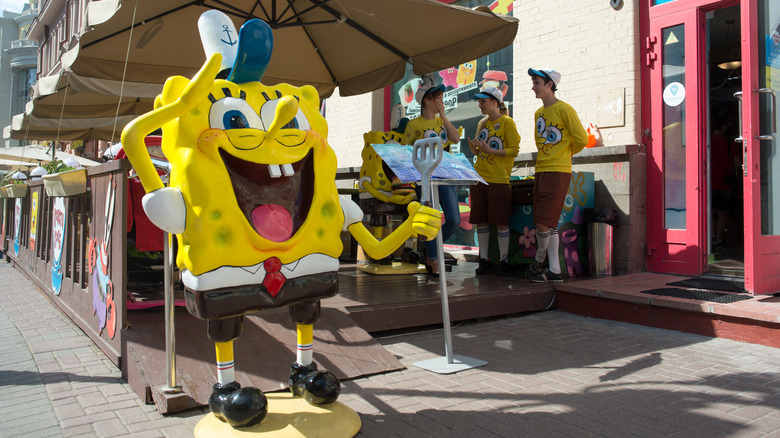 MeinaLiao/Shutterstock
It might surprise you to learn that celebrity chefs do things other than cook and come up with new cooking shows. Some of the culinary elite have crossed over and found success in other forms of entertainment. BFFs Bobby Flay and Giada De Laurentiis did voiceovers for a "Scooby Doo!" movie and even negotiated roles for their animals with De Laurentiis' cat Bella and Flay's cat Nacho, albeit animated. But they are not alone. "The Barefoot Contessa" host Ina Garten made a cameo in the sitcom "30 Rock" as Liz Lemon's dream neighbor. And, according to The Daily Meal, Anthony Bourdain made an appearance on "The Simpsons," while Wolfgang Puck had a role in "The Smurfs Movie." 
Well, there is another chef from the world of cooking television we can add to this prestigious list, because this individual is not only a star on Food Network's reality cooking show "Chopped" but probably secretly hums, "Who lives in a pineapple under the sea? SpongeBob SquarePants! Absorbent and yellow and porous is he. SpongeBob SquarePants!" whenever seafood is the secret ingredient. And we will give you a hint, it is not Alex Guarnaschelli – even though she clearly has a wealth of knowledge when it comes to les poissons.
'Chopped' star Alton Brown played Nicholas Withers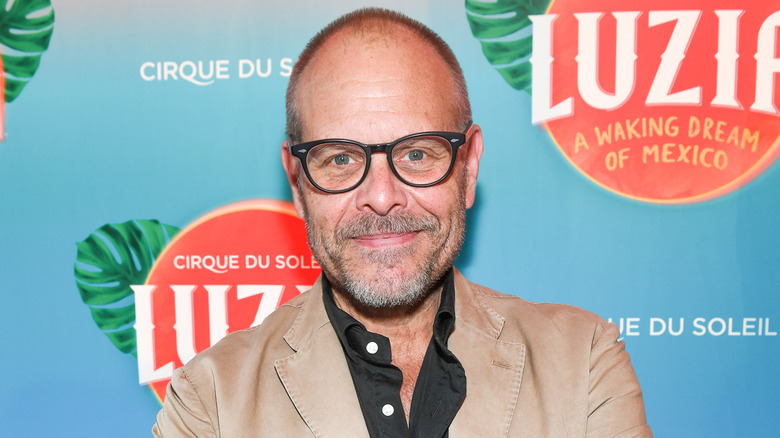 Paras Griffin/Getty Images
So who is this famed "Chopped" chef? If you guessed Alton Brown, then winner, winner, chicken dinner! Per Screen Rant, Brown played Nicholas Withers, the host of a game show called "House Fancy" during the sixth season of the Nickelodeon classic, "SpongeBob SquarePants." In the episode that features Alton's character, Squidward, who works at the Krusty Krab with Spongebob, gets a little jelly when his rival, Squilliam, ends up on Withers' show. And while Squidward decides to spruce up his own home in hopes of winning, SpongeBob, as usual, throws some monkey wrenches into his plans.
Per Food Network, Brown has definitely proven himself a Renaissance man over his storied career having produced and starred in cooking shows. He has written numerous cookbooks, released an album with his musical trio, won James Beard and Peabody awards, and even hosts a podcast. Brown is, indeed, impressive. Not to mention, he joins a rather star-studded list of actors who have lent their voices to this iconic kid's show. Betty White, Andy Sandberg, Johnny Depp, and even NBA superstar LeBron James have been a part of the underwater universe, per Cement Answers. We can't wait to see what Brown attempts next!