Giada De Laurentiis Played Herself In This Popular Cartoon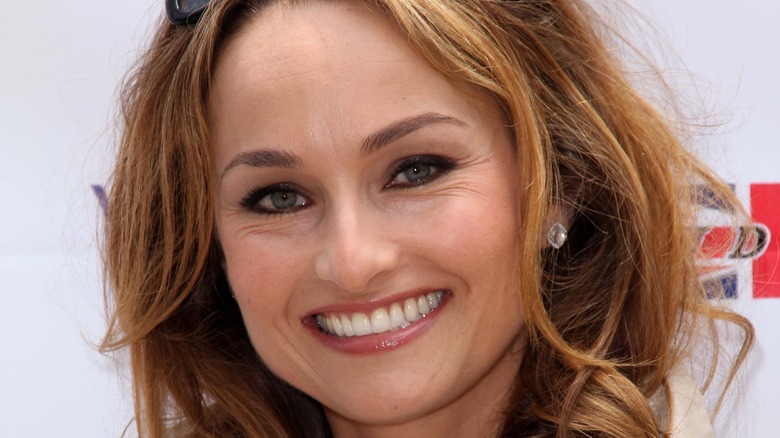 Shutterstock
Giada De Laurentiis has conquered the culinary world, combining her Italian heritage with her California flare. De Laurentiis has taught us how to make some yummy and easy recipes on her Food Network show "Everyday Italian." She has invited us into her kitchen, on her shopping trips, and shared her go to grocery staples. She has taken us on an Italian experience in her limited discovery+ series, "Bobby and Giada in Italy," revealed her favorite dish – mortadella meatballs – and taught us how to make it. The celebrity chef has written several cookbooks, prepared a meal for Prince William and Kate Middleton, and transformed herself and her cooking to become her ultimate healthy self. It is fair to say, De Laurentiis has really made the most of her cooking career. 
Perhaps one of the biggest indicators of De Laurentiis's success is her crossover to the cartoon world. That's right: De Laurentiis was a character in an iconic cartoon where she played herself. And when you learn which cartoon, it seems like the perfect animated universe for her to be featured in, along with several other notable chefs, including one of her favorite food besties. In fact, we think it will leave you wanting a few snacks.
Scooby-Doo! and the Gourmet Ghost
Scooby Snacks, that is. Per IMBd, De Laurentiis played herself in the 2018 animated film, "Scooby-Doo! and the Gourmet Ghost." Released by Warner Bros. as a direct-to-video, according to Food and Wine, De Laurentiis shares an animated kitchen with Bobby Flay and Marcus Samuelson as they pair up with Shaggy, Velma, Daphne, Fred, and, of course, Scooby-Doo to solve a ghostly mystery. TV Insider reveals that the story centers around Fred's uncle, who happens to be none other than Bobby Flay (who also plays himself), and if you give the trailer a watch (posted on YouTube), you will see that the Mystery Machine gang is up to what they do best: uncovering the identity of the red ghost haunting Uncle Flay's culinary inn.
But is De Laurentiis up for a ghostly challenge? De Laurentiis' animated self is apparently just as amazing as she is live. She told TV Insider in 2018, "It turns out I have some pretty amazing talents, many that I didn't even know I had. I do martial arts, acrobatics. I'm able to scare off ghosts with fennel, which is something Italians truly believe. I can even do cartwheels, which should make a great impression on my daughter!" TV Insider also shared that De Laurentiis' cat Bella and Flay's cat Nacho also make their debut in this film.