How Much Gwyneth Paltrow's Second Wedding Cake Really Cost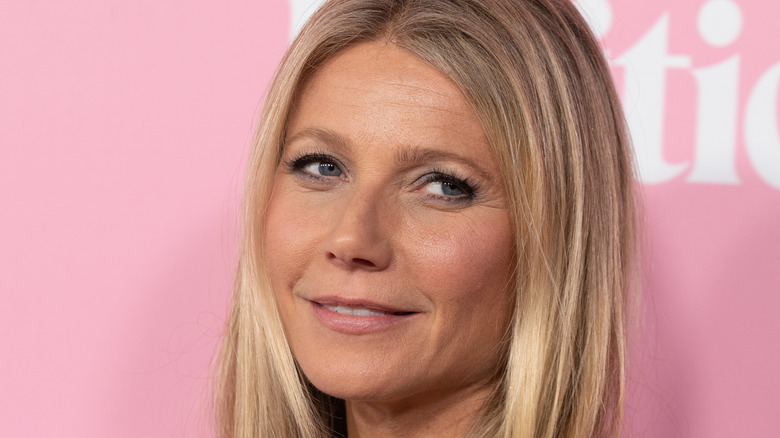 Ron Adar/Shutterstock
They say the secret to a long, healthy marriage is compromise. If that's the case, then it seems like Gwyneth Paltrow and Brad Falchuk don't have a thing to worry about as seen in how they reached a decision on their wedding cake. The Goop founder and actress and her "Glee" co-creator spouse exchanged wedding nuptials on September 29, 2018 in an outdoor ceremony outside of East Hampton, New York (via People). The couple, nicknamed "the Faltrows," went all out for their big day as well as the rehearsal dinner, no expense spared. 
If you think we're joking, consider this: They flew Argentine celebrity chef Francis Mallmann a distance of 5,000 miles to prepare the menu for the rehearsal dinner (via The Kitchn). Paltrow also rocked a custom designed Valentino Couture lace dress and a Stella McCartney jumpsuit on her wedding day. One for the ceremony, and one for the reception, of course, according to People.
Among the A-list guests were fellow celebrity couple Cameron Diaz and Benji Madden, Jerry and Jessica Seinfeld, Rob Lowe, Robert Downey Jr., and Steven Spielberg. While the dinner course had a main role in the Faltrow wedding, the dessert was the real star of the show.
The couple served 90 mini wedding cakes
It's not uncommon for couples to forgo a traditional wedding cake for a donut wall or cupcake tier or something more economical and shareable, especially in larger weddings. Gwyneth Paltrow and Brad Falchuk did none of those things. Instead, they opted out of one big wedding cake for 90 mini wedding cakes. It's certainly a unique dessert choice.
According to People, the couple hired Nine Cakes, a local bakery based in Brooklyn, to make the desserts. Similar to how couples have a "bride's choice" and a "groom's choice" during cocktail hour, the Faltrows had both a bride and groom's choice of wedding cake. Paltrow went the exotic route and picked carrot cake for her 45 mini wedding cakes while her groom stayed traditional, selecting a delicate chocolate and vanilla combo for his half. Rather than fight over one cake flavor, they compromised and found a creative way to have both. Now that's really having your cake and eating it, too!
And if you're wondering what's more expensive — one extravagant wedding cake or 90 mini cakes — according to the folks over at The Kitchn who calculated the bill based on the prices on Nine Cake's website, those 90 mini cakes cost the couple anywhere between $1,000 to $2,000, including the delivery fee. This may sound like an absurd amount to spend on cake, but compared to other celebrity weddings like the Trumps, a $2,000 cake price tag is a bargain.